Lionel Mint Car Coin collection with a matching collection of souvenir US Mint coins
In 1961, when Lionel first produced the #6445 Fort Knox Gold Bullion Car, it had a coin slot in the top so it could be used as a bank. In 1979, when the car was reproduced as #9320, Lionel also created the #9319 Silver Bullion Car for the 25th anniversary of the Train Collectors Association. This time a commemorative coin was also created so it could be displayed in the coin slot. Note: Twenty five years later they produced #52338 Gold Mint Car and a display coin was made for TCA's 50th anniversary.
My story began in 1980, when Lionel started producing bullion, or "mint" cards for each of the original US Mints. Being a compulsive collector all my life, I could not resist the urge to own all 9 US Mint cars, but I had the additional compulsion to try to find commemorative coins that I could display in the slot of each car. Of course I also had to have the new Pennsylvania GG-1 and caboose, released in 1987, which was essential for a complete US Mint train. I'm not sure if I got the idea for display coins from the limited commemorative TCA coin that paired with 1979 Silver Bullion car, or the souvenir coins I pressed myself when I toured the Denver and San Francisco Mints, but I now had a challenge to own a coin that commemorated each of the US Mints that were represented by a Lionel car.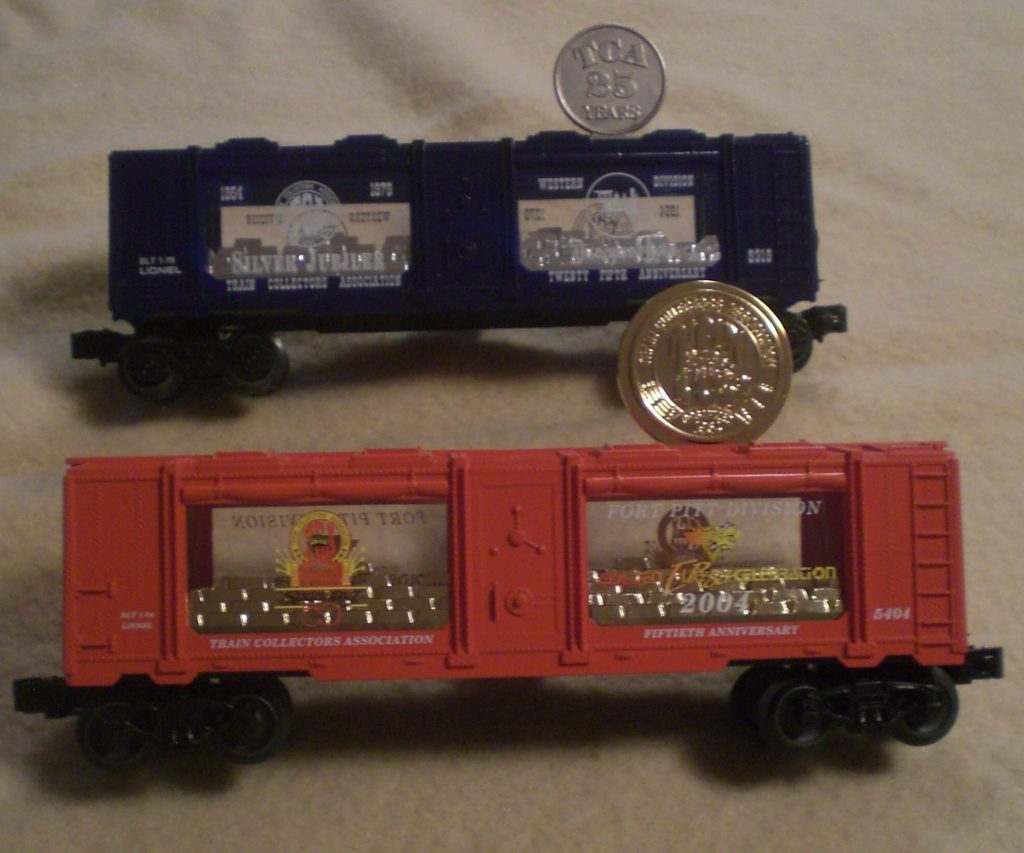 I must note here that I will use the words "coin" and "medal" interchangeably, whereas numismatic experts, as well as the U.S. Government, insist that the word "coin" is reserved for those metal objects that are used as money.
My quest for souvenir mint coins proved more difficult than I imagined. Though there were only nine different US Mints represented by Lionel cars, i.e., Fort Knox, San Francisco, Denver, Philadelphia, Carson City, New Orleans, Dahlonega, West Point, and Charlotte, most of them were no longer operational, and at least one building was totally destroyed. Thanks to the US Treasury, I found several of the older mints and some new mint buildings were commemorated in "metals" that were available at a reasonable cost in the 1980s. But three of the US Mints weren't represented, i.e., Carson City, Dahlonega, and Charlotte.
This was before the Internet provided instant access to almost every business, museum, or coin collector in the country, so I began making a few phone calls to the State tourist offices to learn more about the historic mints. With calls to Nevada, I learned that the building that once housed the Carson City Mint was converted to the Nevada State Museum, and at the time, was undergoing a renovation to make it earthquake resistant. The most exciting piece of news was that the gift shop at the museum had a bronze medallion available to commemorate the mint. One side depicted "the original Carson City Mint coin press" that was also used to strike the medallion. The other side depicted the mint building as well as an old fashioned steam locomotive from the mid 1800s, much like the famous Lionel General. I could not believe my luck and ordered several coins. But this luck was not going to continue.
With my calls to Georgia I found that the Dahlonega Mint had burned to the ground and that a local museum displayed a few samples of the historic coins that were once minted in Georgia. No souvenir or commemorative medals were available. Using a phone book from the library, I looked for coin shops in the area that might have some additional information. I don't remember how many "long distance" calls I made, but I finally located a coin dealer that thought he might have a couple medals left from 1983, which was the year of the 250th anniversary of Georgia and the 150th anniversary of the Dahlonega Mint, the "site of the Nation's First Major Gold Rush." He had been using these medals to create commemorative belt buckles. To my pleasure he was able to sell me a couple of the medals he had left. There was now a single coin missing to my collection, and it would present the biggest challenge.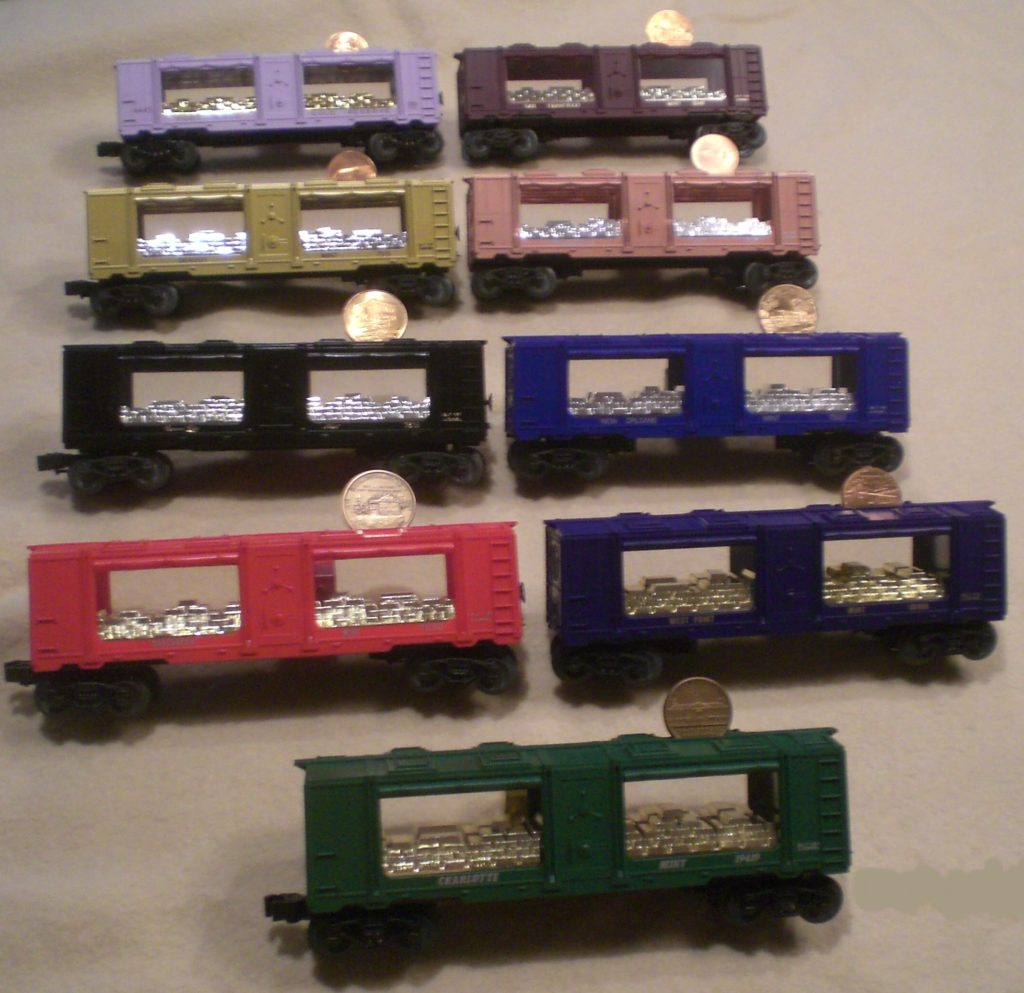 In several calls to the North Carolina Tourist Office in 1992 I learned that the building that once housed the Charlotte Mint had several lives over the years. During the Civil War it was used as a Confederate headquarters, a hospital and later as an assay office. In 1933 the building was moved and in 1936 it was reopened as the first art museum in North Carolina. I obtained the phone number for the Mint Museum of Art and talked to some friendly ladies who told me about the current artistic contents, and later sent me some related literature and post cards. But, there were no commemorative coins or medals in the gift shop and no one remembered the existence of any. I also called some local coin shops without success.
Over the next several years I would ask friends that might travel to Charlotte to look for any type of souvenir coin for me. One of my best friends got caught in a severe rainstorm trying to walk from his hotel to the Art Museum after his business meeting was completed. He never made it to the museum. On one occasion, while I was required to change planes in Charlotte on a business trip, I took the opportunity to run through all the shops at the airport in a futile attempt to find a coin. I would be discouraged for several more years.
In January 2001, while idly browsing through eBay, I remembered my quest that was never completed. Usually I found no items listed to my searches for obscure collectables, but when I searched for a Charlotte Mint coin, I was almost knocked from my chair when two identical items appeared from two separate sellers. Each listing was for a Charlotte Mint commemorative medal produced in 1962. The reverse side contained the emblem for "Coin World," a newspaper for coin collectors. I did a quick search of completed auctions and couldn't find that any similar items were previously listed. These coins were meant for me! I bid on them both and was successful in obtaining them.
My collection was complete and each of my Lionel Mint cars had a companion display coin. It was a great way to begin the new millennium! My only fear was that Lionel would license someone to produce a series of commemorative coins to match every bullion car they have made, negating the value of my quest that took over 20 years. So far, they've stuck to producing an infinite number of bullion, or mint cars with a rare display coin for TCA or other celebrative occasion.