Lionel 2353 Santa Fe diesels and two streamlined passenger cars purchased through a Dutch website caused Daniel Biessels gave up HO scale modeling for O gauge and  focus on postwar and modern-era models. Then he built a layout set in the Rocky Mountains that he calls the Glenwood Springs & Colorado RR. The arid scenery and sandstone landforms look great, set many thousands of miles from the western United States.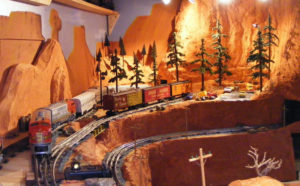 Here's the story in his own words.
Amazing how one used magazine can have such a dramatic effect on your life! In this case, I am talking about a dog-eared copy of the February 1996 issue of Classic Toy Trains. The cover story focused on the O gauge F3 diesels shown in Lionel catalogs during the 1950s, in particular, the less-popular road names. After picking up a copy of that issue, I learned about the models painted for the Illinois Central, the Texas Special, the Wabash, and the Baltimore & Ohio.
Learn more about the Lionel trains of the 1940s, 50s, and 60s.
Lionel 2353 Santa Fe diesels
That article also gave me some valuable information about the well-known models decorated for the Santa Fe. I learned a good deal about the no. 2353 A-A combination, which Lionel offered from 1953 through 1955.
Of course, living in the Netherlands, I doubted I would ever do more than look at pictures of Lionel's postwar F3 diesels. Besides, my involvement in model railroading then amounted to HO scale Dutch trains.
My grandfather had owned some O gauge track and trains made by JeP and Märklin during the pre-World War II era, but I had never had much interest in them. Still, they had never been thrown away.
In February of 2004, I was browsing advertisements in the section of "Marktplaats," a Dutch trading website, that happened to include old scale and toy train models. To my surprise, I came across an ad that listed a Lionel 2353 A-A set of diesel locomotives with a pair of extruded-aluminum streamlined Lionel Lines passenger cars from the 2500 series.
Who wants these?
Seeing the Lionel trains there came as a real surprise. I discovered that they had been on the website for a long time already; after all, no one in the Netherlands known very much about American O gauge modeling or Lionel trains. Between all the Fleischmann, Märklin, and Roco European HO scale trains, these Santa Fe diesels and passenger cars were odd ones.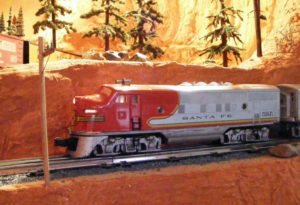 Thanks to the CTT article, I had some clues about the Lionel trains. I decided to submit a bid on them. This turned out to be the only bid. After a bit of emailing with the seller, I bought the incomplete passenger set for 250 Euros (about $300).
A few days later, the trains arrived in a huge white box filled with newspapers. I felt just like a little boy on Christmas morning!
Out of the box came first a 2353 powered A unit with two horizontally mounted motors, an operating headlight, and Magne-Traction. It was completely intact, although the silver-and-red paint scheme showed some age and the striping was scratched. Details were great, but the 2353 no longer had the grab irons that Lionel once put on the nose of its diesel locomotives.
The matching non-powered 2353 A unit came with an operating headlight and a horn inside. No battery damage could be seen. There was a crack in the roof that had been repaired and so was hardly visible.
One of the cars was a coach with all the nameplates in place. The second was a Vista-Dome with its "canopy" in nice shape.
Getting them running
Quickly I went searching for my grandpa's JeP and Märklin track, which I had saved for years in a box on the attic. Now was the time to get them out.
With that vintage track, I built what I consider my first O gauge empire. Powered by an ancient Märklin transformer, the 2353 grumbled along the tracks, the lights of the coaches and locomotives creating a fairytale atmosphere. Soon the attic smelled like ozone, and I had discovered an amazing new hobby.
I sold my HO trains and started learning about Lionel. Then I found out about new trains being made by K-Line, Lionel, and MTH. There followed other compact O gauge layouts on the floor of the attic. Next I finished a room in the shed in our garden and started a new layout, known as the Shed County Railroad.
When I realized that the JeP and Märklin track were too rusty to work well anymore, I discarded them and purchased brand-new track. Now I am operating and enjoying my best layout, the one you can see in these pictures, which I call the Glenwood Springs & Colorado RR.
Foundation of the hobby
Because of a magazine from 1996 that I found in a local bookstore, I had a faint idea of what I had come across when I saw the ad for the Lionel trains. That issue gave me the courage to spend money on something seemingly useless and unknown, and I still am one of only a few O gauge three-rail hobbyists in Europe.
So my greatest find is a combined one: a Lionel 2353 A-A and two passenger cars plus the February 1996 Classic Toy Trains. Together, they have seeded my growing interest in O gauge railroading and, in particular, Lionel postwar F3 diesels.