The Lionel Scout locomotive has been for many an entry point to the toy train hobby. For me, it was the little engine that got me back into it.
I've been in the toy train hobby for many years and have amassed an impressive collection of Lionel's postwar F3s, Berkshires, Turbines, and other locomotives. But that little No. 1655 2-4-2 steam engine means the most to me.
It doesn't have Magne-Traction or a smoke unit, and it wobbles a bit as it trundles down the track. But every time I look at the thing, I am flooded with childhood memories. It's my greatest find!
The Lionel Scout locomotive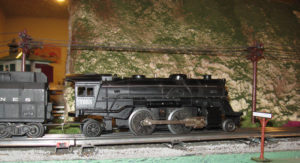 First, a little background on the 1655. It's a simple "Scout" type of steam locomotive cataloged by Lionel in 1948 and '49. It has a black-painted die-cast metal body with its cab number rubber-stamped in silver. The 1655 came with an ornamental whistle and bell, handrails, side rods, and an operating headlight.
Intended to pull a light load of cars, the engine has a three-position reversing unit. Lionel upgraded the motor of predecessor No. 1654 to make the 1655 a better puller. It had sliders instead of rollers power pick-up.
While largely ignored by collectors, it's a wiry little beast. Placing mine on level track, I can coax it into pulling 10 fairly heavy postwar freight cars.
In short, it does a decent job.
In its day, the 1655 made for a good starter set engine. You can always find several of these on Internet auction websites at extremely reasonable prices as there's little collector value.
Learn more about the best Lionel trains of the postwar era.
The 1655 meant Christmas
As a boy growing up in an apartment in lower Manhattan, I could make room for only a modest holiday layout each year – nothing more than a 4 x 6-foot setup in the living room next to our family's Christmas tree. My layout came down with the tree right after the new year began.
While my family and I added to the layout occasionally, money was tight. To me though, this engine meant Christmas. My 1655 was as special as any Lionel no. 736 Berkshire. In fact, because my family didn't have much money, until I was about 10 years old I never knew that Lionel made anything bigger than the 2-4-2!
My father didn't pick up this 1655 as part of a set. He probably got it second-hand for my older brother in the late 1940s. We never even had the proper no. 6654W sheet-metal "Scout" tender lettered for "Lionel Lines." Instead, my 1655 pulled a no. 6026 tender, which my brother purchased in the early 1950s to replace our original No. 2671. Both dwarfed our engine. But again, as a child, I didn't know any better.
Later on I discovered the famed Madison Hardware Co. on 23rd St., a stone's throw from our apartment in the West Village. In my early teens I made many trips to the greatest of Lionel's retail outlets, but I could never afford to buy the brawnier locomotives.
Scout sets were part of Lionel's 1954 banner year.
Returning to Madison and the hobby
My Lionel story is typical. I fell away from the hobby during my adolescence and then came back to it in my early 20s, after I started a family. By then, the original 1655, along with all of our other Lionel cars and accessories, was long gone. They were sold by my brother when our interests changed.
Just before my first daughter was born in 1985, I felt a longing to return to the hobby. I started picking up a few pieces at local shows and hobby shops.
In early 1986 I happened to be walking up 23rd St. on my way up to Park Avenue South. I ran right smack into Madison Hardware. I must have stared at the display window for a half-hour.
Finally, I stepped into the shop and was met by Carl Shaw, one of the proprietors. As you may know from articles like the one Len Carparelli wrote about Madison for the May 2010 issue of Classic Toy Trains, Carl was not one to just let you browse. So I left, vowing to come back with some cash the following Saturday.
This time, I met Lou Shur, who owned Madison.
When I returned to the hobby I decided to get a 1655. The ones I saw at shows were pretty beat up. I explained to Lou what I was looking for, figuring it was a long shot. He told me to hang around for a while, and he'd see what he could find.
Unearthing a gem
Well, Lou was gone for quite some time, but when he returned he had an unopened rectangular corrugated box in his hands with the number "1655" stamped on the flaps. It looked brand new.
Lou sliced the taped ends open and out popped the steam engine of my childhood – intact and mint.
As my heart palpitated, I asked Lou, "How much?"
"Give me $100 and I'll guarantee it for life," Lou responded.
Without any haggling or deliberation, which you couldn't do with Lou anyway, I paid him and took my greatest find home to show my year-old daughter. I realize now that the price was way beyond the locomotive's actual value – and worth every penny.
Preserving great memories
For most of us baby boomers, this hobby is not about value or money. It's about memories and recalling simpler times.
When I got my treasured piece home, put it on my layout, and turned up the throttle on the no. 1033 transformer, the buzzing and the ozone provided memories that were well worth the $100.
The little locomotive now sits proudly on my main display shelf. Every time I pass it I give it a look, and it evokes a childhood memory. As far as I'm concerned, the memories are worth more than the money I paid.
Thank you Lou Shur, wherever you are! – Anthony Zagarino