A unique tender for a Lionel No. 1587 Girl's Train
I couldn't have imagined the excitement that year would bring to me as a collector and a new father.
Chasing after postwar Lionel trains for about four years, I had amassed a decent collection. [Anthony's superb collection was profiled in the special Kalmbach publication, All-Star Electric Trains of the 1950s, which is currently available as a PDF. To order, just click here. – Editor]
Even better, my wife was expecting our first child. Friends would ask, "What are you going to do with your trains if you have a girl?" The question didn't faze me because I knew girls loved to play with trains, too.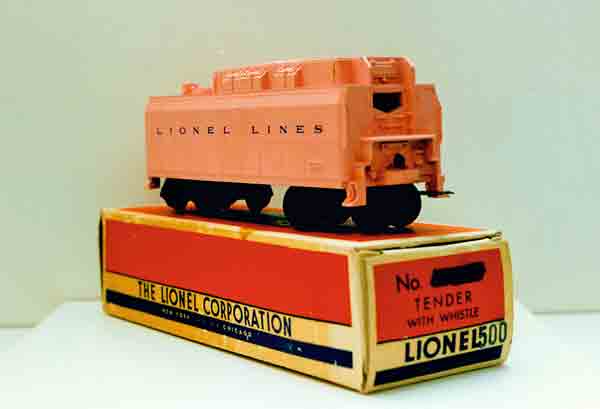 But enough pressure caused me to reconsider. Maybe a girl should have her very own train set. Nothing would be better than an original Lionel No.1587S Lady Lionel, popularly known as the "Girl's Train." Cataloged in 1957 and '58, this set is highly coveted by all postwar fans.
Fortunate phone call
Having a girl would be a good excuse for me to obtain one of Lionel's most prized outfits. Being a bit of a purist, I had to obtain an original set, though I was skeptical of finding one in like-new condition.
Sometime in September of 1987, before the baby arrived, I received a telephone call from my dear friend Frank Pettit. A delightful and active gentleman in his early 80s, Frank had worked at Lionel from 1924 to 1959. He had known Joshua Lionel Cowen and had great stories. [Frank Pettit recounted the highlights of his career as a salesman and development engineer at Lionel in the December 1992 and January 1993 issues of Classic Toy Trains.]
Frank called to see if I had any interest in buying a small collection of Lionel trains. One of his former co-workers at Lionel, named Tony, was thinking of selling his trains and wanted to get information about prices.
I was very glad to help and told Frank to read the list of catalog numbers. At the end of the list, he mentioned Nos. 2037-500, 6427-500, and so forth. I couldn't believe what I had just heard: the numbers of the steam locomotive, the caboose, and other components of the Girl's Train.
Yes, I wanted to see the collection. This was the opportunity of a lifetime. So Frank and I soon paid a visit to Tony. I enjoyed listening to them and Tony's wife, Josephine, reminisce about the old days at Lionel. Even if I didn't buy a single item, the visit was well worth my time.
Seeing the trains
After about an hour, Tony invited us to look at the trains. Frank and I accompanied him to the basement, and I carefully opened the boxes. Most of the trains and accessories were in like-new to new condition.
With each item, Tony would recall a story about its origin. He also remarked on the good nature of Lionel's founder Joshua Lionel Cowen.
As I opened the Girl's Train set box, I noticed that the individual boxes appeared to be relatively clean. Then I saw that the pieces of track, the transformer, and instruction booklet were all present. So far, so good!
Then I opened the box containing the locomotive. I followed by checking out the two no. 6464-series boxcars that came in the set. The steamer had minor scuffs. The -510 and -515 boxcars were practically new. At this point, I decided not to open any of the remaining boxes.
Tony recalled that he had gotten this set for his daughter at Christmas of 1957. But she, like so many other girls of the period, had not wanted a pink locomotive or pastel cars. She wanted a "real" train set. This no doubt accounted for the superb condition of this Lady Lionel.
At the end of this memorable evening, I went home with a great collection of postwar trains. It was well past midnight by the time I arrived home. I couldn't go to sleep without taking one last look at the trains.
Better make it blue
Three months later, around Christmas, my wife gave birth to a son, whom we named Matthew Thomas. For the proud parents, the trains came second to this addition to our family. During the holidays, trains graced the living room, but the 1587S didn't make its debut, remaining in a closet. I didn't think that years from now our son would appreciate being photographed with a pink engine!
Months later, after a late night milk run for Matthew, I decided to take another peek at the Girl's Train. I'm sure happy that I did so.
Up to this point, I'd never paid very much attention to box or train variations. This time, after hours of research, I noticed something different about this set: The tender didn't look like anything in the catalog, which depicted a No. 1130T-500; mine was a no. 6026T square-back tender.
I immediately sifted through a Greenberg reference guide to postwar Lionel O gauge trains and noticed a similar tender listed as a one-of-a-kind item. Not believing my eyes, I continued going through the outfit box and noticed a shipping label hidden in the instruction booklet.
The label was a substitution notice for the No. 1130T-500 tender. I couldn't believe what was in my hands: Having an original Lady Lionel set was one thing, but owning a rare tender variation was something else.
Another addition
Three years later, in November of 1990, my wife and I welcomed our daughter into the world. The birth of Stephanie Ann made my Lady Lionel my greatest find, because she became its rightful owner. And unlike girls back in the 1950s, she has always loved this neat outfit.
Given the value of my original Girl's Train, I decided that Stephanie should have one of the recent reproductions to play with. After all, a child playing with a highly collectible train set (even if she is a beautiful young princess) could prove disastrous to her dad's health!