It's been written about a lot before, but here are some more ballasting tips for tubular track. It can make your right-of-way look more realistic, but the bottom line is have fun and don't stress about it.
Don't overdo
It is pretty common to completely fill in the area between two tracks with a bed of ballast. Avoid the temptation – it just doesn't make sense. Tracks are ballasted individually and out to a point. Real-world ballast isn't decorative, it is functional. Note there is a nice slender area that will be detailed with dirt, debris, and perhaps standing water and overgrown weeds. Keep your boundaries and make your ballast look like it was actually poured over time.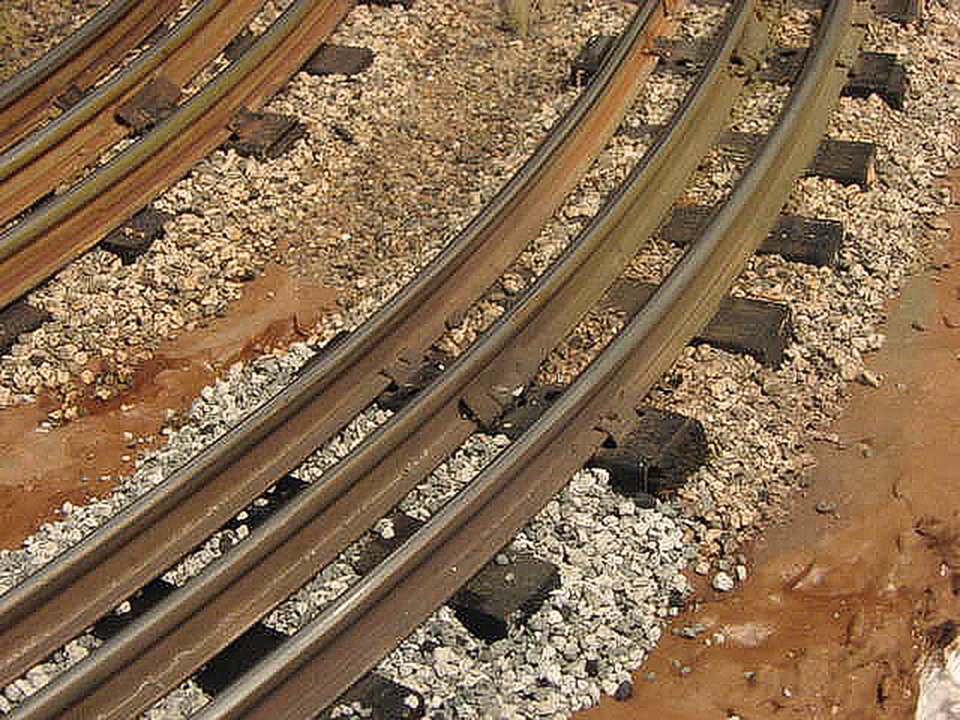 Mimic nature
Ballast doesn't just come to an abrupt end and hit a perfect defining line. It makes a transition to the surrounding ground, as shown in this photo. I used some transition materials including Brennan's Model Railroading's superior sand in both fine and coarse textures from the end of the ballast to the ground. Lastly, I sprinkled a bit of Woodland Scenics no. T41 fine turf, which is jet black and mimics the oily residue from passing trains.
Get more tips for using tubular track.
Dare to be dull
Avoid bright colors for track. Big dirty trains carrying big dirty loads run on these rails. You don't go from tracks to a green pasture. Oil, grease, and other materials suppress the growth of greenery. Your growth near the tracks should be more burnt out and dying than lush and green. Make transition areas using various ground covers as you work your way outward from the tracks.
Avoid perfection
Always remember you are striving for realism – the way things look in the real world. Being too perfect, with a perfect ballast line, doesn't mimic the real world. The more I worked on layout building, the less meticulous I became. In theory the work of ballasting O and S gauge track was done by O and S scale people. Like all of us, they have off days. Be a little haphazard and your work will look more real as a result. – Frank Knautz