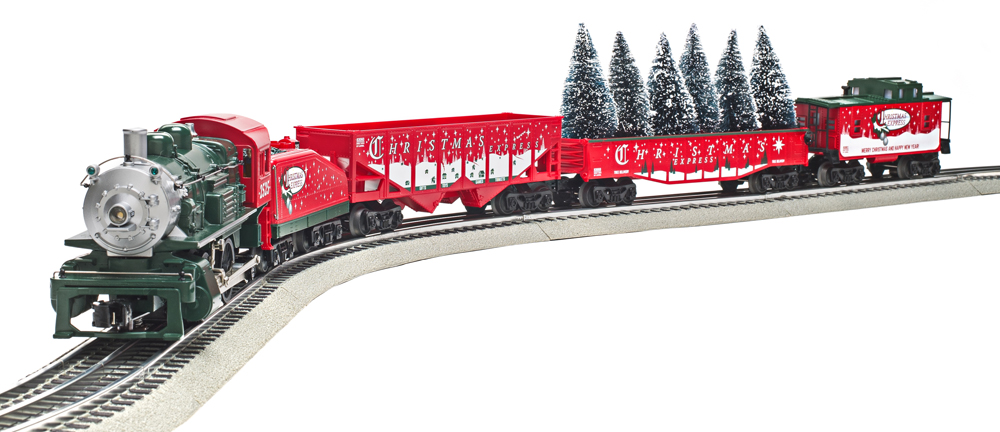 Let's talk about toy train starter set basics. Whether you've been away from the hobby for several decades or are buying a beginner outfit as a gift, you're in for some fun! These packages have gone high-tech in the past few years but – fear not! – they still offer an easy, straightforward path to model railroad excitement.
Almost all starter sets come with the same core elements: track, a power supply, and a train to run.
They also come with an instruction sheet or booklet. It pays to read it before you begin.
Here are a few thoughts before you get started.
Check out a video of a passenger starter set.
Track basics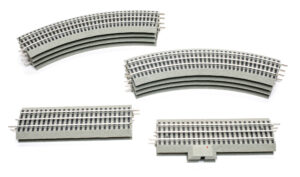 Track is the foundation of the entire hobby. All starter sets come with a loop of track, normally curved sections with a few straight sections to make an oval rather than a circle.
The outfit you have probably has proprietary track with a plastic base and simple plug-in power connections.   are directly compatible without using a transition section. Initially, stick with the track brand your set came with. If you buy a few sections of track and then shift to another brand, you won't lose a fortune.
Transformer information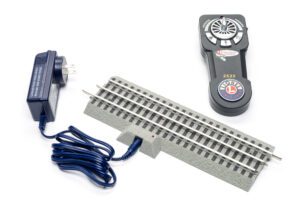 Starter sets will have a power supply (also known as a transformer). This has traditionally been a small box with a lever or dial control for speed and direction, and some buttons for horn and bell activation.
Many sets come with a dedicated wire from the transformer to a section of track with terminals or a plug socket.  Or they might be individual wires attached to a lockon section that clips to the rails.
Sets like Lionel's no. 82982 LionChief Christmas Express set, first cataloged in 2017, have a small "wall wart" box that plugs directly into a household outlet and supplies a steady 18 volts to the track. A wireless handheld controller handles speed and sound controls.
What else is in the box?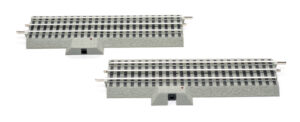 A typical starter set has a locomotive (steam or diesel) and perhaps three or four cars for a freight or passenger train. If your instruction sheet calls for lubricating your engine before running or at later intervals, a tube or bottle of it will normally be included. A little lubricant goes a long way. Over-lubrication is just as bad as none.
Similarly, if your locomotive has a smoke unit, a sample-size tube of smoke fluid is normally included. Again, a few drops at a time works best.
When placing the train on the track, be sure all the wheels have the flanges inside the rails and the rollers underneath are contacting the center rail. The car couplers may be finger-operated to open, but don't forget to close the knuckle or you'll leave the cars at the station.
Should the train derail the metal wheels may hit the center rail and it will short the system. Just turn the power off, put the train back on track, and apply power once more.
While putting a starter set together is fun, the point of it all is running that train! Eventually, you might want to add to your set or build a layout.
Adding more track
The track that accompanies most sets has a fairly limited footprint Even so, don't be tempted to rush right out and buy 50 sections of track to build your empire! Start slowly. Four to eight more straight sections will give you a longer run. It will also allow you to add cars to your set. Toss in a switch or two and you can have a siding for passenger or freight action.
It's easiest to add the same brand of track that came in your set. If it's Lionel, add more. If MTH, get that.
Upgrading your transformer
The larger the layout you build and the more cars you add, the greater the power draw on the transformer. This is especially true if you have passenger trains with lots of lights, and operate accessories. You'll need to upgrade.
A four- or five-car passenger train with one or two conventional bulbs in each car will drain power. You may see this in sluggish operation or dim car lights.
The longer the layout, the farther the electricity has to flow and the more resistance it encounters. You may want to add extra lockon sections to even out power distribution.
The larger your layout becomes, the more you may want to consider more powerful transformers, notably the Lionel ZW or the MTH Z-4000. Both enable multiple-track operation and have accessory power hookups.
Where can I buy a starter set?
We suggest purchasing from a hobby store if possible. Most hobby shops carry sets at different price points; some stores even sell used sets. The benefit of buying there is employees are knowledgeable and can answer questions. They sell related track and equipment if you need that, too.
If there isn't a shop near you, try a larger mail order store that specializes in toy trains, like Trainworld, Gryzbosky's Train Store, or Charles Ro Supply Store.