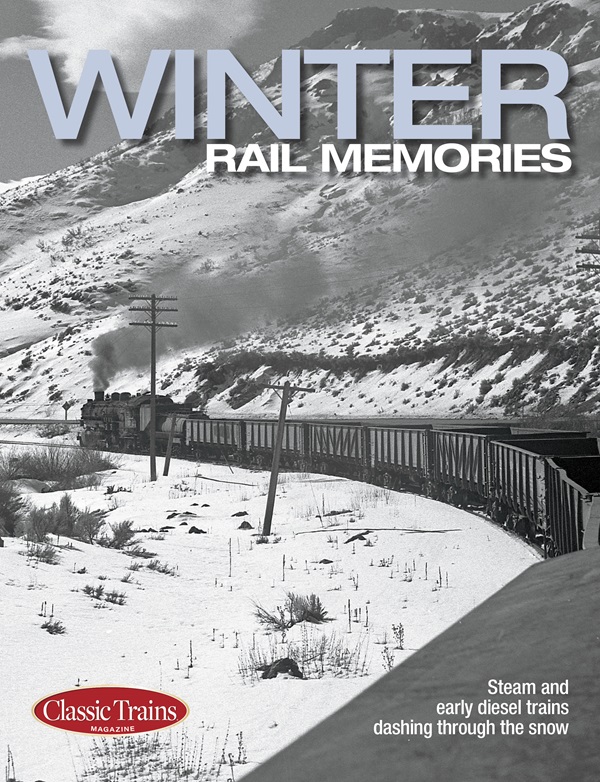 Celebrate the winter season with Classic Trains' compilation of Winter Rail Memories, featuring four articles and stunning images showcasing some of our favorite snow-filled stories.
In Long Way Home for Christmas, author David Ingles recounts his trip home from college in 1965, when he ventured on a rail odyssey from central Illinois, to Dearborn, Mich., and back to school in the University of Tennessee in Knoxville – six trains, five railroads and 1,540 miles.
Arizona Aftermath details a trek from southern California east to Flagstaff on the Santa Fe mainline. Nearly 90-inch snow depths and gigantic snow plumes created when track was cleared led to scenic, snowy pictures across the Arizona Divide.
During Three Days in December, our author and his friend ventured into Ontario's wintry days and nights to take in the sights of steam in 1958, during the last big winter of the steam railroad era.
And finally, Steinheimer Rides UP's Park City Local showcases images a renowned California photographer took during a two-week trip across Nevada and the Salt Lake Valley, Wyoming and Montana in February 1953.
Get Your FREE PDF Download
Enter your email for access to Winter Rail Memories.
By entering your email you will receive newsletters, special offers, and more from the Trains.com family of brands. View our privacy policy.