Northern Pacific's Banana Nut Bread immediately caught my eye as a recipe worth re-creating. The railroad wanted to waste as little as possible, so using overripe bananas in a banana bread was a sensible idea. It also reused milk that had gone sour (though you don't need to keep old milk in your fridge—see tips below). It could be served as a breakfast item, snack, or even a dessert.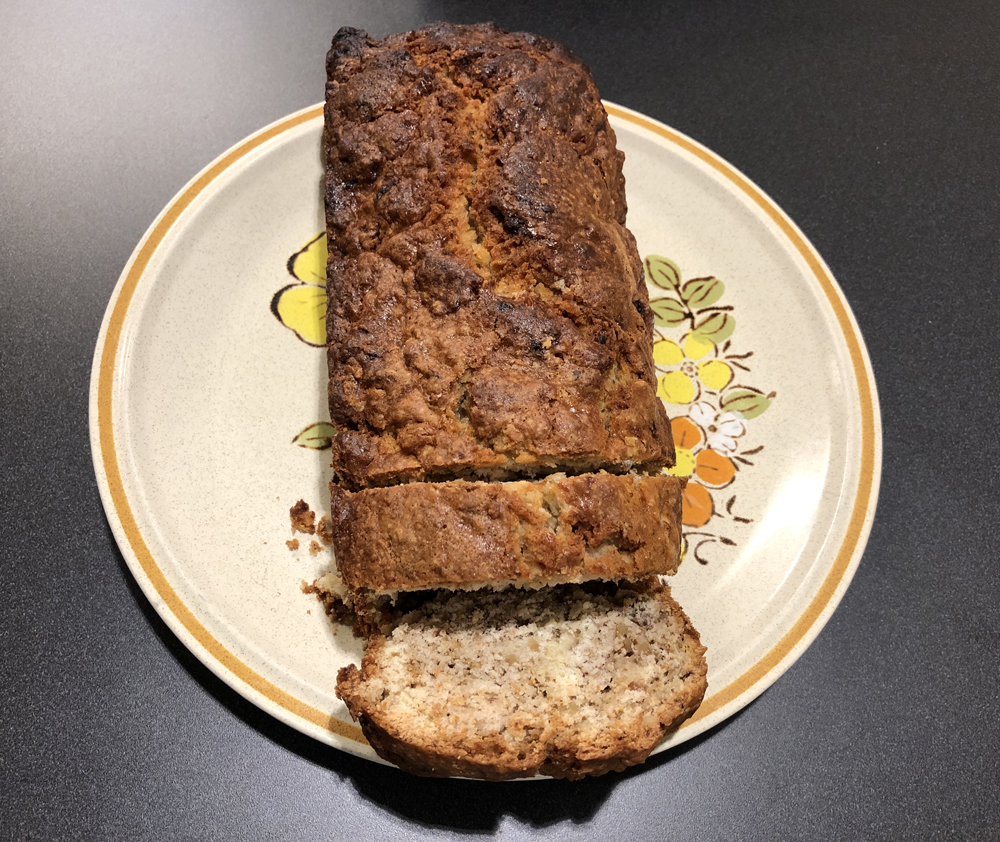 The recipe as published contained no baking instructions, and no quantities for the banana flavoring. My first attempt was good but honestly, it wasn't great. I knew I could do better. I added a bit more mashed bananas, more banana flavoring, and reduced the baking time for my second attempt. It turned out delicious! The recipe below makes two loaves.
Banana Nut Bread
As adapted from Dinner in the Diner
2 c. sugar
1 c. shortening
4 eggs
2 ½ c. mashed bananas
3 T. sour milk
2 t. lemon juice
4 c. flour
2 t. baking powder
½ t. baking soda
½ t. salt
1 c. chopped nuts
1 ½ t. banana flavoring
Preheat oven to 350. Cream together sugar, shortening, and eggs. Add the sour milk, lemon juice, and banana flavoring. In a separate bowl, mix together the dry ingredients. Add to the wet ingredients and mix until combined. Do not overbeat. Coat two bread loaf pans with cooking spray and add half of mixture to each pan. Bake approximately 45 minutes.
Tips
Try a large grocery store to find the banana flavoring. At the store I visited, there were several brands of flavoring, but only one brand had a banana version.
To make the sour milk, combine 3 T. of milk and ½ t. vinegar. Let sit until it curdles (about 5 minutes).
Do not overbake, or the bread will become dry. The tops should be browned but slightly moist when you remove it from the oven. I suggest starting with 40 minutes bake time and add 5 minutes if necessary.
Freeze or share the second loaf.