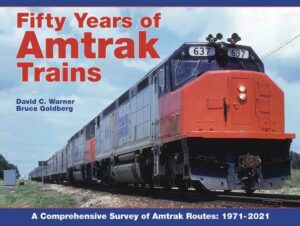 Fifty Years of Amtrak Trains is a beautifully crafted 256-page, all-color hardbound volume. It is a time capsule of relevant information on the first 50 years of Amtrak's existence, including a comprehensive survey of Amtrak routes between 1971 and 2021.
The volume accounts for all Amtrak routes and trains (the book is divided into state and regional sections of the U.S.), featuring numerous detailed timetables showing the name of the train, running times between end points, train numbers, major stops, and additional notes where needed. These charts alone provide a wealth of information that likely any railfan or interested party would not be able to gather without extensive research. Surprisingly, the authors have been able to assemble and consolidate these schedules in one book, thus making it easy for anyone interested in tracing Amtrak's trains over the 50-year span since Amtrak was formed in May 1971 as the National Railroad Passenger Corp. At the front of the book the authors explain the formation of Amtrak as a new era of American passenger railroad history.
There are also several helpful, detailed Amtrak nationwide route maps in the front of the book from each 10-year anniversary. In addition, there is an overview of the Northeast Corridor service, the Metroliner/Turbotrain/Acela Express trains. Helpful for the reader, too, are numerous attractive color photos of Amtrak trains, along with detailed captions.
Throughout the volume there are many pages of explanations of various Amtrak trains offering histories of the trains, various routes through the years, and even how COVID-19 had affected some train schedules. The one drawback with this tome is the text size, especially the type in the train schedules. However, with a book this large, it is understandable that some sacrifices had to be made. As is, the book weighs 3½ pounds.
In all, the detailed descriptions of trains, routes and background information contained in Fifty Years of Amtrak Trains is astounding. Anyone who studies or is interested in Amtrak and the status of passenger train travel in the U.S. should have this book in their library.
By David C. Warner and Bruce Goldberg. Published by White River Productions, P.O. Box 48, Bucklin, MO 64631. 256 pages. $79.95.