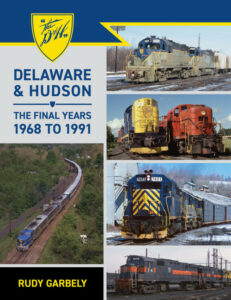 Many railroads saw their definitive histories written in the mid-20th century. For the Delaware & Hudson, that was Jim Shaughnessy's, published in 1967. Delaware & Hudson: The Final Years  is a 416-page volume that picks up D&H history where the first one leaves off, taking it through the road's January 1991 acquisition by Canadian Pacific.
The book is divided into five chapters, based on the railroad's management and ownership in this era. The text is largely driven by interviews with surviving Delaware & Hudson employees. They include the late D&H President Bruce Sterzing, Guilford owner Timothy Mellon, United States Railroad Association President Jim Hagen, and final D&H dispatcher Gordon Smith. The book provides an especially apt recounting of the railroad industry in the 1970s and 1980s, including details of the acquisition and subsequent bankruptcy by Guilford and labor relations. Short sidebars tell interesting tales that are not central to the main narrative. The book is profusely illustrated, largely in color, and includes a bibliography, index, and 40-page appendix reproducing employee timetables from the greater D&H system. The book is a veritable rainbow of color given the variety of motive power of the D&H, transition to Guilford ownership, directed operation by Susquehanna, and eventual takeover by CP.
Delaware & Hudson: The Final Years, 1968 to 1991 is a fine addition for any fan of the D&H, anthracite railroading, or the behind-the-scenes of railroad business. It is a welcome sequel for owners of Shaughnessy's original tome.
By Rudy Garbely, published by The Garbely Publishing Co., Dingmans Ferry, Pa., $90