Between the years 1976 and 1999, Conrail business trains operated for three purposes: to enable railroad executives to travel the right-of-way for close track inspection, to look at rail facilities, and to entertain customers over Conrail lines to improve business potential and customer service.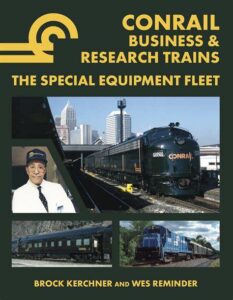 This nearly all-color, very well done 416-page, four-pound volume covers the early Contrail years (1976-1981), the Reading Years (1982-1991) and the Altoona Years (1991-1999), memories and employee stories, the line's technical services laboratory equipment, track measuring equipment, special equipment roster covering 22 passenger cars and four locomotives, and much more. One of the interesting sections for railfans is the Conrail business car section, including official car diagrams and data in which cars like the unique theater car (originally built in 1954 by Pullman-Standard) is detailed. The volume also includes the railroad's internal police department cars. The authors have researched Conrail's special equipment fleet for three decades, and have come up with a well-done, detailed portrait of Conrail's special equipment trains.
Readers will enjoy the over-the-road trips that are recounted in detail by working employees, accompanied by rare and never-before-published black and white and color photographs showing these unique and memorable trains under construction, in operation, and even in a foreign country. Passenger car and Conrail business train fans will especially enjoy this unique, detailed volume.
Published by Garbely Publishing Co., Dingmans Ferry, PA 18328. Price: $80.00.
Authored by Brock Kerchner and Wes Reminder