Was the Blue Streak Merchandise the last Great American Freight Train?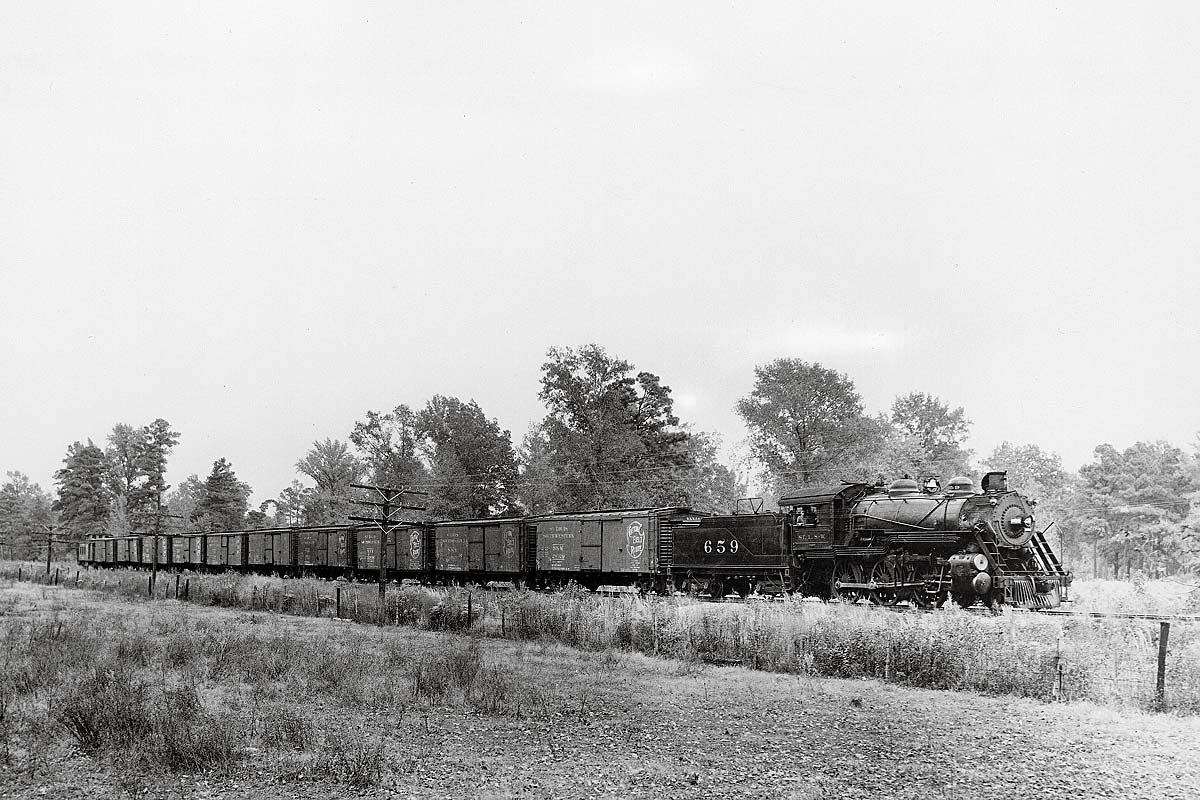 "You define a passenger train by its cars, its menu, its route — even its patrons," says railroad historian Fred W. Frailey in his 1991 book on the Blue Streak. "But the Blue Streak defined the railroads over which it runs — seized control of them, you could say. The Streak labored under a schedule that simply could not be met unless everything went right and everyone pulled together."
The St. Louis Southwestern Railway, better known as the Cotton Belt, inaugurated the Blue Streak on Oct. 1, 1931, in the depths of the Great Depression. Advertised in St. Louis newspapers, the train would handle less-than-carload traffic to Pine Bluff, Ark.; Shreveport, La.; Texarkana, Tex.; and points in between. A September 1932 schedule showed a 7:10 p.m. departure from St. Louis. It operated as No. 3 from East St. Louis to Pine Bluff and No. 43 from Pine Bluff to Texarkana.
The Cotton Belt, however, had grander plans for its premier freight train. In late 1935, the railroad extended the train with second-morning delivery to Dallas, 193 miles beyond Texarkana. Finally, by February 1946, the Blue Streak was extended to Los Angeles and formally dubbed the Blue Streak Merchandise.
"The typical Streak blazed across West Texas in the late 1940s had 50 or so with loads, a couple of empties, a wood-framed caboose, and one of SP's sturdier steam locomotives," Frailey notes. "You wouldn't have been impressed." In the coming decades, the train would come to cast a much more imposing figure over the railroad as it found a niche hauling auto parts and other time-sensitive commodities westward.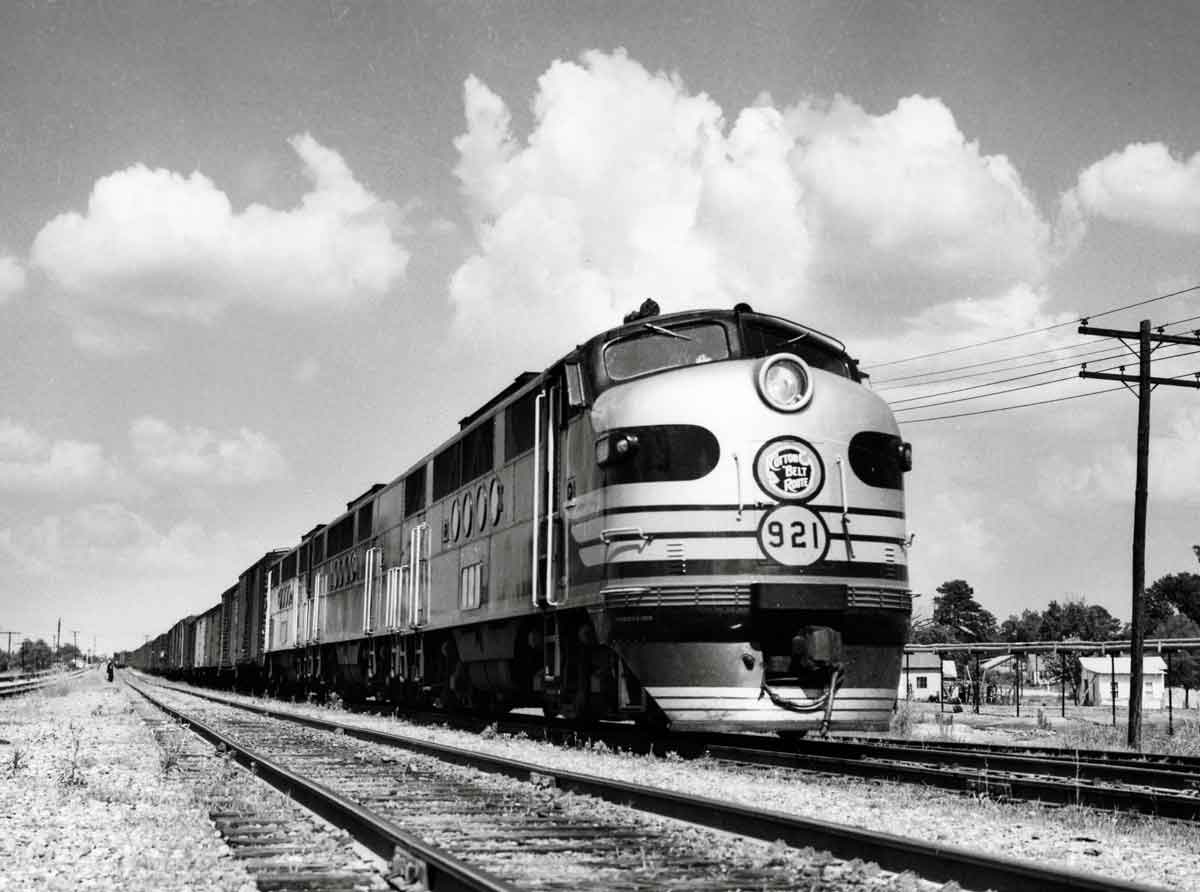 Additional sections were added and dropped to fit customers' needs. There were the Second Blue Streak Merchandise (1966-1974), Third Blue Streak Merchandise (1971-1973), Advance Blue Streak Merchandise (1961-1982), and Second Advance Blue Streak Merchandise (1971-1973).
In 1983, the original train found a new home on the Southern Pacific's former Rock Island main line via Tucumcari, N.M., the famed Golden State Route. This routing also required trackage rights over Union Pacific's former Missouri Pacific line between St. Louis and Kansas City. By then it was known as the Blue Streak Merchandise Freight Forwarder. During this period, the train gained a healthy business of intermodal traffic along with its traditional carload freight.
As of July 1991, the fleet included four trains:
Blue Streak Merchandise Freight Forwarder operating between East St. Louis and Los Angeles (Van Nuys) via Tucumcari
Chicago Blue Streak Merchandise Freight Forwarder operating a connecting train between Chicago and Kansas City over Burlington Northern
Memphis Blue Streak Merchandise Freight Forwarder operating between Memphis and Los Angeles
Blue Streak Merchandise Freight Forwarder 2 operating between Memphis and Long Beach
The end of the fabled family of trains was rather unheralded when SP successor UP simply abolished the use of BSMFF and MBSMF train symbols. This occurred in late 1996, just after the SP-UP merger, according to retired dispatcher Stuart Schroeder. However, the story doesn't entirely end there. In October 2001, UP briefly dubbed its Memphis to Los Angeles intermodal trains "Blue Streak service."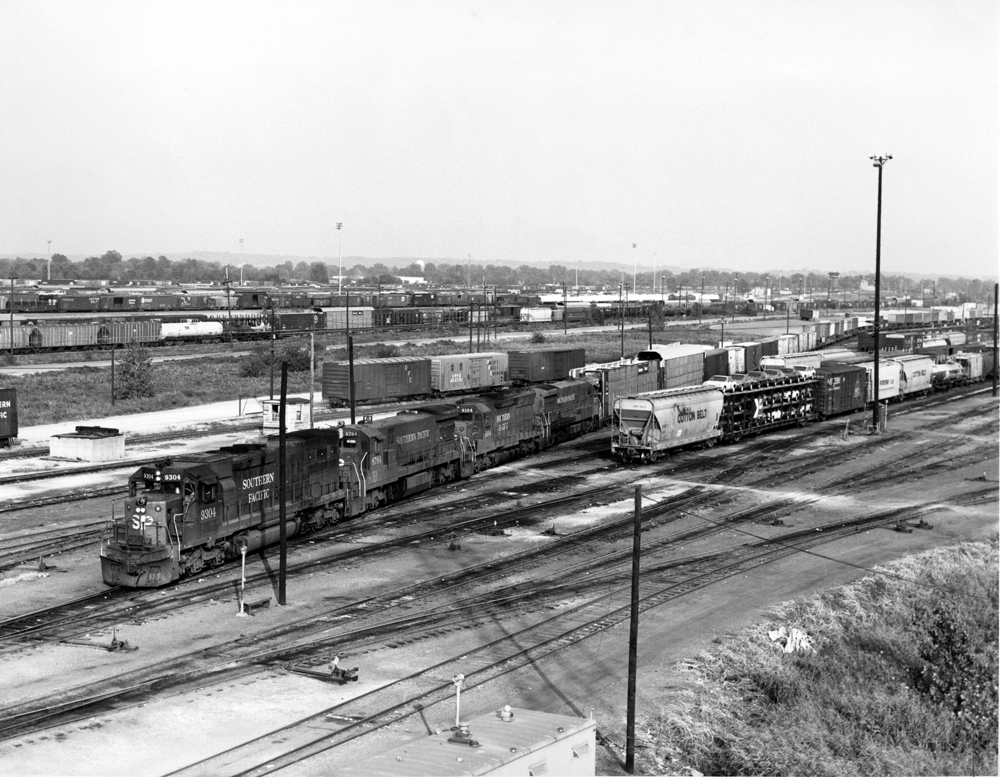 Railroads today still operate priority service in a variety of markets, but none of them can trace their history quite like the Blue Streak Merchandise.
Fred W. Frailey and Tom Kline both helped with research for this story.