The best-selling early GE diesel locomotives are familiar to fans of mid-century diesel power.
General Electric has a long relationship with railroad motive power. The company began building heavy electric locomotives in the 1890s, furnished traction motors and electrical equipment to other builders through the 1950s, and eventually become the dominant diesel-electric locomotive manufacturer in North America.
The best-selling early GE diesel locomotives are its 44-ton switching locomotives, which found favor among large Class I railroads as well as short lines and industrial users. The 44-ton locomotive was significant, as it was the heaviest locomotive that, by operating rules, could be run by an engineer alone without a fireman. The 44-tonner was distinctive and easy to spot, with a center cab and a small diesel engine in each hood. More than 370 were built from 1939 through 1956.
The U25B marked GE's entry into the domestic road diesel market, and it featured several innovations. It was powered by GE's 16-cylinder FDL engine rated at 2,500 hp, 500-hp higher than EMD's competing GP20 (and 100 more hp than Alco's slow-selling RS-27). The U25B had a pressurized engine compartment to help keep out dirt and dust, a new air filtration system, and simplified mechanical equipment. The locomotives (and future GE U-series locomotives) became known as U-boats.
GE road switchers had a common look through the 1970s, with a distinctive cab and hood design and a flat-sided fuel tank that tapered at an angle toward the bottom. Dynamic brakes, when installed, are evident as grids just inside the rear air intake screen on the sides of the hood.
Most four-axle U-boats rode on AAR type-B road trucks, and in 1972 GE's FB-2 (floating bolster) trucks became an option. Until 1966, six-axle GEs were delivered with trimount trucks with uneven axle spacing (like Alco's design). In 1966 GE adopted a design with equal axle spacing that eliminated the outside drop equalizers.
44-ton: 373 units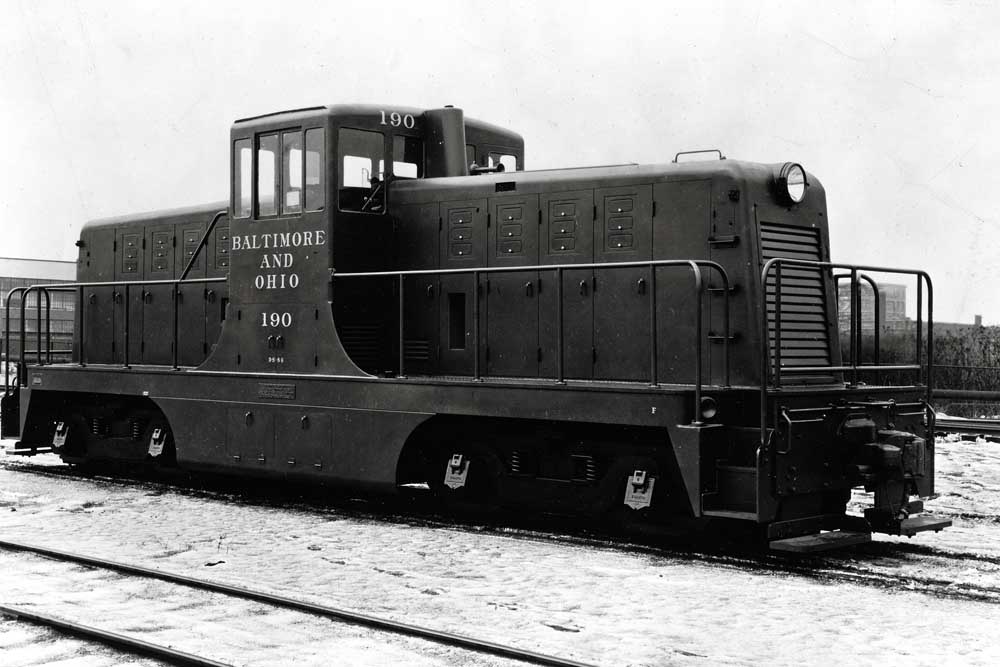 The 44-tonner was popular with both industrial users and common carriers, as it skirted just under the rule that a fireman must be used on any diesel 90,000 pounds and heavier. It used a pair of Caterpillar diesel engines and was rated at 380 or 400 hp. Phase I bodies (through October 1942) had side radiator louvers and a single set of steps on each side—set in from the end—illustrated by the Baltimore & Ohio locomotive above. On Phase II models (through May 1943) the louvers moved to the ends, with ladders added at each corner. Phase III (through June 1945) versions have multi-panel access doors on the hoods. Phase IV (through September 1951) engines have small rectangular air intakes at the top of each hood side. Phase V models (through 1956) have ridges in the hood doors and a rectangular headlight (instead of round).
Major buyers: AT&SF, B&O, B&M, CN, CB&Q, D&RGW, DL&W, GN, IC, LV, MEC, M&StL, MILW, MP, NC&StL, NYNH&H, NYO&W, NKP, NP, PE, PRR, SN, SLSF, Soo, SOU, SP, Union, WM
U23B: 425 units (best-selling early GE diesel locomotives with four axles)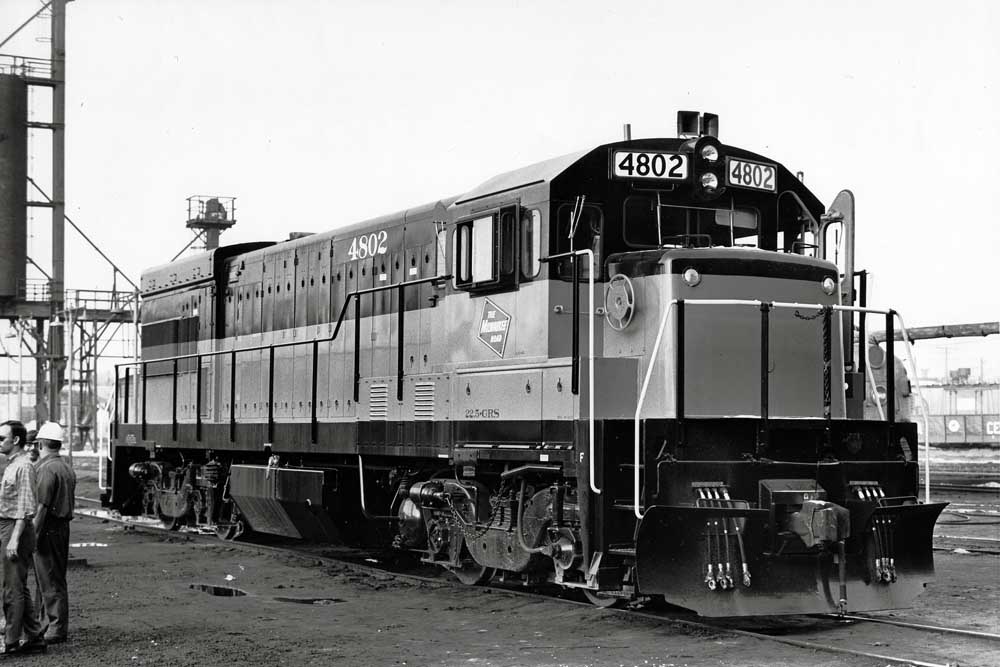 General Electric brought out the 2,250-hp U23B in 1968 as a medium-horsepower general freight locomotive, like EMD's GP38. It uses a 12-cylinder version of GE's FDL engine. The locomotive was built on the same frame as its higher-horsepower brethren, but the body looks like a shortened version of the U30B. The U23B only has six tall engine access doors on each side (one for each pair of cylinders) compared to eight tall doors on the U30B. Most ride on AAR type B trucks, but some (like the Milwaukee engine above) have GE's FB-2 trucks or EMD trucks from traded-in units. Southern's have high noses.
Major buyers: AT&SF, C&O, CR, D&H, LV, L&N, MILW, MKT, MP, MON, NdeM, PC, SOU, WP
U25B: 478 units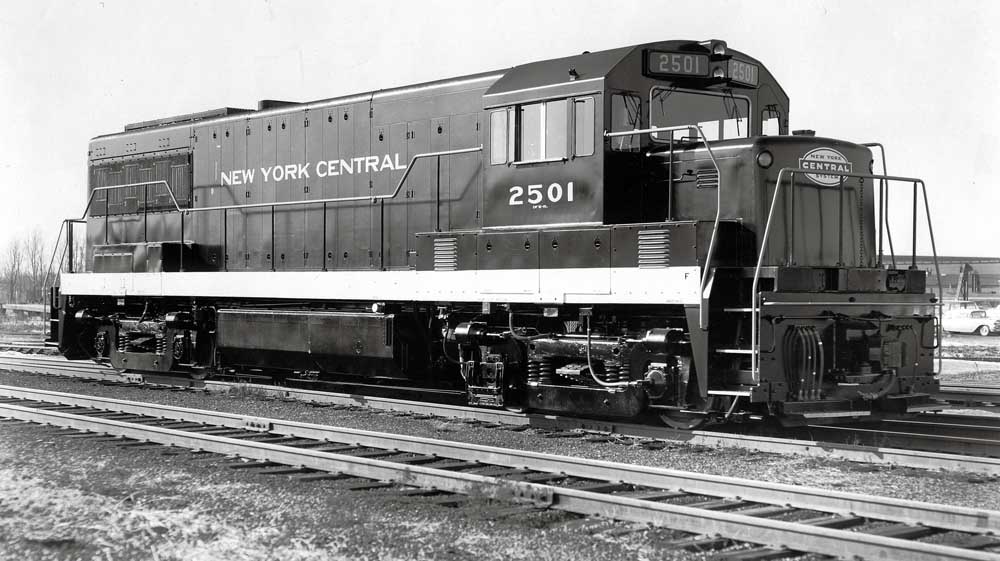 GE broke into the road locomotive market in 1959 with the revolutionary U25B, which, at 2,500 hp, was the highest-horsepower single-engine road diesel on the market. By the end of its production run, GE had become the second-largest locomotive builder. The U25B had an elevated portion of the walkway at the rear of each side and had a longer nose than later U-boat models. The demonstrator locomotives and four early units each from Frisco and Union Pacific had high noses, but the remainder had low noses. Low-nose U25Bs initially had large one-piece windshields; this changed to a two-piece design in 1965.
Major buyers: AT&SF, CB&Q, C&O, CRI&P, EL, GN, L&N, MILW, NYC, NYNH&H, PRR, SLSF, SP, UP, WAB
U30C: 592 units (best-selling early GE diesel locomotives)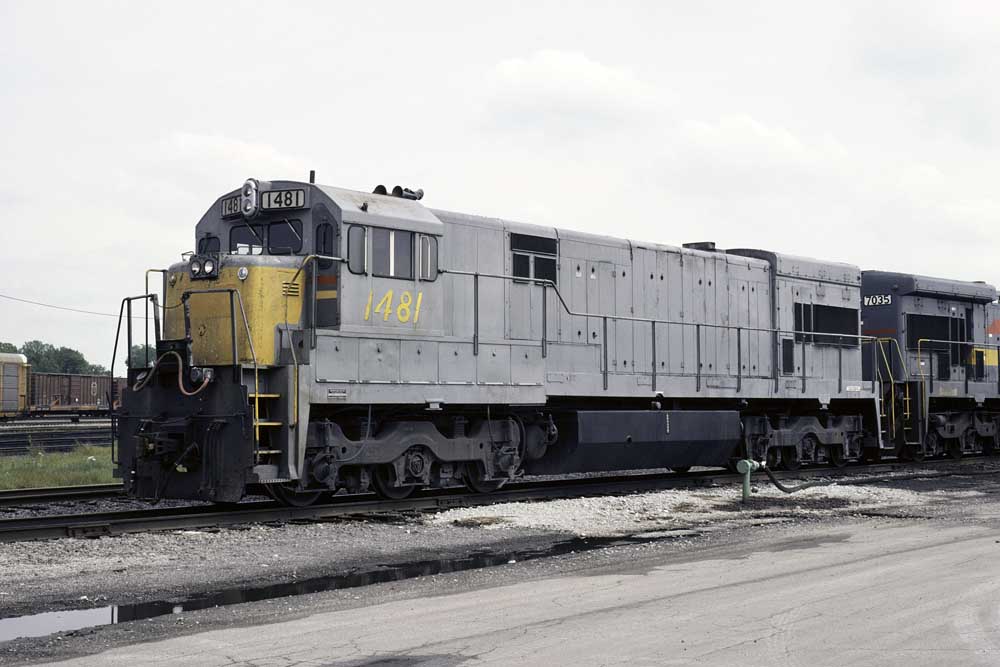 The six-axle version of the U30 proved more popular than the four-axle version, as the 3,000-hp U30C earned a reputation as a good-pulling locomotive in heavy-haul freight service, especially coal trains. Spotting features are the same as the U30B, with eight tall engine-room doors on each side. A change in radiator design during production added an angled fillet between the radiator roof bulge and the body. The side radiator intake screen was initially the full width of the radiator. It was later shortened, with a pair of smaller vertical openings in front of it.
Major buyers: ACL, BN, CB&Q, C&O, C&NW, CRI&P, D&H, L&N, MILW, MP, N&W, PRR, RDG, SOU, SP, Soo, T&P, UP
U33C: 375 units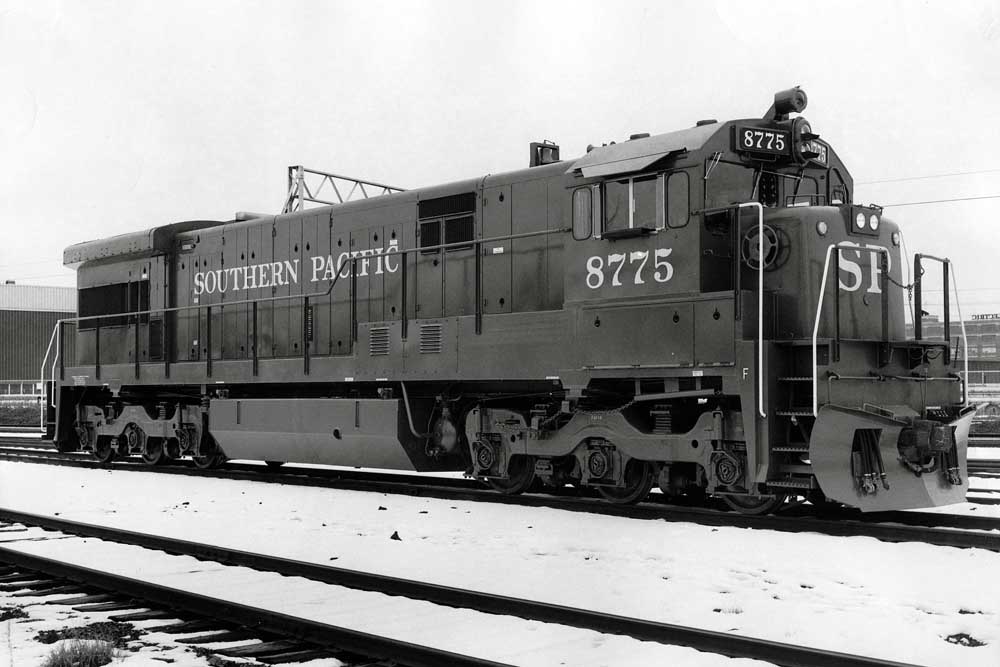 The six-axle U33C shares the same spotting characteristics as the U33B, with a bigger radiator housing than the U30C. Hood openings varied during production. SP had the biggest fleet (212); all its units had large, L-shaped windshields on the engineer's side. Southern's had high noses.
Major buyers: AT&SF, BN, D&H, EL, GN, IC, MILW, NP, PC, SOU, SP