Amtrak E60 locomotives are an important bridge for Northeast Corridor electric railroading between the GG1s of the 1930s and 1940s to the AEM-7 and HHP-8 locomotives of the 1980s and early 2000s.
E60 locomotive history
General Electric developed the E60 C-C or six-axle locomotives at its Erie, Pa., plant in the early 1970s. The first locomotives were used in freight service by the Black Mesa & Lake Powell Railroad in Arizona for dedicated heavy-haul coal service. When first introduced to the media in 1972, the E60C generated 6,000-hp in single units.
GE managers designed the locomotive for operating on 50,000-volt (50 Kilovolt), 60-cycle lines from overhead catenary. The Black Mesa runs required these earliest E60s to run in multiple on 83-car trains 78 miles at a time over a 0.9% ruling grade.
Trains in January 1973 described the locomotives and their first location to be "model, test tube, and precursor."
E60 locomotives on Amtrak
The Federal Railroad Administration approved E60CP No. 950 as the first E60 for Amtrak service on Nov. 24, 1975, and permitted it to run up to 85 mph in regular service. Trains quoted Amtrak's then-President Paul H. Reistrup as saying "..no other locomotive in the U.S. has undergone such extensive testing," and he predicted ultimate Metroliner-level performance from the GEs.
Before that approval, however, No. 950's rear truck derailed on its last day of testing earlier in 1975, prompting an additional nine months of testing and safety reviews. The FRA determined, at the time, that the trucks showed "sources of vibratory yawing." This prompted a delay for E60 locomotive deliveries, but also for P30CH diesel-electric locomotives, which had a similar truck design.
In the years that followed, E60 locomotives ran into multiple troubles leading GE to defend its product. And as early as 1982, Amtrak began selling E60s, first with a sale of two units to Navajo Mines (Nos. 966 and 968) and 10 units in 1984 to NJ Transit (Nos. 958 to 963, 967, 971 to 973.) Each of the locomotives were less than 10 years old.
E60 locomotive types and re-numbering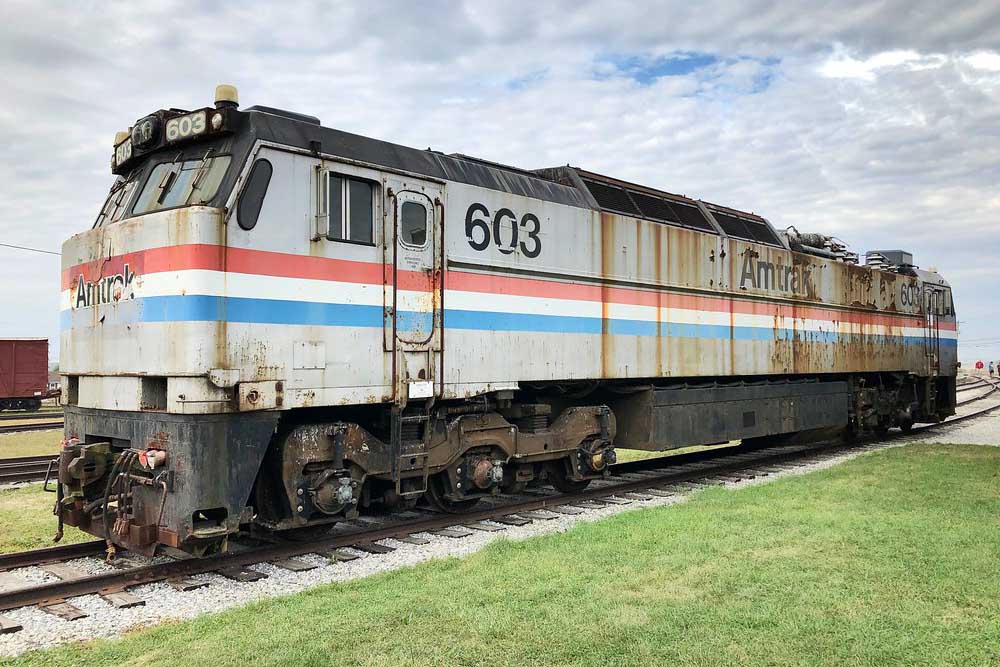 In David C. Warner and Elbert Simon's "Amtrak By the Numbers," the authors list more than 26 locomotives in the E60 class for Amtrak. This is due to renumbering and rebuilding. The original E60CP locomotives (Nos. 950-1 to 953-1, 954, 955) include a "P" for passenger service and these units included steam heat to pull then-Amtrak cars that required locomotive-applied steam for proper functioning. Units 956 to 975 were designated E60CH, with the "H" indicating that it was head-end power equipped, that is, those locomotives supplied electrical power to passenger cars without the need for steam.
E60MA Nos. 600 to 610 were locomotives renumbered from earlier models. Amtrak regeared them for 90-mph service, converted remaining steam-generator units to head-end power, according to the May 1986 issue of Trains.
Amtrak E60MA locomotive Nos. 604, 609, and 610 were the last such units operated by Amtrak and were retired in June 2004.
The Railroad Museum of Pennsylvania houses retired E60MA No. 603 in its collection in Strasburg, Pa.