Amtrak E44 electric locomotives are eight roster oddities that likely never turned a wheel in revenue service for the passenger carrier.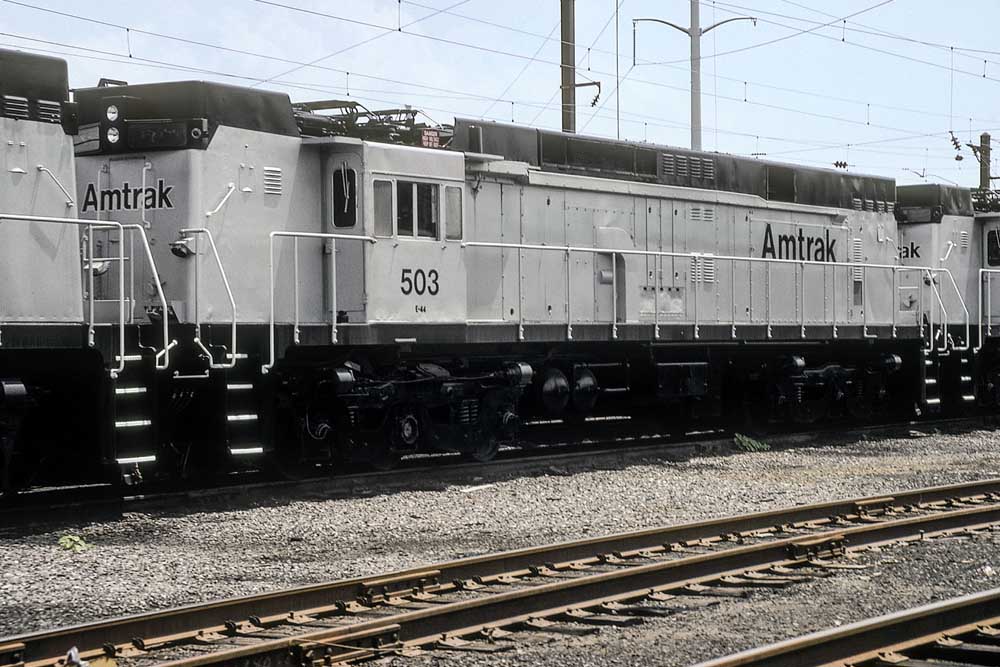 The Pennsylvania Railroad acquired 66 of the 5,000-hp, six-axle E44 electric locomotives from General Electric, Nos. 4400-4465. Built at Erie, Pa., between 1960 and 1963 the motors were 69-feet, 6-inches long and weighed 384,260 pounds. They operated on 11,000-volt A.C. overhead power and were known as "bricks" for their box-like appearance. They hauled freight for PRR successors from northern New Jersey to Potomac Yard in northern Virginia for Penn Central and Conrail until 1981.
Amtrak acquired eight E44 electric locomotives from New Jersey Transit in June 1987 which had previously acquired the units from Conrail after it wound down electric freight operations on the Northeast Corridor. They were considered for maintenance-of-way service on the electrified NEC, which Amtrak acquired outright on April 1, 1976, in lieu of its continued operation under Conrail auspices. However, Amtrak nixed this idea in light of federal regulations regarding the toxic PBC (polychlorinated biphenyl) chemicals used in their transformer coolant oil. (The use of polychlorinated biphenyl in transformers is widely cited as a reason for the lack of an operable GG1 electric today.)
Amtrak E44 electric locomotives carried Nos. 500-507. They were all officially stricken from the Amtrak roster by 1991 when the 500-series was assigned to the new GE P32-8WH diesels.
One resides today at the Railroad Museum of Pennsylvania in Strasburg, which acquired it in April 1991. Built as the No. 4459, it was the last new electric locomotive acquired by the Pennsy and came to the museum in Amtrak platinum mist-and-black paint as the 502. It was displayed outdoors in its Amtrak paint for several years and subsequently restored to its original Pennsylvania Railroad appearance for display inside the museum. As of October 2019, it was paired with GG1 4935.