Southern Railway freight trains remembered: All through June 2022, Classic Trains editors are celebrating the grit, panache, and charm that was the Southern Railway.

Southern 5027, a 2-10-2, begins an attack on Saluda grade with a north-bound freight. Sister engine No. 5047 in on rear (out-of-sight) giving a helping hand in Melrose, North Carolina, in May 1948. Saluda is the steepest main line grade east of the Rocky Mountains. David W. Salter photo


Southern train 119 operates 6 days a week from Frisco, Tennessee, connecting with 19 eastbound to Asheville-Spencer, North Carolina. Here F7As 4188 and 4233 roll a solid piggyback train into Church Hill, Tennessee, on June 5, 1965. Charles K. Marsh Jr. photo


Southern Railway northbound train 216 glides through Black Creek Cut at New River, Tennessee, along the Kentucky Division, part of subsidiary CNO&TP on Sept. 2, 1973. Mike Iczkowski photo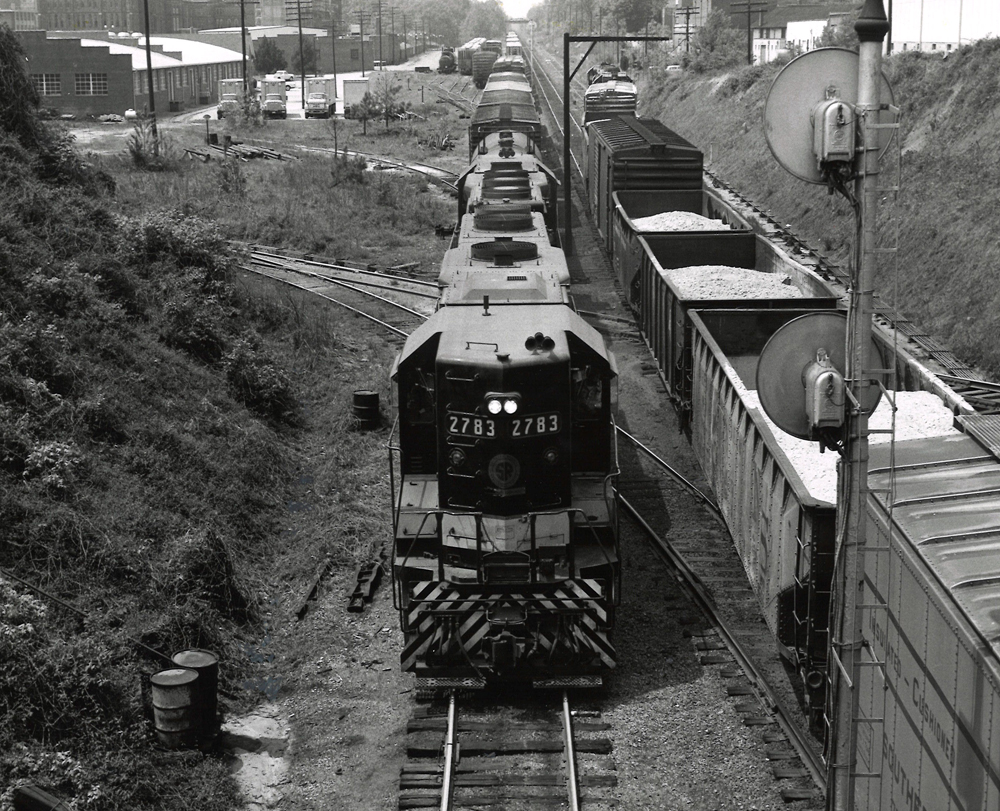 Southern Railway No. 2783 leads a freight train toward two target signals and a cut passed a freight train that is going away from the camera and switching tracks. Curtis C. Tillotson Jr. photo


A little over a half-mile to go after crossing the points at Safety One and No. 5017 will have her westbound grade over the crest of the grade at Saluda, N.C. Allan D. Krieg photo


Extra 8291 North. Two GP7s lead 37 freight cars, mostly loaded tri-level auto-racks, under the Peters Street overpass in July 1979. Curt Tillotson Jr. photo


Southern's Georgia Division main line at Lowe, Ga., west of Atlanta, is the point chosen for a meet between a unit train of empty Silversides coal gondolas and southbound pig train 229. The unit train, headed for the coalfields of Parrish, Alabama, has just left Atlanta's Inman Yard, where two U30Cs were dropped; the two U33Cs on the head end are spliced by a radio control car. M.E. Iczkowski photo


Thundering steam and steel working up the grade through Alpine, Kentucky, in the heart of the Cumberland Mountains. Doyle B. Inman photo


Southern SD40-2 No. 3240 leads a freight train of 3 cars in the afternoon at Kings Mountains, North Carolina, in June 1974. Curtis C. Tillotson Jr. photo

As part of the celebration, please enjoy this freight train photo gallery as the perfect accompaniment.
Each month since October 2019, Classic Trains editors have showcase one "Fallen Flag" railroad — one whose name and heritage has succumbed to bankruptcy, merger, or abandonment — as a railroad of the month. All of our past articles are available online.
Only at Trains.com!