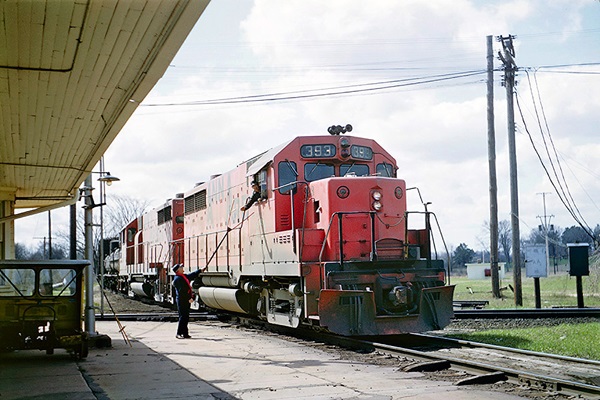 History of the Ann Arbor Railroad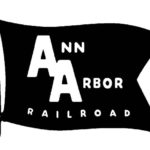 The Ann Arbor Railroad was as much a steamship line as a railroad. Built from Toledo, Ohio, northwest to Frankfort, Mich., it existed for one reason — to move freight in car ferries across Lake Michigan to bypass Chicago. From 1910 to 1968, "the Annie" operated 320 car ferry route-miles versus 292 miles of railroad. AA was at the forefront of car ferry design and innovation, from the first wooden-hulled vessels to the most advanced car ferry to ever sail Lake Michigan.
During the 1940s, up to six ferries made the round trip from Boat Landing, as AA called its yard in Elberta on the south side of Frankfort harbor, to two Wisconsin and two Michigan Upper Peninsula ports. The boats ran year-round on a tight schedule, timed to match with three pairs of scheduled Toledo freights, where AA interchanged with five trunk lines. Well-kept 2-8-2s powered those short, fast trains across AA's rolling profile until 1950, when Alco FA2s took over.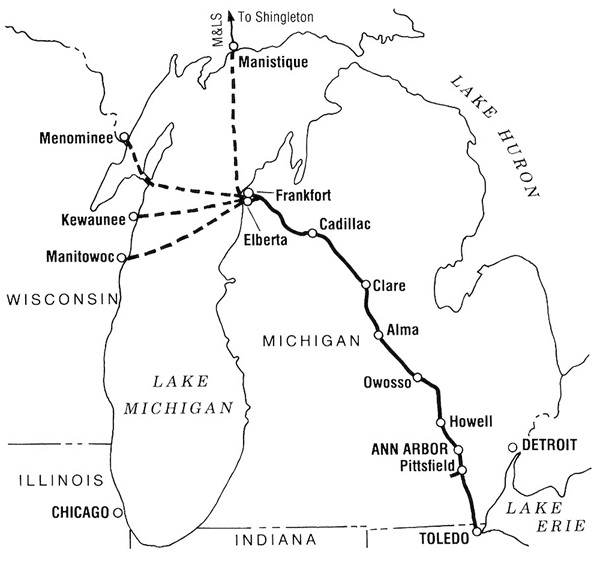 Michigan latecomer
The line began grading in 1868 but was completed by lawyer James M. Ashley. His dream was to reach Lake Michigan and establish the first cross-lake car ferry service. Construction on the Toledo & Ann Arbor began in 1877 and reached Ann Arbor in 1878.
Construction continued as the Toledo, Ann Arbor & North Michigan Railroad, meeting near Thompsonville in late 1889 with the Frankfort & South Eastern. Ashley leased it to reach the lake and merged it into TAA&N. In Ashley's haste to reach the lake, his line missed every major town and had no branches to feed it.
Two wooden ferries, Ann Arbor No. 1 and No. 2, were built in 1892 by Craig Ship Building Co. Each was 260 feet long and could carry 24 freight cars. Their bows were designed to ride up on lake ice and crush it with their weight, a necessity for year-round navigation. The design was followed by all subsequent cross-lake car ferries.
Ferry service began November 24, 1892, and the railroad enjoyed a brief success until a strike over wages in March 1893 by the Brotherhood of Locomotive Engineers financially wrecked it. The railroad was forced into bankruptcy in April, and Ashley lost control. The receiver put $1 million into new equipment, facilities, and improvements, and the name was changed to Ann Arbor Railroad Co. on September 1, 1895.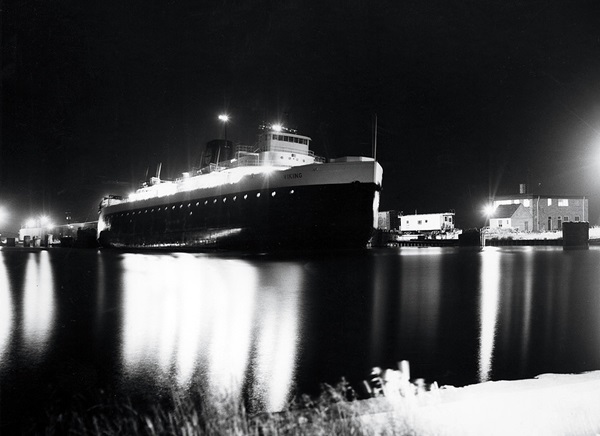 Out of bankruptcy
Transformed from a dirt-track pike, the property emerged from bankruptcy July 1, 1897. Cross-lake traffic was growing, so a third ferry, the all-steel Ann Arbor No. 3, was added in 1898. The railroad had become increasingly dependent on its eastern connections, and needed a friendly parent to survive. The newly formed Detroit, Toledo & Ironton Railway stepped up in 1905 and acquired AA stock control. Under DT&I, Annie's traffic grew, so 13 new 2-8-0s for freight and five new 4-4-2s for varnish were added.
Over-spending and poor financials doomed the relationship when DT&I entered bankruptcy in 1908. The bankruptcy court invalidated the purchase, leaving AA out in the cold until November 25, 1910, when a group of investors bought it. For the next few years AA flourished, adding more ferries and rolling stock. Four passenger trains rambled between Toledo and Frankfort each way six days a week, with flagships 51 and 52 running daily. Yearly ridership topped 1 million; for economy, AA bought five McKeen motor cars to work locals. During World War I government control, USRA added four light 2-10-2s, and after the war, AA added its eight 2-8-2s.
The Wabash had eyed the Ann Arbor since the late 1890s, as the car ferry service fit into its expansion plans. On November 2, 1925, it took stock control, and soon, Wabash ordered the last ferry built for the Annie, the Wabash. Launched March 19, 1926, she was the largest Great Lakes carferry to date — 366 feet long with a capacity of 32 freight cars.
The relationship lasted 37 years. AA began to dieselize in 1941 with a 44-ton Whitcomb, adding two Alco S1s in 1944. By fall 1951, steam was done as AA finished its roster with 14 FA2s, 4 S3s, and 2 RS1s. The latter were for Annie's passenger trains, but those ceased on July 19, 1950, never dieselized. The car ferries continued to handle a limited number of passengers and autos until the end.
Annie's success was tied to the Wabash, whose colors AA's diesels wore: black for switchers and blue, gray, and white for road power. Wabash's traffic department kept the ferries full, but they were getting old and losing capacity as freight cars got longer. To modernize, Ann Arbor No. 6 was lengthened and repowered with two 2,750 h.p. Nordberg diesels; it returned to service in March 1959, named for Wabash President Arthur K. Atkinson. The Wabash's boilers were converted to oil-firing in 1962.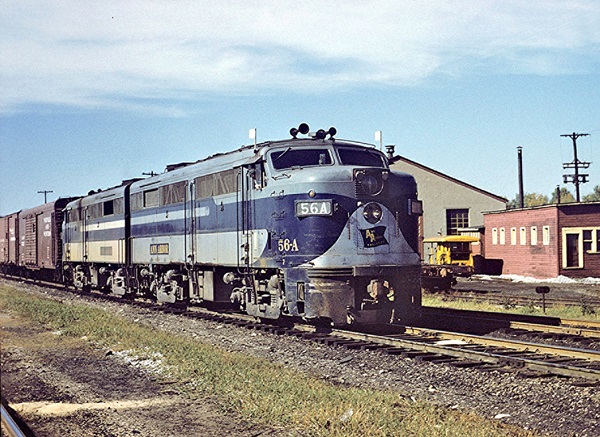 Mergers doom the Annie
The Eastern mergers of the 1960s ultimately doomed the old Ann Arbor. As planning for Penn Central went on, the Norfolk & Western merged with Wabash, Nickel Plate, and two smaller roads in 1964. N&W wanted no part of the Ann Arbor and its costly ferries, so AA was foisted off on DT&I, which was profitable by the 1960s.
With ICC approval, DT&I took over the Ann Arbor on August 31, 1963, and soon replaced the tired FA2s with 10 GP35s, riding on Alco trucks and painted in DT&I orange with large "Ann Arbor" lettering. DT&I's GPs often mixed with the Annie's.
DT&I had ferry Wabash refitted, changed her name to City of Green Bay, and loaned AA $2.5 million to rebuild Ann Arbor No. 7. The railroad renamed No. 7 Viking, lengthened it, installed four EMD 2,500 h.p. 567 diesels. But even with the bigger boats, capacity remained an issue as car sizes increased. AA was losing money. First the ferry route to Manistique, Mich. (and AA subsidiary Manistique & Lake Superior), was discontinued, then the one to Menominee, Mich.
Ann Arbor's fate was sealed. A firm was hired to liquidate Pennsylvania Company assets, including AA and DT&I. Ann Arbor defaulted on the loan for the Viking on November 1, 1972, and filed for bankruptcy on October 15, 1973, leading to AA's inclusion with other bankrupts in the Regional Rail Reorganization Act of 1973 that resulted in Conrail. In the first Preliminary System Plan, abandonment was recommended north of Ann Arbor, but Michigan authorities wanted to preserve the line.
When Conrail began on April 1, 1976, the Ann Arbor Railroad ceased to exist. Michigan arranged for a new company, Michigan Interstate Railway, to run it, which lasted from October 1, 1977, to September 30, 1982. MI cut back to just Toledo–Ann Arbor, while another new firm, Michigan Northern, ran the old AA between Alma and Frankfort during October 1982–May 1984. The Alma–Ann Arbor portion became part of an expanded Tuscola & Saginaw Bay, which had begun on ex-PC lines east of Saginaw. In May 1984, T&SB — "Tisbee," for its reporting marks TSBY — took over north of Alma, too. The car ferries quit in April 1982, and the track was eventually cut back to Yuma. On March 1, 2007, TSBY — having long spun off its original lines — changed its name to Great Lakes Central to better reflect its location. (GLC also operates ex-Michigan Northern, ex-Pennsy track north of Cadillac.)
Today, the last two AA car ferries and the two RS1s still exist, and a new Ann Arbor Railroad, owned by Watco, operates Toledo–Ann Arbor.