First of a great line
PRR 1737, built in 1914, was the first of the road's 425 class K4s 4-6-2 Pacific steam locomotives. Built until 1928, the K4s worked passenger trains all across the vast system, the last ones being retired in 1957 when PRR ended steam usage. Prototype 1737 is shown in as-built condition; later modifications included bigger tenders, power reverse, stokers, electric headlights, and drop-coupler pilots. Two have been preserved.
Classic Trains collection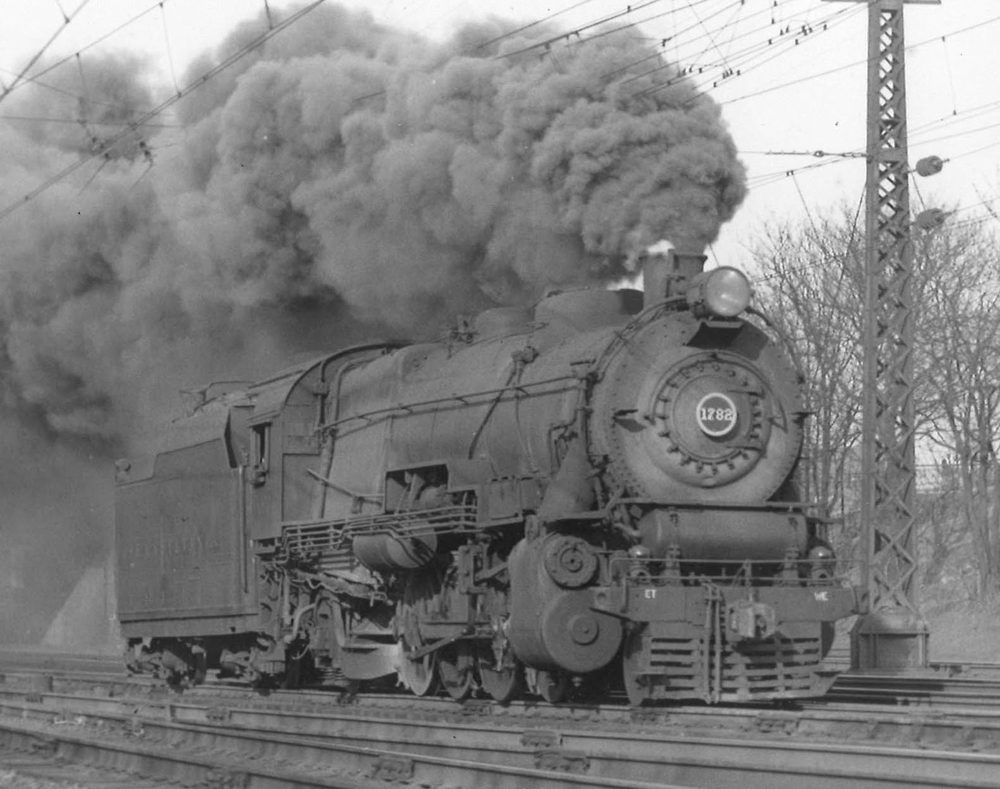 Versatile Mikado
PRR's vast fleet of 574 class L1s 2-8-2 Mikado steam locomotives was built in the short span of 1914–1919. The type worked in a variety of duties all over the system until the end of PRR steam in 1957. Engine 1782 puts out an impressive smoke screen while running light near Zoo Tower, Philadelphia, in April 1946. Most L1's were refitted with footboards, but 1782 retains its passenger pilot.
Charles S. Freed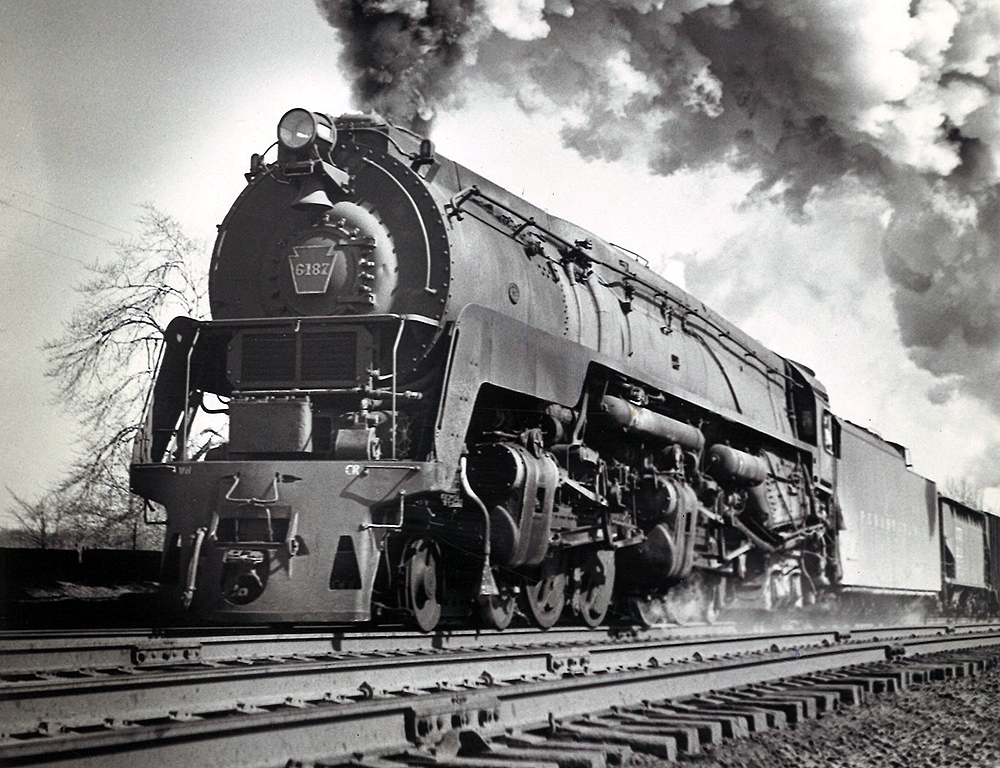 Freight duplex
Like the T1 passenger engines, the 26 class Q2 4-4-6-4 freight duplexes, built at Altoona in 1944–45, were complex, problematic machines that came online just as the road began to look to diesels. Q2 6187 makes an impressive sight climbing the 0.51 percent grade out of Fort Wayne, Indiana, with a westbound freight in February 1949.
D. Allen Bauer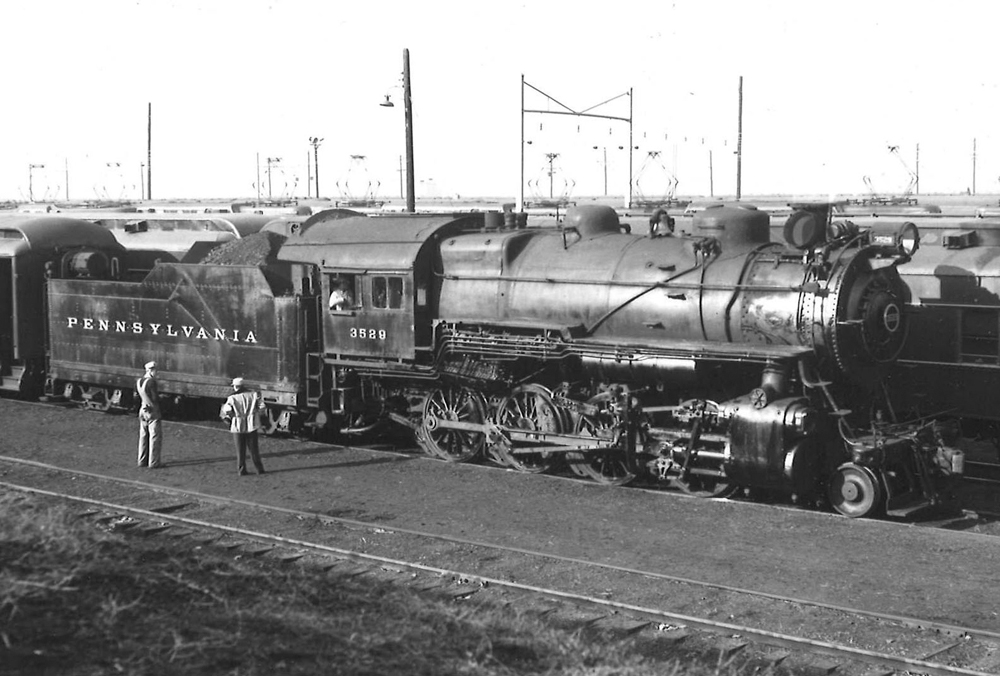 Special duty for a humble 2-8-0
Class H9s 2-8-0 Consolidation No. 3529, built in 1913, has been shined up for a special assignment: switching passenger equipment from the dozens of trains that have brought spectators to a freight yard in Philadelphia for the annual Army-Navy football game. The nearly 40-year-old steam locomotive was one of several thousand 2-8-0s on PRR's roster.
John F. Endler Jr.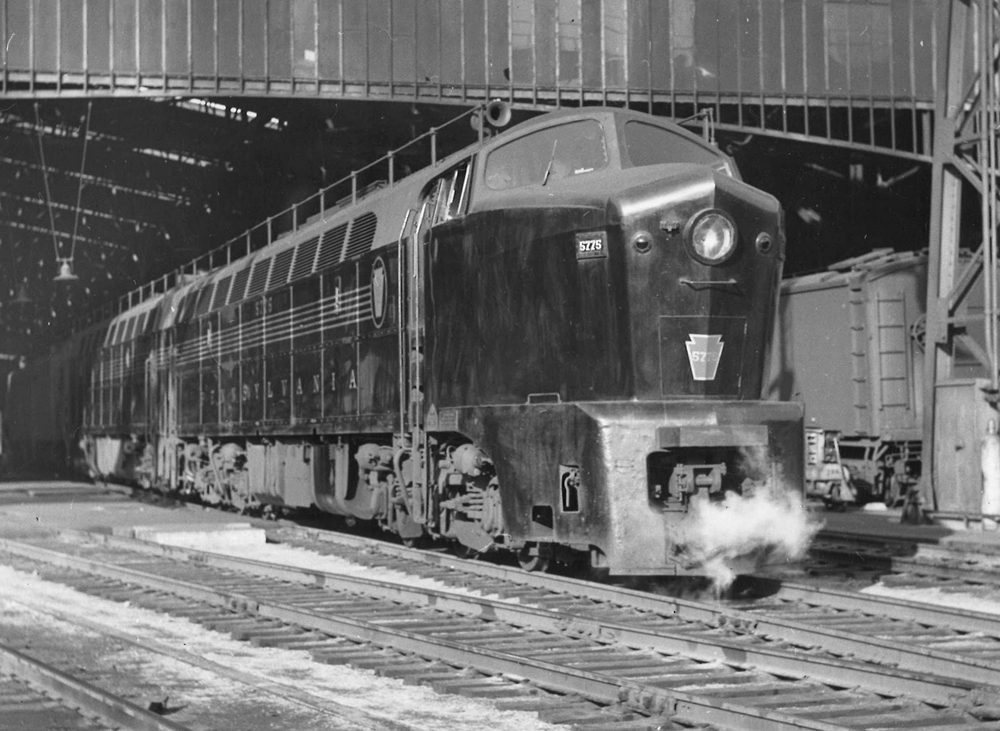 Passenger Sharknose
Baldwin loyalist PRR was the only customer for the Philadelphia builder's 2,000 h.p. passenger "Sharknose" diesel locomotive, getting 18 A and 9 B units in 1948. No. 5775, ready to depart St. Louis Union Station on Feb. 12, 1949, sports the units' original livery of dark green with gold-leaf stripes that ended at a circled red keystone; later schemes extended the stripes down the nose. They ran until the early 1960s.
Paul Gibbs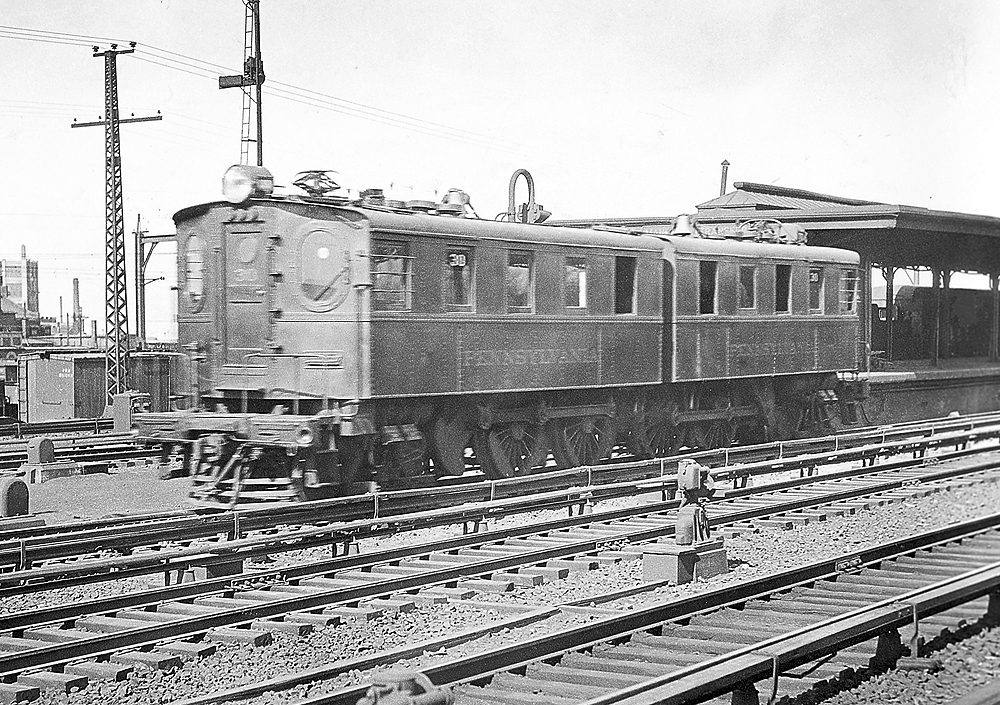 The locomotive that made Penn Station possible
PRR built 33 class DD1 third-rail electric locomotives during 1909–1911 to power trains between Sunnyside Yard in Queens, N.Y., through Pennsylvania Station, and out to a point east of Newark, N.J., called Manhattan Transfer, where steam locomotives took over. One of the durable two-unit locomotives remained in service until 1962, and is now at the Railroad Museum of Pennsylvania in Strasburg.
H. Cotterell Jr.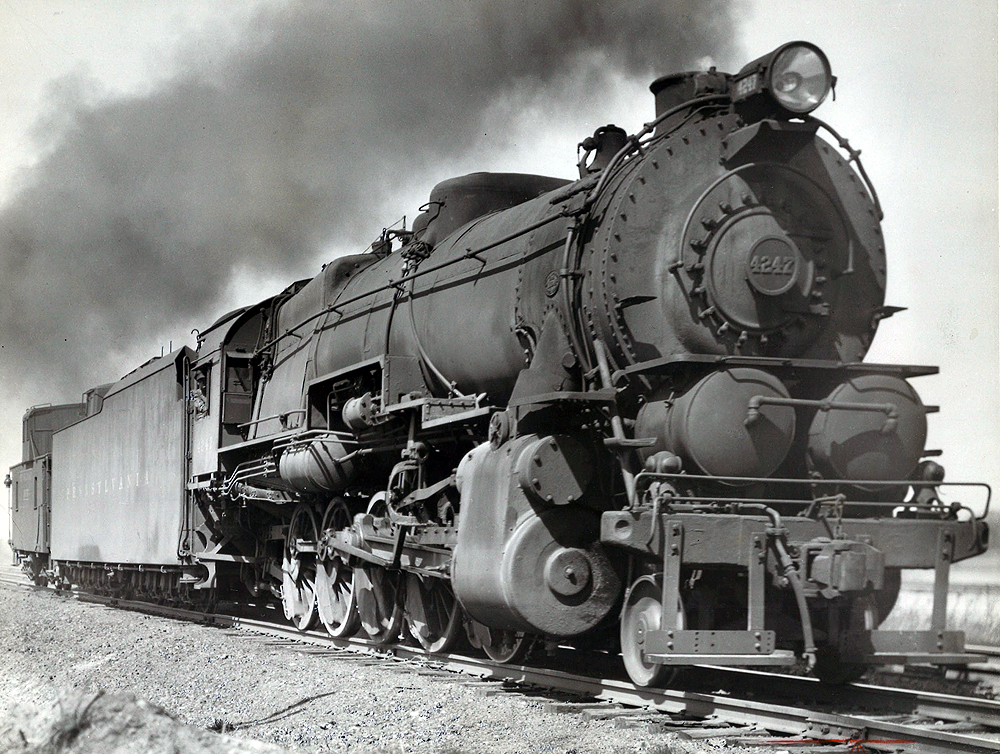 "Hippo" caboose hop
Although the 2-10-0 steam locomotive was never popular in North America, and most big railroads had stopped ordering them by the mid-1910s, the Pennsylvania received a whopping 475 class I1s Decapods from Baldwin in 1922–23. That massive order followed 122 I1's the PRR built itself in 1918–19, and a single prototype in 1916 — for a total of 598. The ponderous engines, nicknamed "Hippos," hauled freight until the end of PRR steam in 1957. Many, including No. 4247, were retrofitted with giant 16-wheel tenders.
Glenn Grabill Jr.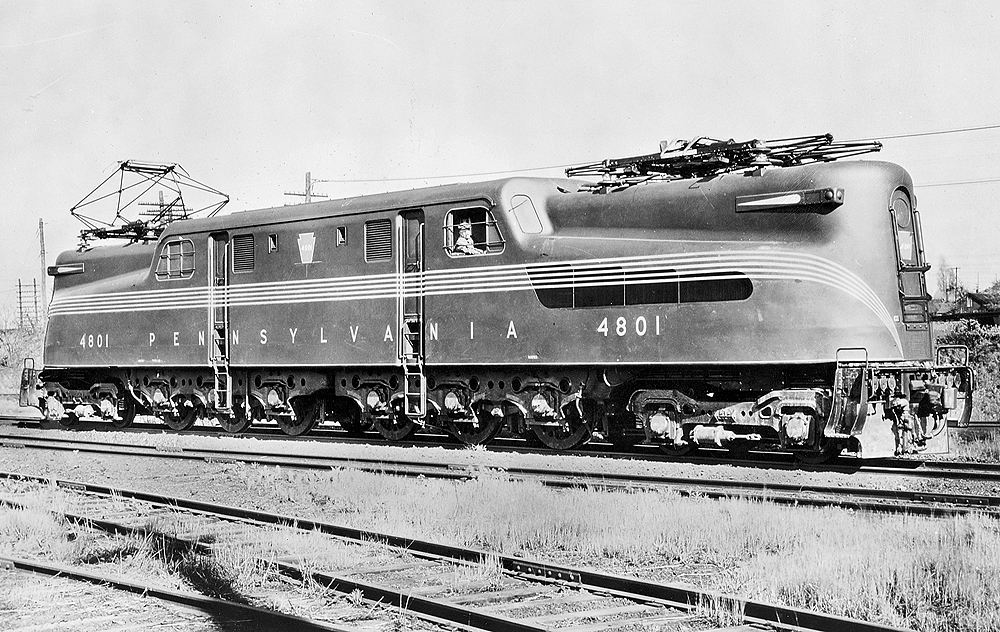 This slightly retouched May 1935 builder's photo shows the first GG1 electric locomotive completed at GE's Erie, Pa., plant incorporating the welded carbody and other refinements specified by industrial designer Raymond Loewy. The prototype GG1, built at Erie in August 1934, featured a riveted carbody, of the same shape, designed by Donald Dohner. Before production ended in 1943, PRR acquired 139 GG1s, all but 15 built at the road's own shops. The last were retired in October 1983.
General Electric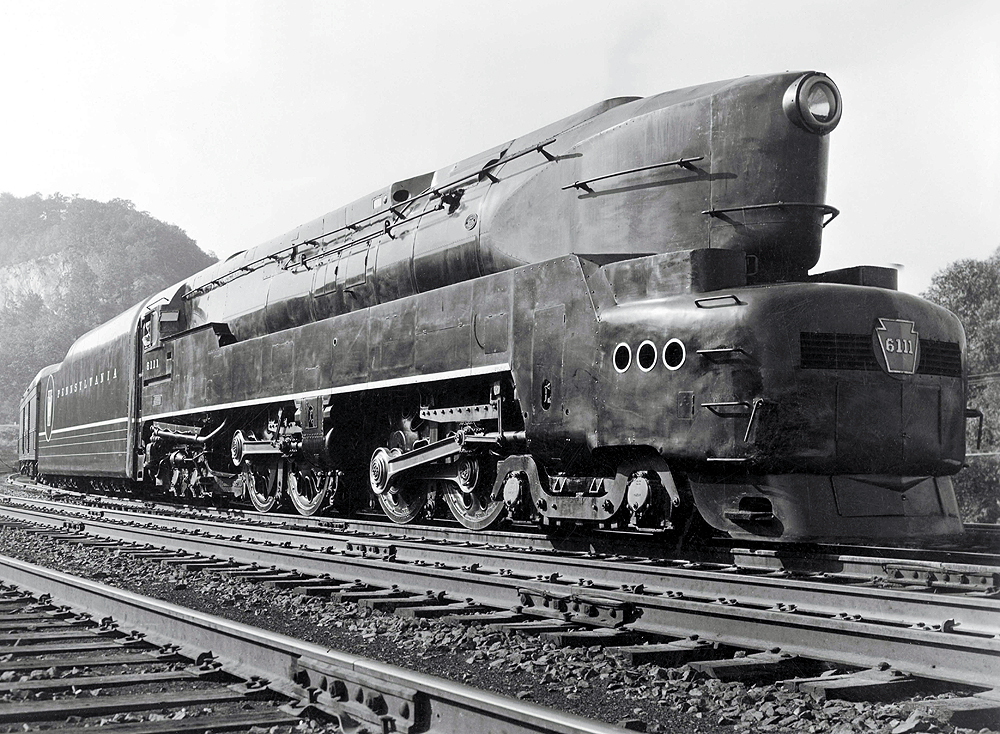 Engine 6111, one of the two prototype class T1 4-4-4-4 high-speed passenger duplexes Baldwin built for the PRR in 1942, poses for a photo near the Rockville Bridge. Despite the prototypes' shortcomings, the road ordered 50 more, received in 1945–46 — just as it decided to dieselize. North America's most numerous class of streamlined steam locomotives was destined for a short life — all were retired by the early 1950s, and none was preserved.
Pennsylvania Railroad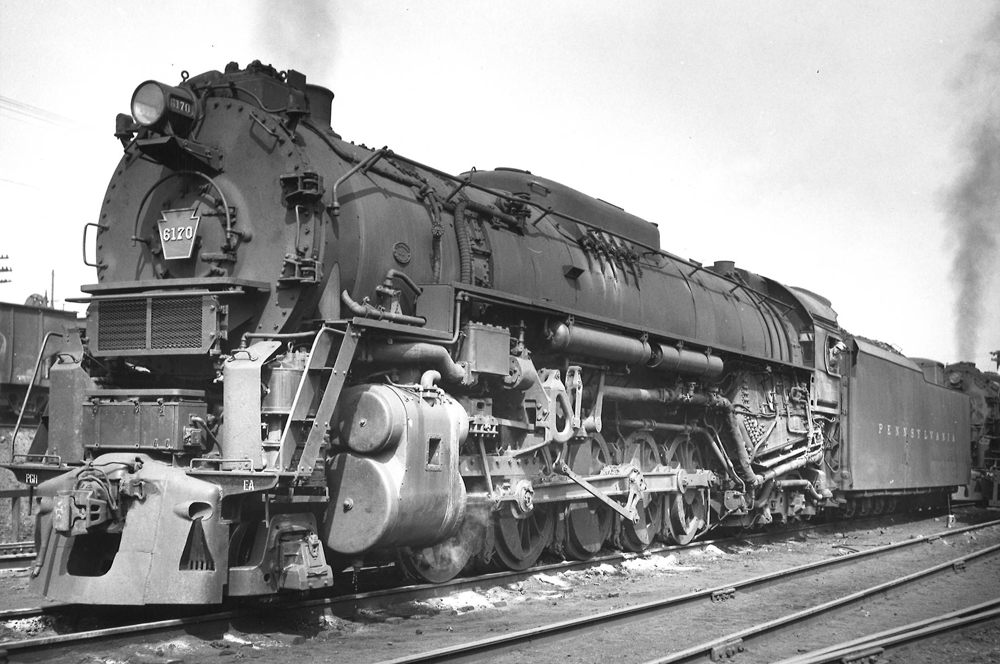 Caught without a modern steam freight locomotive design as traffic surged in the early 1940s, the PRR tested several engines from other railroads. It selected a Chesapeake & Ohio 2-10-4 for fleet production, and built 125 class J1 and J1a engines during 1942–44 — by far North America's largest roster of 2-10-4s. Although the design did not originate at Altoona, certain appliances and styling details gave the engines a distinct PRR look. PRR elected not to save any for posterity.
Don Wood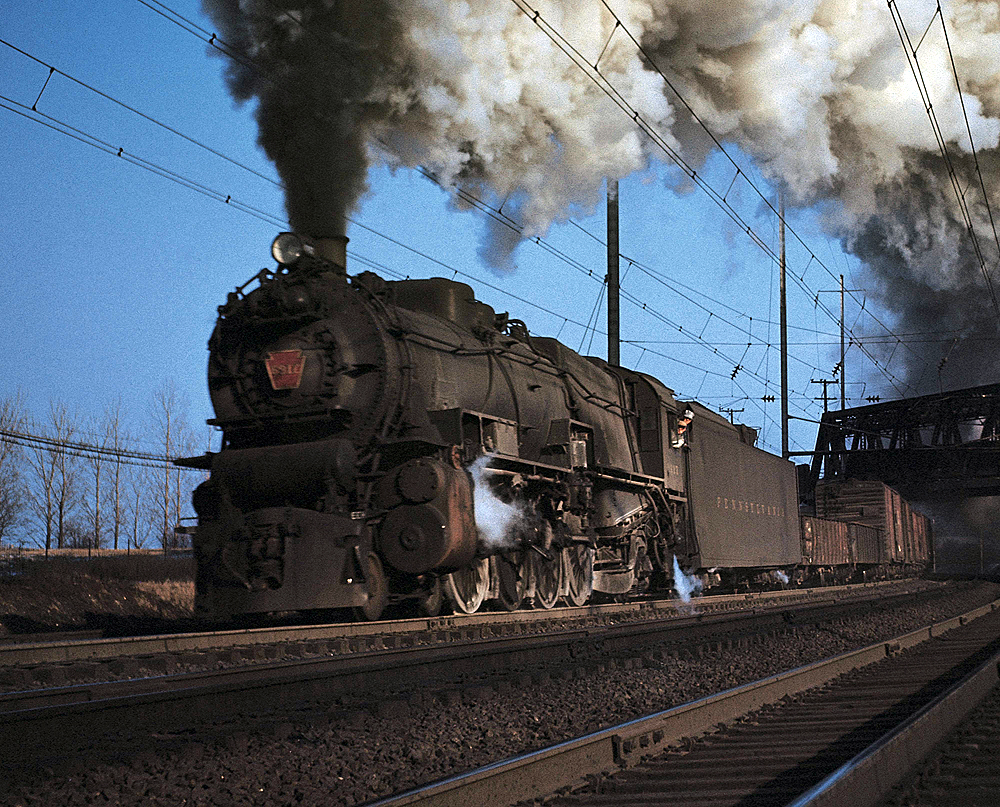 Mighty M1 Mountain
PRR had 301 M1 and M1a 4-8-2 Mountain type steam locomotives, built between 1923 and 1930. With 68-inch drivers, they were considered dual-service engines, although most were assigned to haul freight trains. In February 1948, M1 6917 digs in with a westbound freight departing Thorndale, Pennsylvania.
Curtis Quaintance


Lima-Hamilton transfer diesel
PRR's practice of ordering power from all diesel manufacturers is illustrated by Lima-Hamilton 2,500 h.p. twin-engine transfer unit No. 8948. PRR, which bought 22, was the only customer for Lima's most powerful diesel. Typically for a road whose numbering system could seem to defy logic, the units occupied two groups on the roster, Nos. 5671–5683 and 8943–8951.
Lima-Hamilton

Classic Trains editors are celebrating the heritage, history, and lore of famed (and infamous) railroads. In January 2020, we celebrate the Pennsylvania Railroad.
Please enjoy a collection of locomotive images located in the David P. Morgan Library archives at Kalmbach Media that include the Pennsy's iconic locomotives and classic scenic photos.
You might also enjoy this PRR history article from Classic Trains, a photo gallery of Pennsy passenger trains, or freight trains.