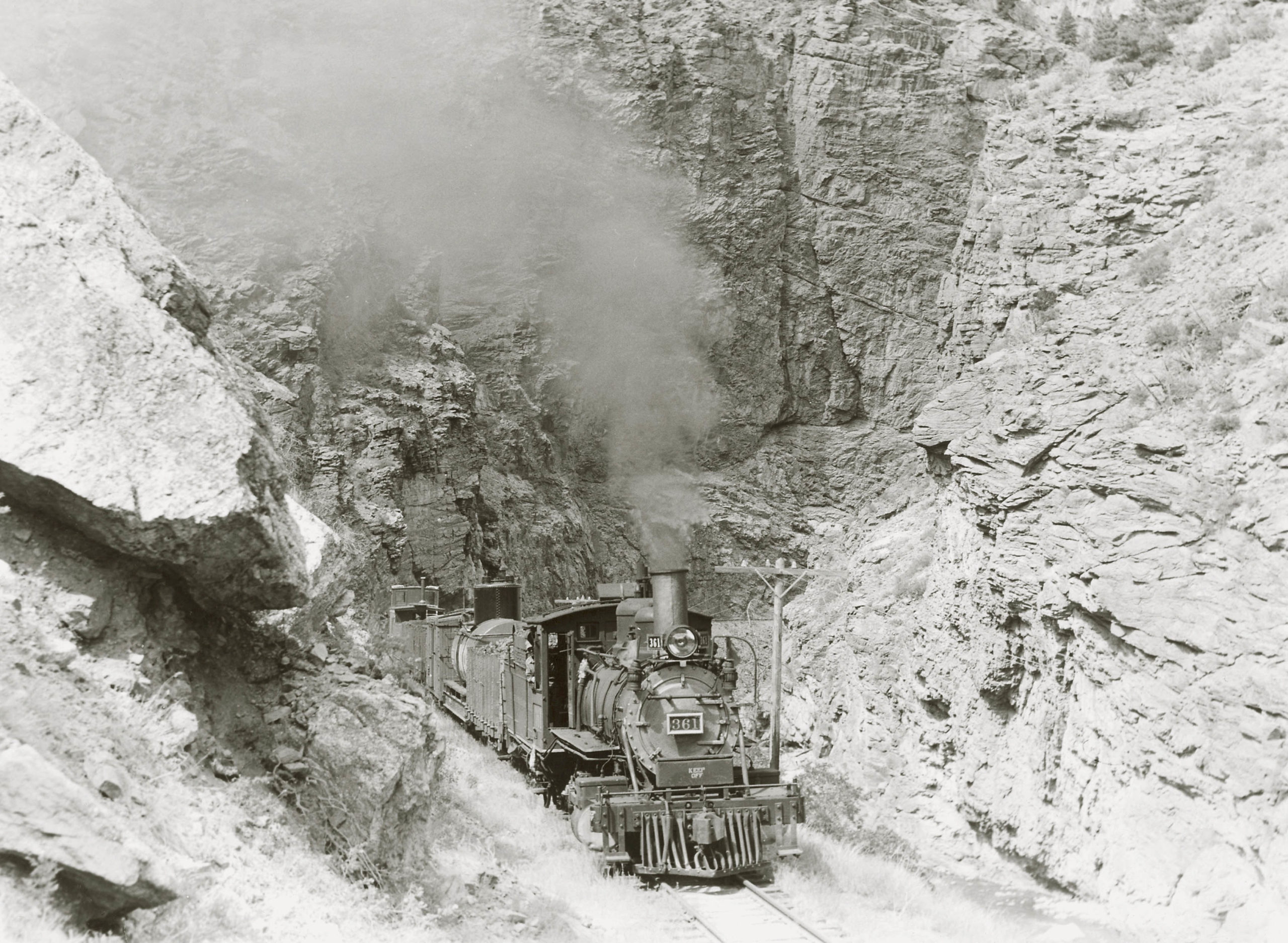 Black Canyon of the Gunnison
In the northwest portion of the "Narrow Gauge Circle," Denver & Rio Grande Western 2-8-0 narrow-gauge steam locomotive No. 361 leads a freight out of the Black Canyon of the Gunnison River near Cimarron, Colorado, on June 29, 1939.
R. H. Kindig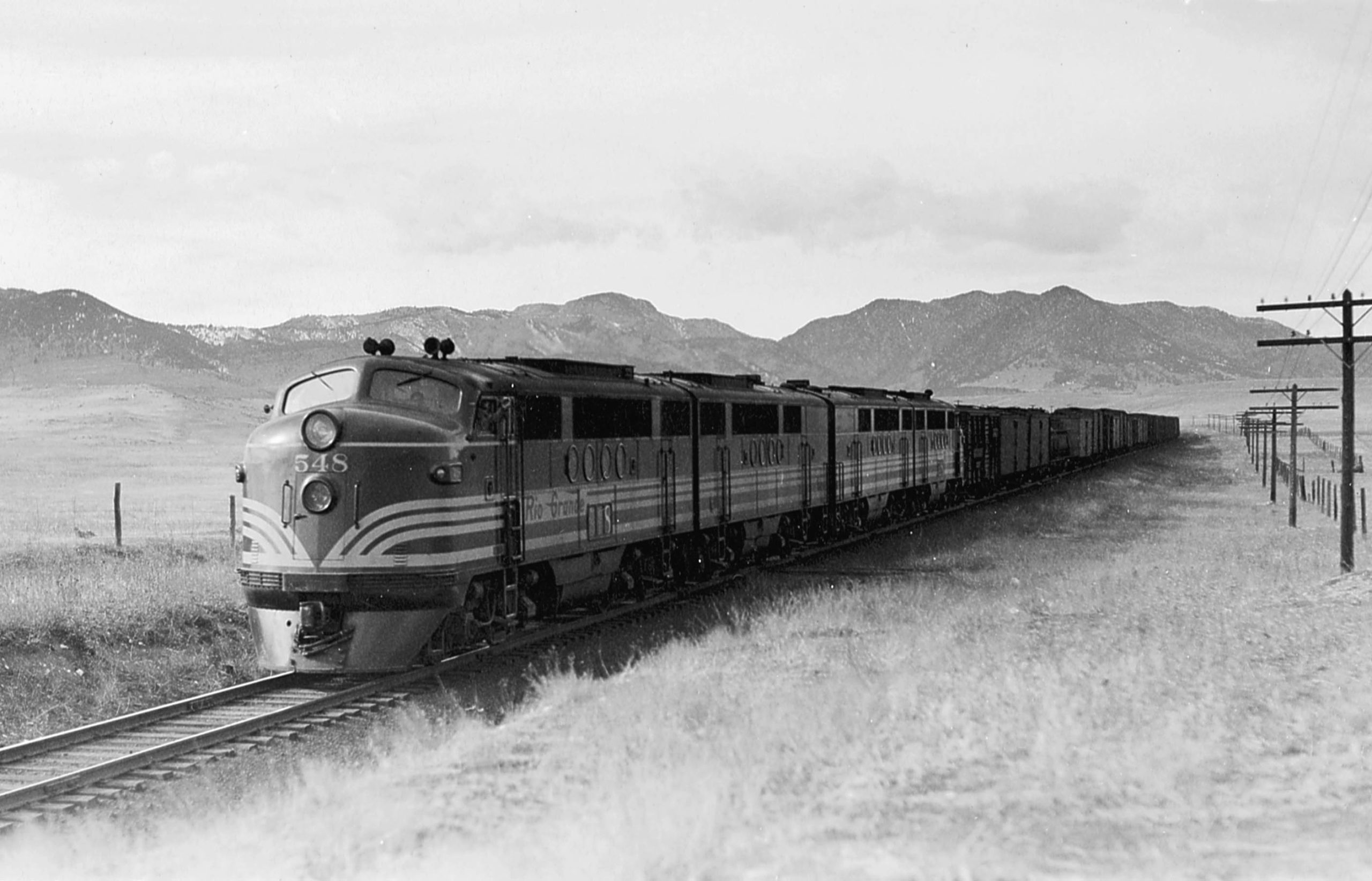 Dynamics for the downgrade
Dynamic brakes whining, Rio Grande FT diesel locomotive No. 548 leads three sisters on an eastbound freight descending the 2 percent grade just west of Leyden, Colorado, on the Moffat Line on January 14, 1945.
Otto C. Perry


Steam and diesel at Salida
Denver & Rio Grande Western 2-8-0 steam locomotive No. 1148 watches as four GP9 diesel locomotives bring an eastbound freight into Salida, Colorado, on the Royal Gorge Route on December 16, 1955.
Jim Shaughnessy


Coal Creek Canyon
Rio Grande wide-cupola caboose 01507 brings up the rear of westbound freight No. 87, snaking through the 10-degree curves of Coal Creek Canyon between Clay and Plain, Colorado, on the climb to Moffat Tunnel on April 9, 1977.
Richard Loveman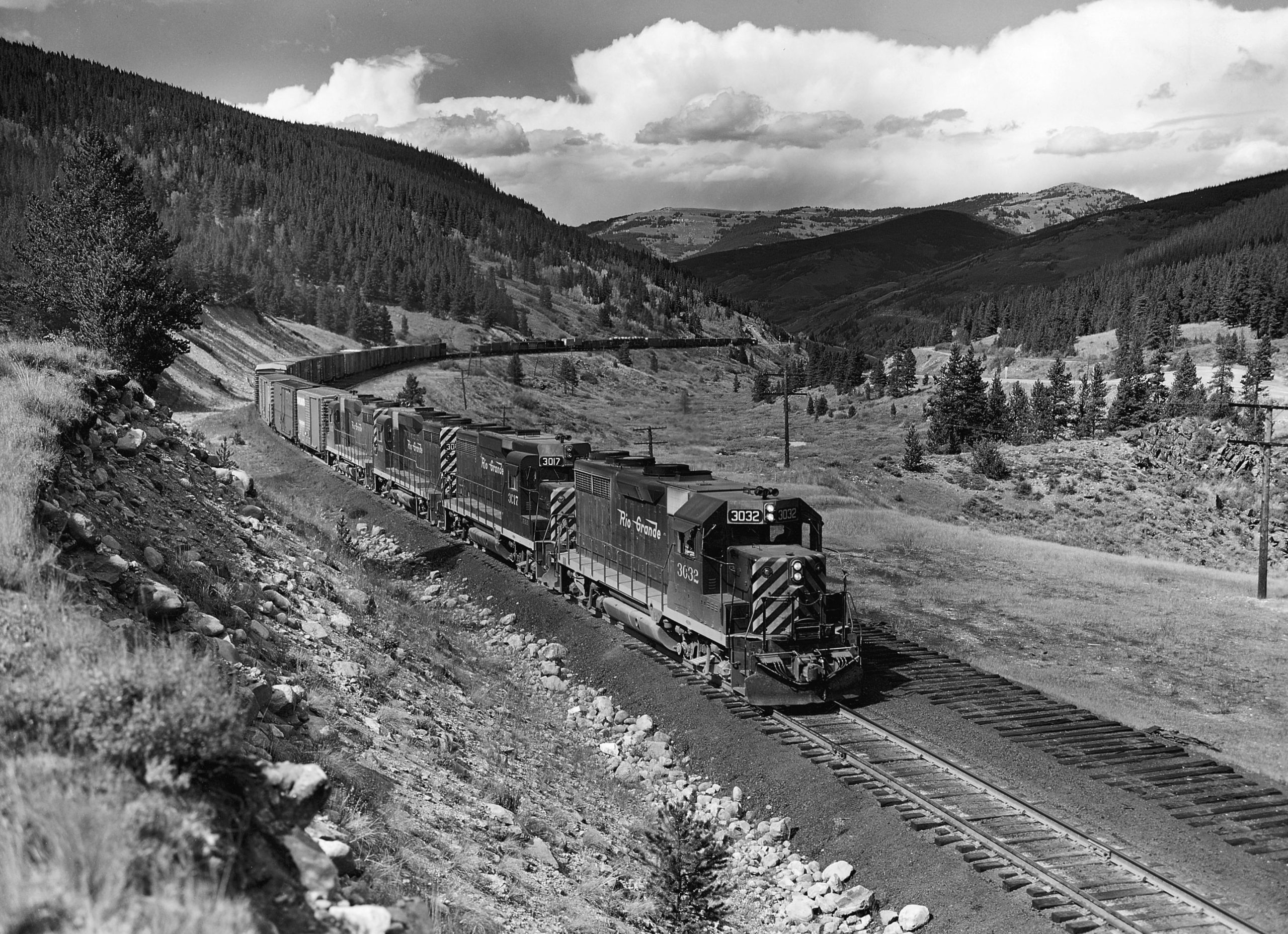 Ten diesels for Tennessee Pass
Ten Rio Grande diesel locomotives — a GP35 and three GP30s on the point, plus four F7s and two Geeps at mid-train — power a 47-car freight up Tennessee Pass at Mitchell, Colorado, on September 11, 1969.
David W. Salter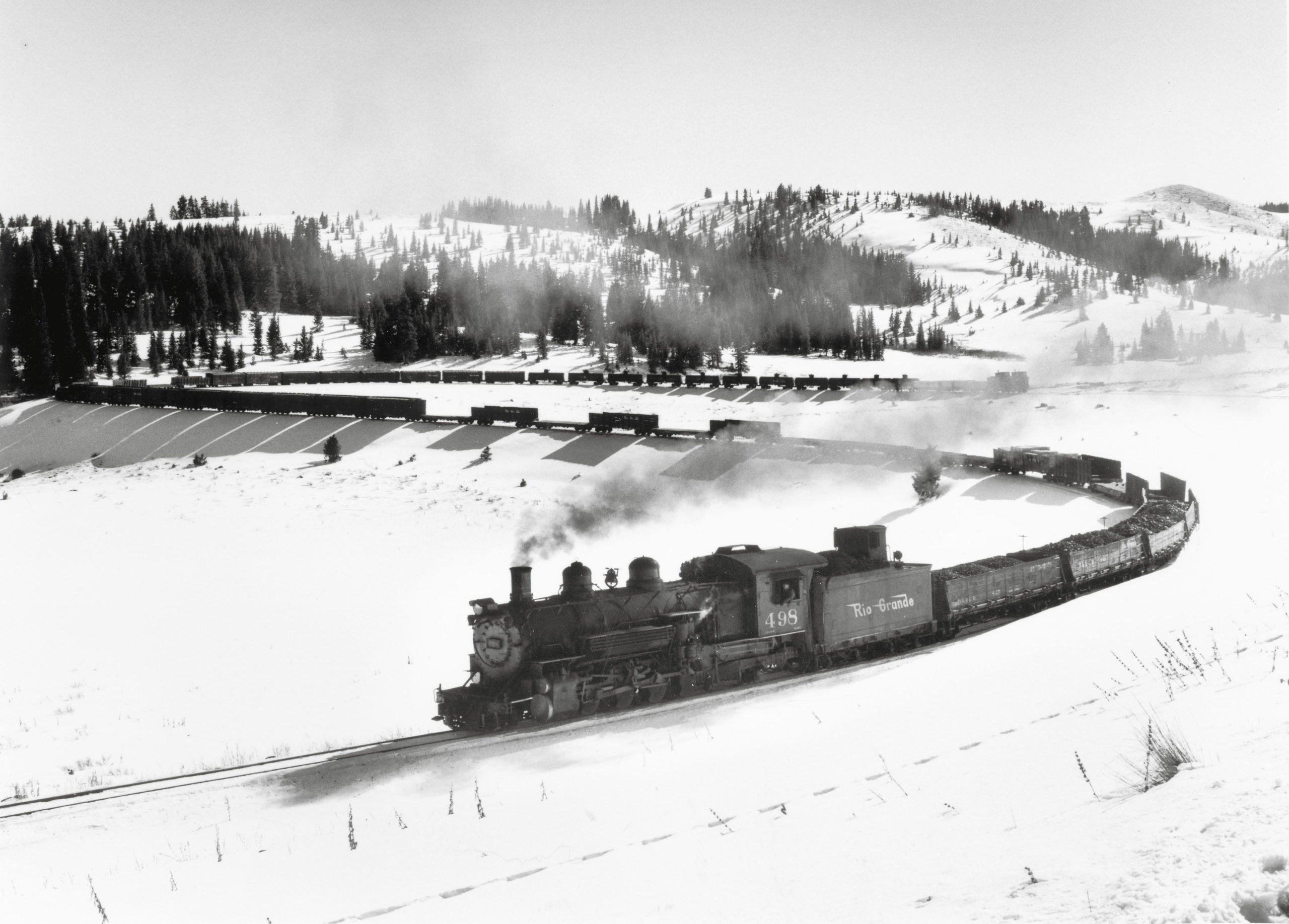 Twisting around Tanglefoot
Rio Grande narrow-gauge 2-8-2 steam locomotive No. 498 is at the head of a 50-car eastbound freight train descending Cumbres Pass at Tanglefoot Curve, just east of the summit at Cumbres, Colorado, on January 29, 1964.
Frank Barry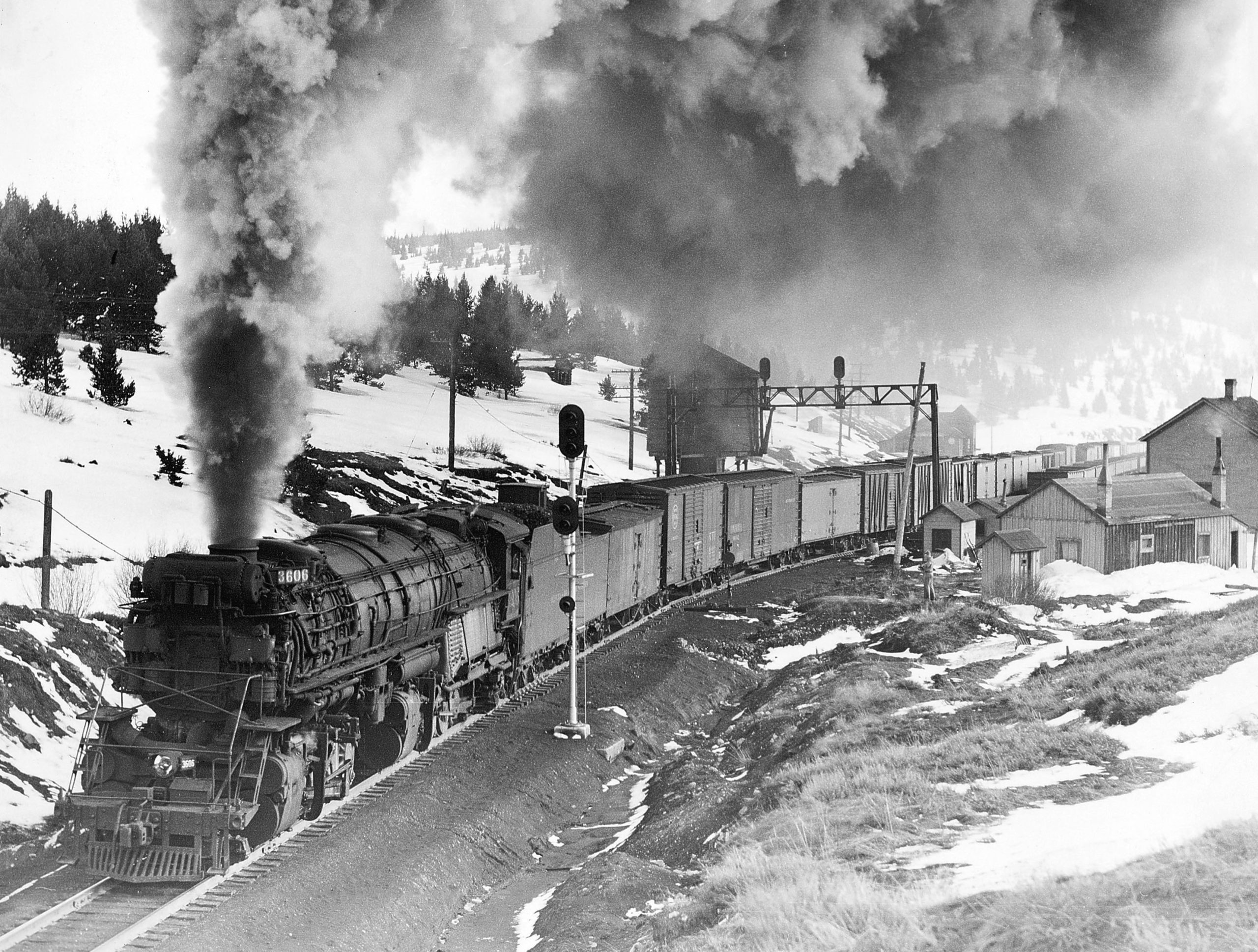 Thunder at 10,212 feet
Denver & Rio Grande Western 2-8-8-2 steam locomotive rattles the buildings at the summit of Tennessee Pass, Colorado, elevation 10,212 feet, at it crests the Continental Divide with freight bound for California in April 1938.
R. H. Kindig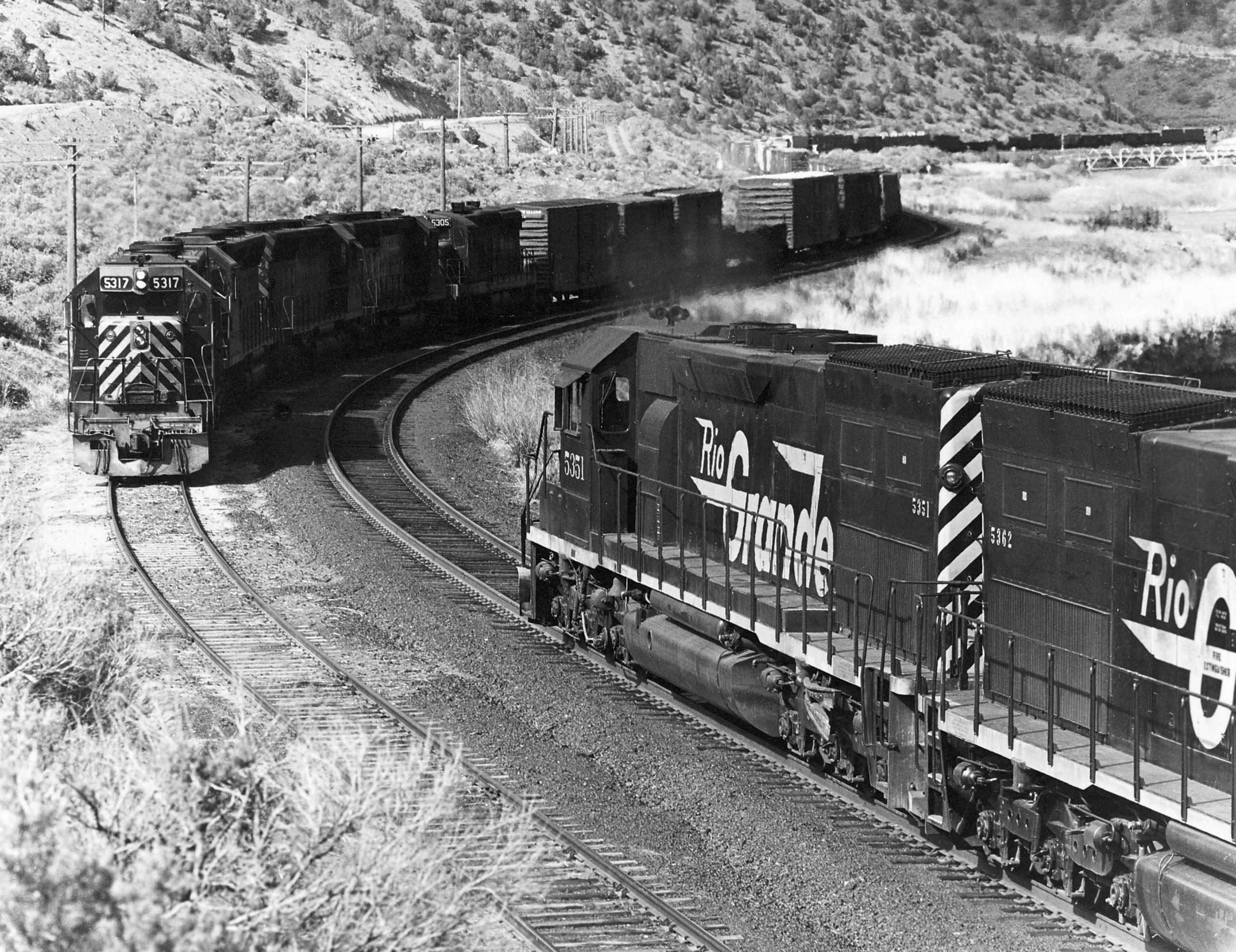 Tunnel Motors face off
Two Rio Grande freight trains, each led by an SD40T-2 "Tunnel Motor" diesel locomotive, meet at Yarmony, Colorado, on the Moffat Line in June 1976. Westbound merchandise train 83 is in the siding, while a coal train off the Craig Branch is on the main.
Richard Loveman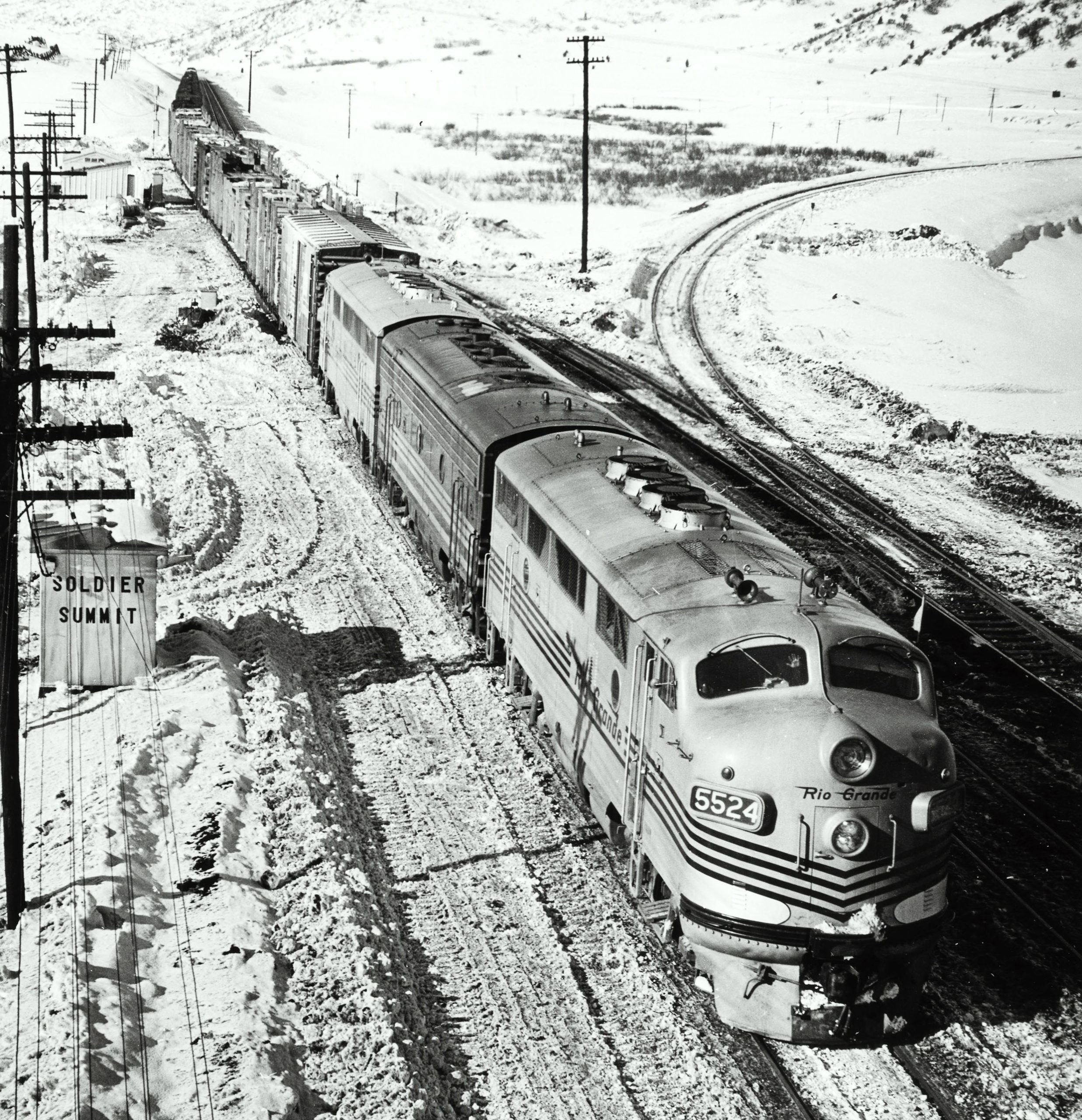 Snowy Soldier Summit
Three diesel locomotives — F3A No. 5524, an F7B, and another F3A — head a Rio Grande freight at Soldier Summit, Utah, in late December 1951, when "Grande gold" was replacing black on the road's diesels.
Don Sims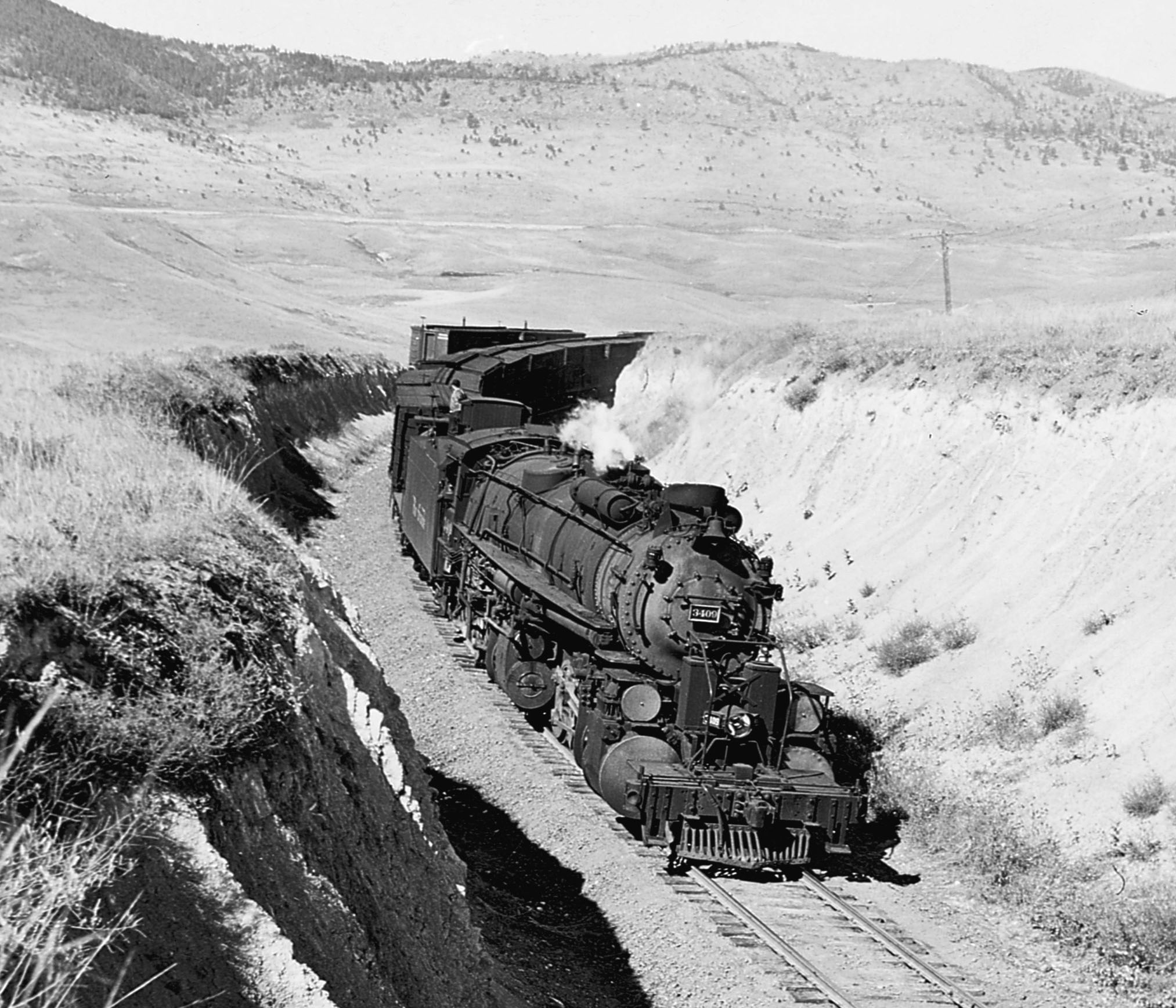 Mallet on the Moffat Line
Rio Grande compound 2-8-8-2 steam locomotive No. 3409 pulls an eastbound freight out of the siding at Arena, Colorado, after meeting a passenger train (seen in the background climbing the Front Range under a clear stack) in the 1940s.
F. L. Jaques

All this month — December 2019 — Classic Trains editors are celebrating the heritage, history, and images of the Denver & Rio Grande Western Railroad.
Please enjoy this photo gallery of images from the David P. Morgan Library archives at Kalmbach Media that include Rio Grande diesel- and steam-powered freight trains through time.
You might also enjoy this D&RGW history article from Classic Trains or a photo gallery of Rio Grande passenger trains!
Only from Classic Trains!