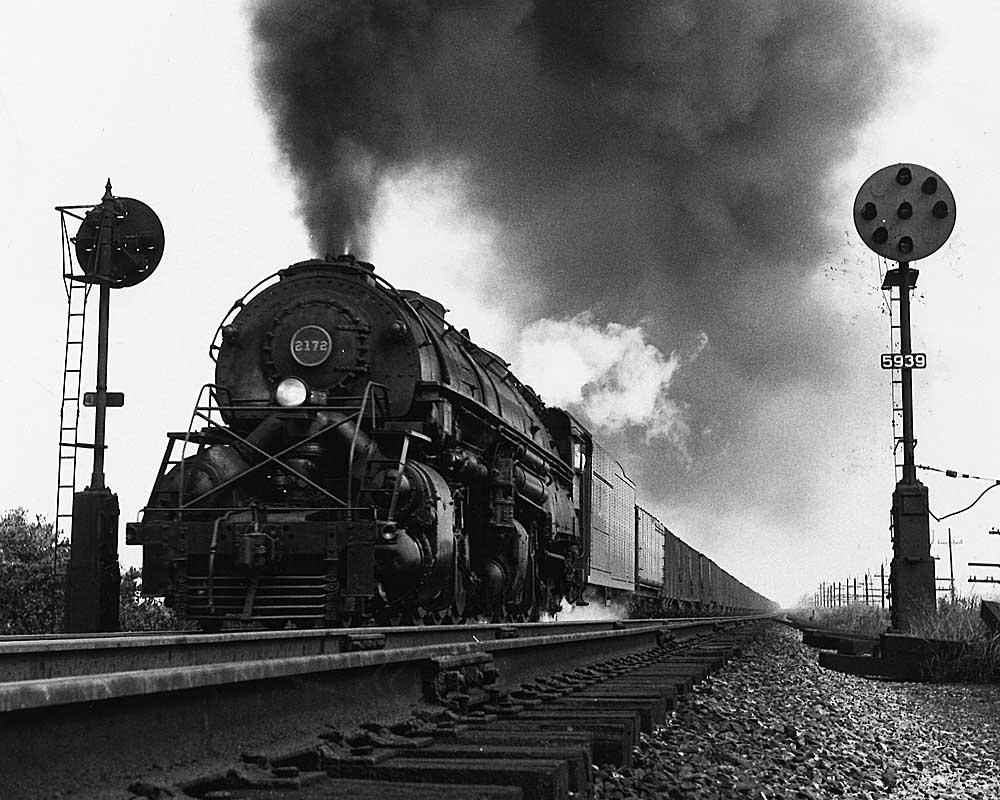 Norfolk & Western 2-8-8-2 No. 2172 rolls east out of Portsmouth, Ohio, with a train of hoppers in tow in 1957. The railroad was among the last for mainline steam in the U.S. Bruce R. Meyer photo

Brakemen ride the end sill of the tender and hang on to the grab irons as their 2-6-6-2, eastbound with the local freight, rounds Bottom Creek curve near Vivian, W.Va. Ben F. Cutler photo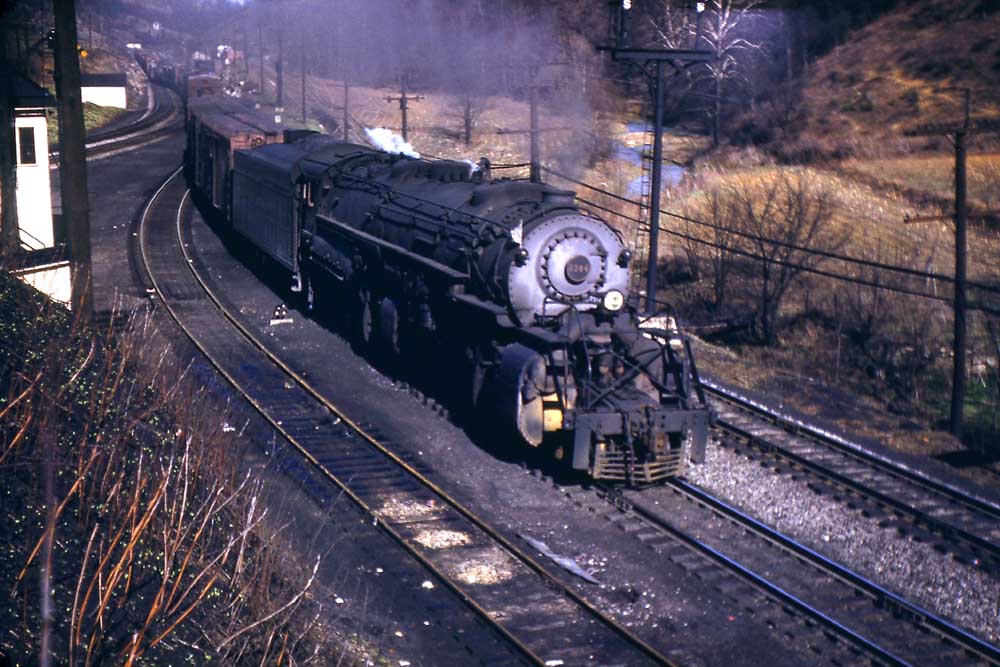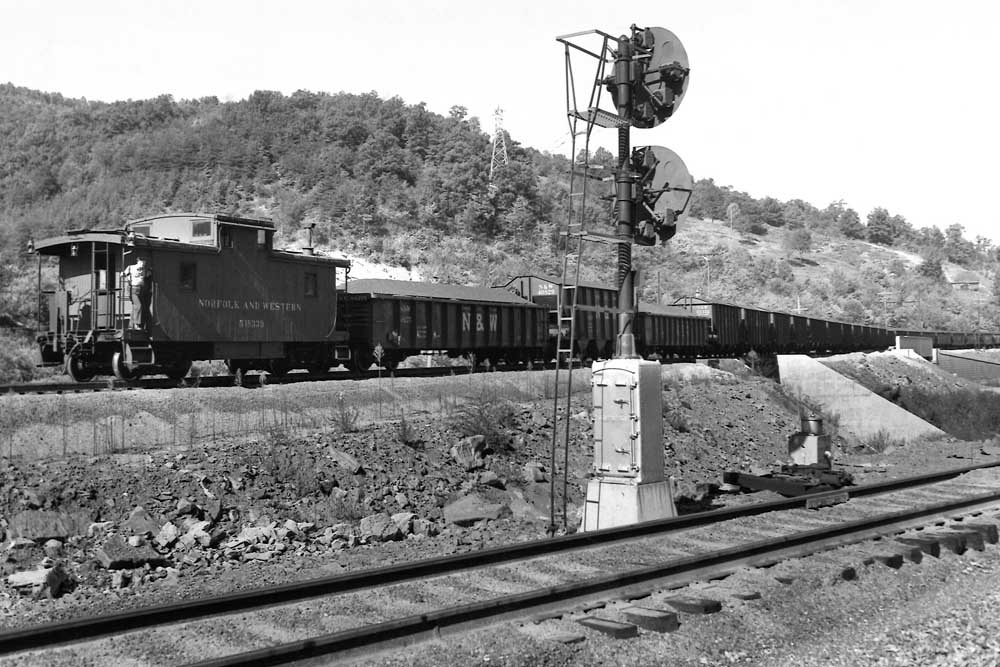 A caboose passes the crossovers at Kellysville, Va., on a 200-car train between Bluefield and Roanoke in October 1961. The original N&W line to Roanoke is in the foreground. Note that coal is loaded in both hoppers and solid-bottom gondolas. Don Wood photo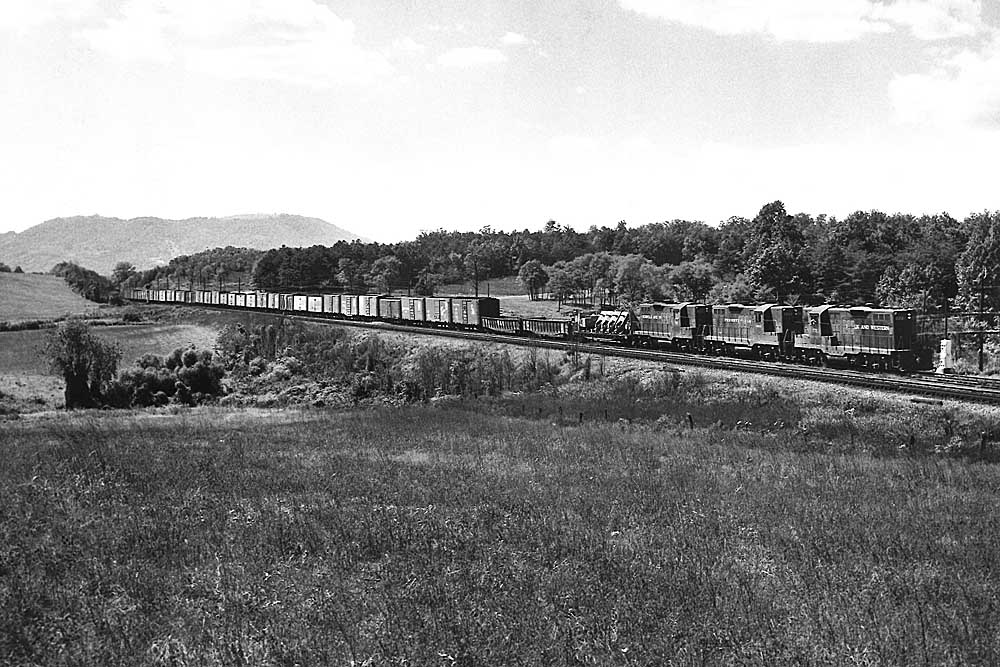 A merchandise train led by GP9 No. 773 passes through Thaxton, Va., east of Roanoke. The train consists of mostly boxcars and reefers, but also has some machinery on a flatcar and two gondolas at the head end. Note that the middle Geep belongs to the Pennsylvania Railroad. Classic Trains collection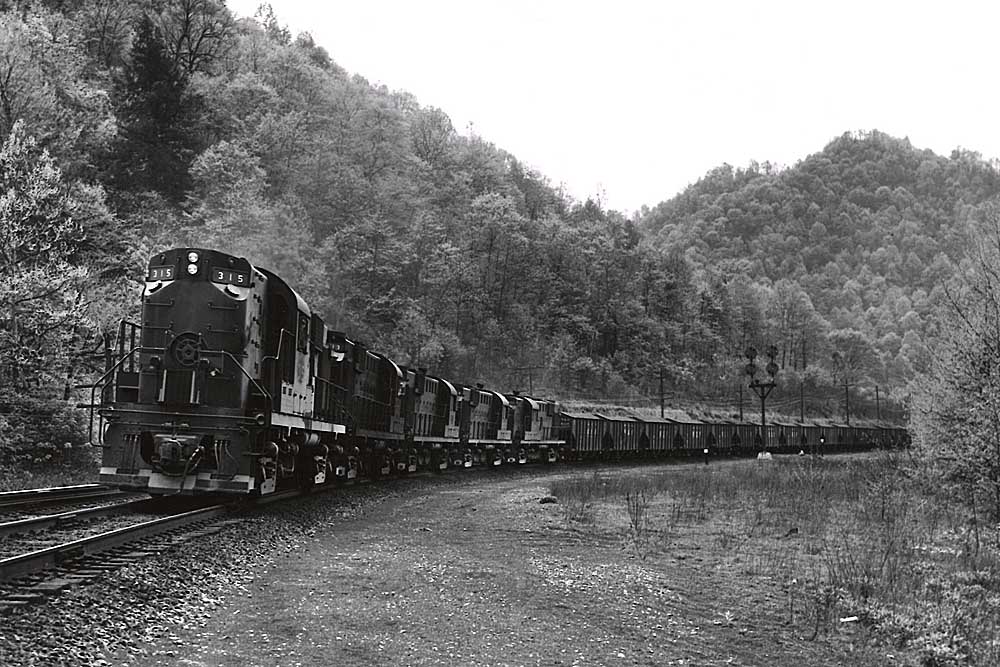 A coal train rolls through Big Four, W.Va., on the Pocahontas Division. The five Alco RS11 diesel locomotives were built 1956-1961. Classic Trains collection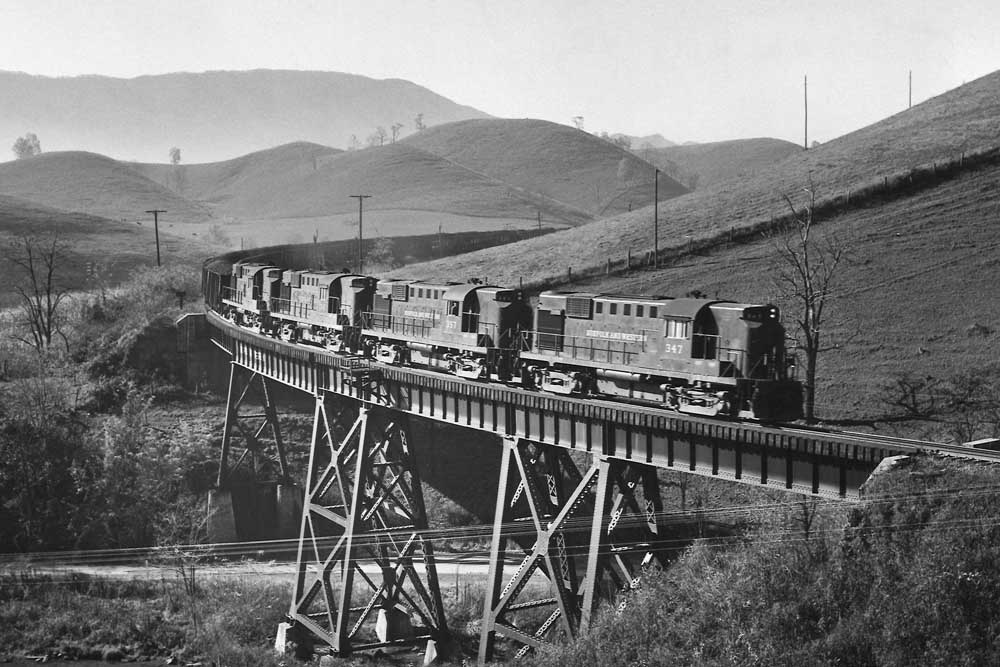 Four Alco RS11 diesels led by No. 347 pull a coal train on the Clinch Valley Line near Tazewell, Va., against a 1% grade. Classic Trains collection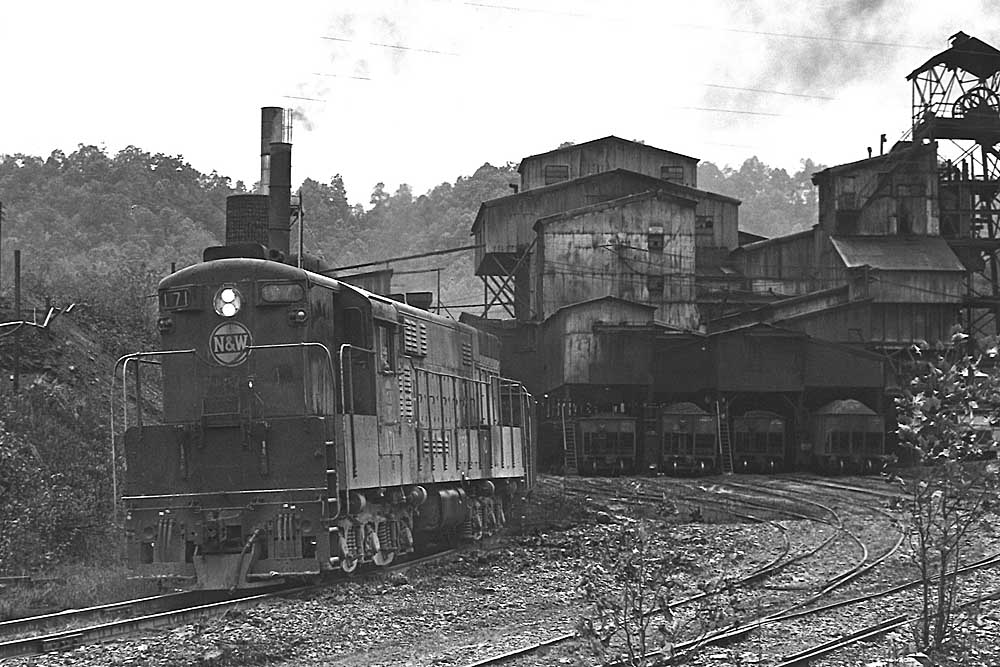 Fairbanks-Morse H24-66 No. 171 pushes unwashed coal through the Summerlee, W.Va., washer into a yard behind the facility. This is a former Virginian Railway line that N&W acquired in 1959. Both the N&W and Virginia bought the H24-66 model, known as the "Train Master." P. Rickershauser photo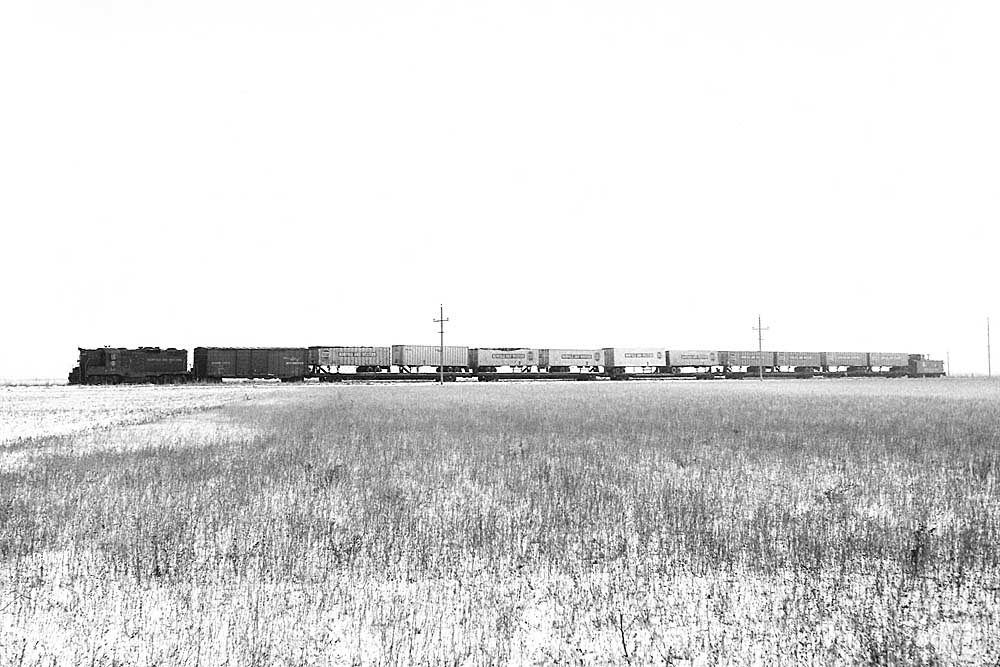 GP9 No. 641 moves a short train northbound north of Pontiac, Ill., on the old Wabash Streator branch on Dec. 26, 1969. Fresh snow and the sky make the train seem suspended in space. Bruce R. Meyer photo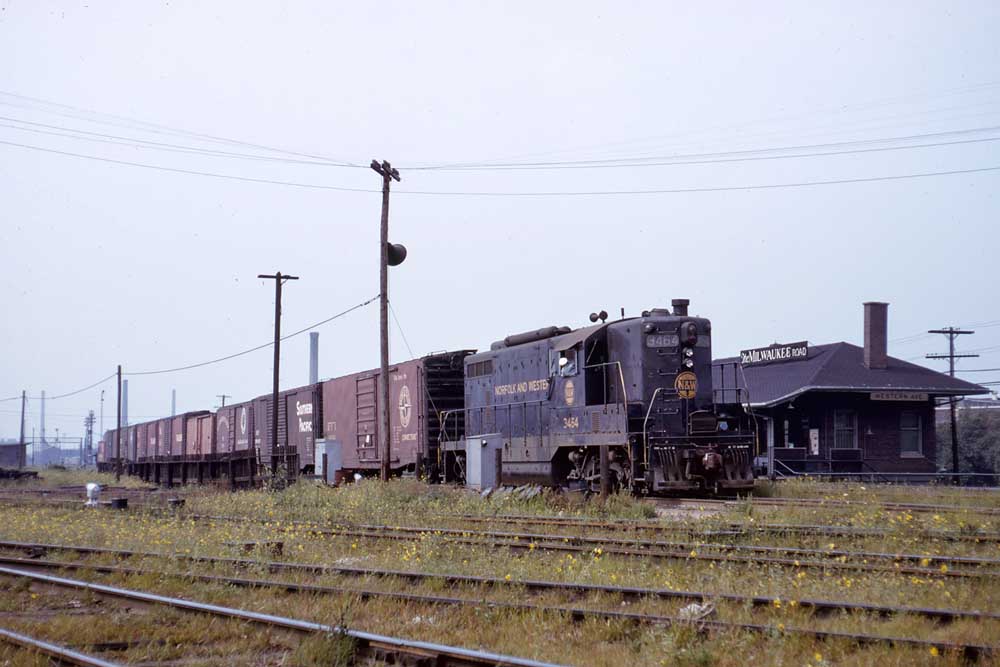 A Norfolk & Western transfer from the far south side of Chicago, powered by former Wabash passenger GP7 No. 3464 (ex-464), has come up on the former Pennsylvania Railroad's "Panhandle" line from the south and through Milwaukee's A2 interlocking, and now backs into a nearby yard. J. David Ingles photo

Classic Trains editors are celebrating the history, heritage, and style of the Norfolk & Western Railway all through January 2022. Please enjoy this photo gallery of Norfolk & Western freight trains selected from the archives of Kalmbach Media's David P. Morgan Library.
The Norfolk & Western was a coal-oriented road linking Cincinnati and Columbus with Norfolk, Va. Thus, its primary traffic was the movement of coal from West Virginia and Virginia mine to the tidewater at Norfolk, and, to a lesser extent, to Midwestern industrial consumers. However, in 1964, the railroad acquired the Nickel Plate Road and Wabash, extending its reach to Buffalo, Chicago, St. Louis, and Kansas City and expanding its industrial traffic base.
Only from Trains.com!