The Nickel Plate Road's major components were all in place by 1949.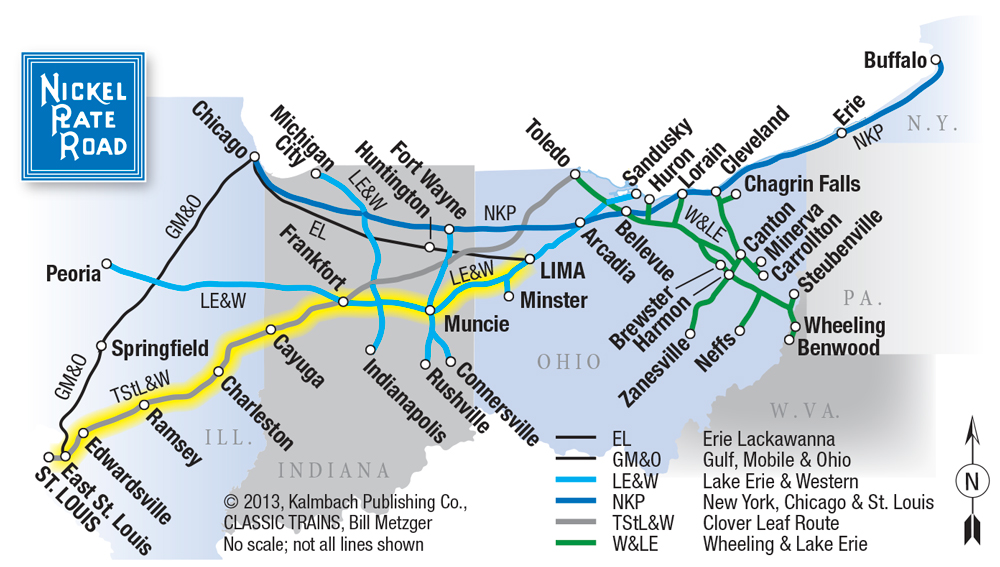 The Nickel Plate, formally the New York, Chicago & St. Louis Railway, was conceived in 1881 as a Buffalo-Chicago project to compete with the parallel Lake Shore & Michigan Southern (later New York Central) of William H. Vanderbilt. To thwart rival Jay Gould, Vanderbilt bought the road, which had gained the nickname "Nickel Plate," the origin of which is imprecise, either from an Ohio newspaper reference or pronunciation of its initials, maybe both. Cleveland's Van Sweringen brothers bought out New York Central's interest in 1916.
A second component, the Lake Erie & Western, dated from 1879. It linked Fremont, Ohio (later Sandusky, on Lake Erie), with Bloomington, Ill. (later extended to Peoria). LE&W would add north-south lines linking Michigan City, Ind., with Indianapolis, and Fort Wayne with Connersville and Rushville, Ind.
The so-called Clover Leaf opened as a 3-foot-gauge line in western Ohio that was caught up in the narrow-gauge frenzy of the 1870s, ultimately with a proposal for a Toledo-Mexico City line. It got as far west as East St. Louis in 1883, but the company soon collapsed. Discovery of on-line gas and oil resuscitated it, and the railroad was standard-gauged during 1887-89, east of Frankfort, Ind., and then west of there. In 1900 it was reorganized as the Toledo, St. Louis & Western and adopted a three-leaf clover as its emblem, hence the nickname.
The Nickel Plate, Lake Erie & Western, and Clover Leaf were consolidated in 1923 as the New York, Chicago & St. Louis Railroad, still popularly the Nickel Plate, and that entity lasted 41 years. In 1949 the fourth principal NKP component was added with its acquisition of the Wheeling & Lake Erie, which dated from 1871 and linked Wheeling, W.Va., with Toledo and had branches to Ohio coal-mining areas and Lake Erie ports.
Today, the original Buffalo-Chicago NKP is still important to Norfolk Southern, as is much of the old LE&W. However, some of the Nickel Plate Road's major components are no longer integral to the road's successor. The Clover Leaf is mostly either abandoned or sold to short lines, while the W&LE became a successful new regional of the same name after 1989, when NS spun it off along with lines of two other former small Class I railroads, the Akron, Canton & Youngstown and the Pittsburgh & West Virginia.