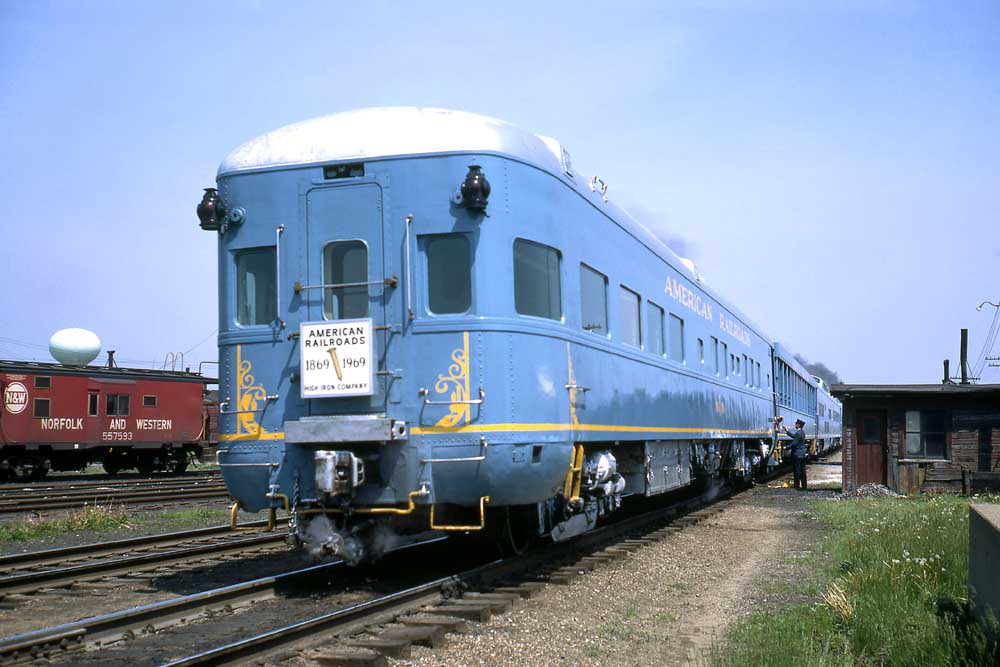 The Golden Spike Centennial Limited was born, in promoter Ross Rowland Jr.'s mind, as a reaction to the Association of American Railroads' not planning anything special to mark the 100th anniversary of the nation-uniting event on the new transcontinental railroad at Promontory, Utah, in 1869. The apathy was perhaps typical of the Class I railroads of the era, still stifled under regulation and trying to get out of the passenger business and stay solvent. The 1969 train also served as the template for Rowland's super-successful American Freedom Train that toured the U.S. a few years later to celebrate the nation's Bicentennial.
The train comes together
Rowland, a successful commodities broker in New York, approached the AAR in spring 1968. The National Park Service planned a ceremony on May 10, 1969, at the newly designated Golden Spike National Historic Site on the Utah high plains. His High Iron Co. was already restoring Nickel Plate 2-8-4 759 to operating condition, and the Berkshire would pull several excursions on Norfolk & Western, Western Maryland, and Penn Central prior to the Golden Spike train.
High Iron submitted a plan to the AAR, a key point being the three baggage cars up front in the consist, which would contain displays on the past, present, and future of American railroading, and be open to the public at the special's service and overnight stops. AAR bought in. The public response to the train and its displays was so overwhelming that the special's crew had to keep the Golden Spike Centennial Limited displays open all night at three of the 13 stops . . . a prelude to the Freedom Train, for sure! The entire train, not just the three display cars, was open for inspection.
The Duke joins in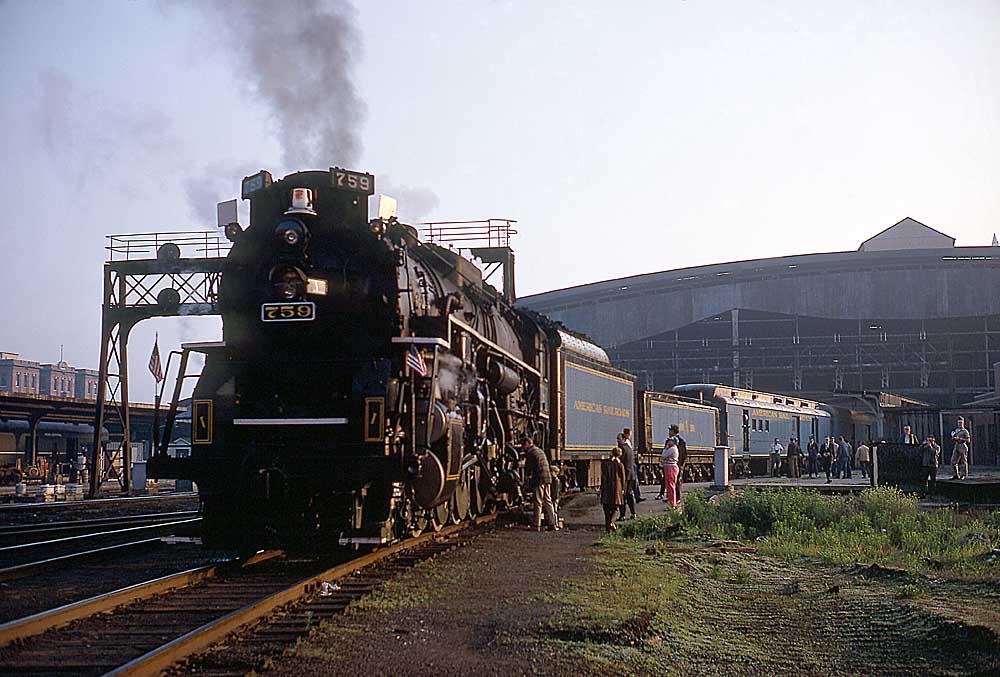 Actor John Wayne rode the Golden Spike Centennial Limited train on its last day into Salt Lake; his movie True Grit was to premiere at the city's Capitol Theater on May 9. While on board, "The Duke" allegedly asked if there could be a similar special for the upcoming Bicentennial.
AAR did design the train's blue color scheme, with American Railroads lettering, as evidenced on 759's tender. The cars did not carry exterior numbers. Penn Central dressed GG1 4902 in the same blue for the train's last leg up the Northeast Corridor from Baltimore to New York.
Six years later, the 25-car American Freedom Train drew more than 7 million visitors on its 21-month (April 1975–December 1976), 141-stop nationwide tour to all 48 contiguous states.