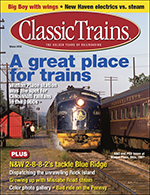 Classic Trains is a quarterly magazine celebrating the "golden years of railroading." Each issue covers the North American railroad scene from the 1920s to the late 1970s with extraordinary photographs and compelling writing. Giant steam locomotives, colorful streamliners, down-home local trains, great passenger terminals, recollections of railroaders and train-watchers . . . they're all in the pages of Classic Trains.
Contents
Winton Place: Queen City Gathering Spot
If you were a Cincinnati train-watcher in the 1960s, this little B&O depot was the place to be!
Big Boy . . . with Wings!
A short-lived experiment gave an unusual look to one of Union Pacific's famous giants
Growing up with the Missabe Road
Train rides to Duluth, and hanging out at Fayal Yard, cemented a lifetime interest in trains
Read William D. Middleton's account of a ride on Missabe Road 2-8-8-4 Yellowstone Mallet.
Classics Today: Links to the Past
Anchored by the O. Winston Link Museum, Roanoke is alive with N&W history
The Shaughnessy Files: Helper Heaven
Remembering the men and Mallets that pushed N&W trains up the Blue Ridge grade
See video clips of N&W's Blue Ridge operations from the Herron Rail Video collection, plus photos of Geeps and E units.
Night Chief at Des Moines
As a dispatcher on the unraveling Rock Island, I saw first-hand the impact of the railroad's dire financial condition
Bird's-Eye View: Centralization in the Crescent City
New Orleans goes from five passenger stations to one
Check out an aerial view of this location today.
Santa Fe, Southern Pacific's Shasta Daylight, Great Northern's Western Star and the Empire Builder, Reading road-switchers, Canadian Pacific, Canadian National
Steeple-Cabs vs. Steam on the New Haven
Less efficient than electrics but more flexible, 0-8-0's won the short hump-yard battle
A 1947 letter from a brother reveals what postwar train travel could really be like
Departments
Editor's Page
16-drivered powerhouses
Contributors
Meet this issue's crew
Head End
Milwaukee Road sleeper • Chesapeake & Ohio cardboard timetable • Baltimore & Ohio lumber accident • Louisville & Nashville and hard hat safety • "Doghouse" seats for head-end brakemen
Fast Mail
Letters from our readers
True Color
Smoke from a snug mobile office, a GTW caboose
Fallen Flags Remembered
Central Railroad of New Jersey
Workin' on the Railroad
Milwaukee Road hostler
The Way it Was
Earliest recollections • Fast run on the Frisco • Adventures of a rookie brakeman • Where the Penn Central was colorful
Car Stop
Dual gauge and decimals in Denver
Ready Track
New books and DVD's
Second Section
Winton Place is no more: The Cincinnati train-watchers' depot survives, but its familiar name is gone
Bumping Post
King of IC's Central Stations