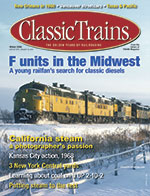 Classic Trains is a quarterly magazine celebrating the "golden years of railroading." Each issue covers the North American railroad scene from the 1920s to the late 1970s with extraordinary photographs and compelling writing. Giant steam locomotives, colorful streamliners, down-home local trains, great passenger terminals, recollections of railroaders and train-watchers . . . they're all in the pages of Classic Trains.
Contents
A Reading Company engineer snags train orders from a 2-8-2 cab.
Tracking Midwestern F Units in the 1970's
A young Twin Cities railfan was surrounded by the F units of four railroads.
Classics Today: Jewel of a Museum Piece
Duluth"s Soo Line FP7 still gets out on the road.
"Ya Gotta Get Coal Experience"
A Union Pacific student fireman in oil-burner territory gets some schooling in the art of coal-firing.
Great Photographers: Bob Searle: Born to Railroading
The steam locomotive occupied center stage for this northern Californian.
Bird's-Eye View: Three Major New York Central Yards
Annotated aerial views of Selkirk, N.Y.; Frontier Yard (Buffalo), N.Y.; and Niles, Mich.
A photographer makes the most of a MoPac Eagle"s passage.
Putting Locomotives to the Test
Dynamometer cars and stationary test plants helped in the design of better locomotives.
One Day at . . . Kansas City
Passenger trains and engine terminals were the highlights of a sunny, snow-covered January 4, 1968.
Senior Editor Dave Ingles saw a lot of variety and action during his 1968 day at Kansas City, but the show was even more impressive two decades earlier, right after World War II, as seen in two video clips from the Herron Rail Video program "Glory Machines, Vol. 5."
Indiana Train-Ride Trilogy
A noted artist and Hoosier State native remembers trips on the Pennsylvania, New York Central, and Monon.
What better place to watch passenger trains from than the cab of a New Orleans Union Passenger Terminal switcher?
Departments
Editor's Page
Chasing the disappearing past
Fallen Flags Remembered
Texas & Pacific J. Parker Lamb
True Color
A Grand Trunk Western 2-8-2 pinch-hitting at Pontiac, Mich.
A Classic Year
1947: Trains of Freedom and the Future
The Way It Was
Railroading in Maine at 40 Below Zero, by Marvin Dow • Green Beans and Trains, by Harry V. Noble • "Happy 10th Birthday, David Watson!" by David W. Salter • An Underrated Diesel, by Bruce Beardsley • An Unsolved Mystery It Remains, by J. David Ingles
Second Section
An Improbable 2-10-2 Revival in Iowa
Bumping Post
Boston's North Station