Modeling Conrail in the UK
The genesis of the Bishopstown Sub is tale that involves a chance encounter and a leap of faith. In 2003 I found myself in Kuwait with the UK Military and one day I found myself in a USAF Headquarters. Walking through an office area I saw a screensaver image of a locomotive in Santa Fe livery. With my duties briefly forgotten, I engaged in conversation with the Major at the desk who was kind enough to explain the American garden railroading scene.
My new friend gave me a copy of Garden Railways magazine (February 2003) that included an article on Marty Cozad's North Table Creek Railroad. This magazine accompanied me on my subsequent adventures and my dreams coalesced around Marty's standard gauge railroad during quiet times in the desert.
While I had loved trains since childhood and had a number of forays into N scale modelling under my belt, I never thought of moving into the garden, and certainly not to model U.S. railroads. The seed was sown and in spare moments I thought about building a U.S. outline standard gauge garden railroad.
The challenges were not insignificant. I was living in military quarters with little outdoor space. I didn't know much about U.S. railroads or gardening, and there was the small matter of an invasion to negotiate before I'd have time to think about such matters!
While in Iraq, I ordered a GP9 and 40 ft. boxcar in Conrail livery, to be sent to my home. Why Conrail? It was the striking blue livery; the color reminded me of the British Railways blue diesels of my youth. From my rudimentary knowledge of U.S. railroads, I was also interested in a railroad born out of the ashes of failure and bankruptcy. I'm a sucker for an underdog!
Six months later I got home and a sizeable parcel was waiting for me. The instant the GP9 and boxcar were unpacked was the moment that the Bishopstown Sub was born. It took a further 13 years of research; rolling stock and track purchases, two house moves, and construction skill development before I could formally commence building the railroad in late 2016.
I placed the sub-division in the U.S. Northeast, ostensibly in Pennsylvania. This is an area I am familiar with and somewhere I gravitate to on my many US railfan trips. Setting the railroad in this area allowed me to roster more than just Conrail stock; Norfolk Southern and CSX are represented as are the Canadian Class I railroads. I envisioned the sub-division as a link line between a couple of main lines somewhere between Altoona and Allentown. Making the line a link between other main lines opened up the possibility of other railroads exercising trackage rights and conducting interchange operations. It also provided an excuse to run a variety of manifest and unit trains including those, like coal drags and intermodals, just passing through.
I decided on a mainline that hugged the perimeter of my garden with Bishopstown, the main urban center, as the focal point. Bishopstown is served by a couple of small yards (East and West) that support metal, aggregates, and commodity traffic. The yards also support traffic flows into the nearby ADM plant, the major employer in the area, with bulk liquids and closed hoppers being the prime traffic. The mainline then runs west past the ADM plant and out into countryside before returning up the other side of the garden (having negotiated the patio) past an interchange siding with the outside world at Callahan and over a river bridge (Newt Creek) before entering Bishopstown from the East.
I initially thought of setting the railroad between 1976 and 1980, as this would enable me to run trains from predecessor lines during Conrail's "rainbow" period. However, I decided to bracket my railroad firmly in the mid to late eighties.
Developing the dream
As the years passed, I collected rolling stock and track, laying out my growing empire on lawns during summer leave. These temporary layouts allowed me to work out how the Bishopstown Subs track plan would look. It also allowed me to test the freight cars and locomotives that I was modifying and scratchbuilding. Crucially, these temporary layouts also let me check the limits of my wonderful wife's patience and how much of her garden she was willing to give up to my empire.
Several things became apparent. First, I wanted to build the railroad around the perimeter of my garden in a way familiar to indoor shelf layout builders. This would minimize disruption to much of the garden and the plans my wife had for it. Secondly, I wanted a "tail-chaser" so I could just watch the trains going by, probably with a beer in hand, if I so choose. Third, a railroad needs a purpose, and I wanted the main line to serve several industries along the line. Creating purpose would encourage operational interest through switching and local moves, as well as interchange with notional external routes and railroads.
Finally, and most importantly, I wanted to create the conditions to railfan my railroad. I wanted to replicate the enjoyment I get from being lineside on real railroads but in my garden, and that meant creating scenes that were interesting enough for me to spend countless hours looking at.
From dream to reality
A house move in 2015 provided the space I had been looking for and the first turf was cut on the Bishopstown Sub a year later. I followed the tried and true method of digging a trench, adding sub roadbed (self-locking gravel) and then ballast for the track to float on. I use 6mm (approximately .24") of dust grey limestone chippings to replicate ballast and top it off with horticultural grit for aesthetic as well as functional reasons. The disadvantage of this method is that the track moves as my predominately clay sub-soil shifts, but I accept that relaying the track and adding ballast is a chore that replicates maintenance-of-way work on the real railroad. I look forward to this chore in spring as it marks the beginning of the operating season.
Track, including switches, is LGB code 332 which I favor for its durability and forgiving nature. The line is held together using Split-Jaw rail clamps. Given the length of the railroad this has proven to be an expensive way of creating mechanical and electrical continuity, but I have experienced few issues and run the entire railroad off one main electrical connection. Although I have only one power connection to the railroad, I utilize the outer loop of the main line as a power bus, ensuring high levels of electrical continuity and conductivity along its route. This enables me to section the other main line and the various sidings and electrically isolate where needed via strategically placed on/ off switches. In doing so, I am able to park trains and locomotives as required. Radio control with a walkaround handheld controller increases operational utility and allows me to follow the action.
Maintenance is relatively easy, with track cleaning being the main chore. At the beginning of the operating season, I clean the track by hand while also checking clamp tightness and ensuring the geometry of the track is within acceptable parameters. During the operating season I employ LGB track cleaning engines to maintain conductivity, troubleshooting by hand as necessary. Metal wheels on all rolling stock help minimize dirt deposits, as does regular running. Battery power would be a sensible way to go but with a sizeable stud of locomotives this wouldn't be cheap and with seven years of operation behind me, I remain content with track power.
To achieve the look I wanted I would have to construct every building necessary from scratch. My first efforts were small sheds and lineside buildings, such as equipment cabinets, made of styrene/polystyrene. I moved onto bigger structures such as the ADM plant, the cement loading facility, and the warehouse flats in Bishopstown yard. As the buildings got larger, I switched from styrene to PVC foamboard. I recommend this material to anyone making structures as it's easy to cut but robust, takes acrylic paint well, and is highly weatherproof.
Most of my buildings have lights and are painted and weathered to fit the era and location. Many are renditions of prototype structures I have photographed on my travels. My buildings exist to provide a suitable backdrop, and add to a sense of purpose, location, and time to the railroad. Pelle Søeborg and other HO modelers are my inspiration when it comes to buildings and their placement, as they are when it comes to my approach to rolling stock. I have found Kalmbach publications such as Space Saving Industries for your Layout [out of print. -Ed.] and Build Big and Small Industries for your Model Railroad to be particularly invaluable for inspiration and construction tips.
To create the fleet I wanted, I would have to learn to modify or scratchbuild locomotives and freight cars. I started by building cars like gondolas and flatcars, with varying levels of success, before moving onto boxcars and hoppers, both open and closed. I predominately use styrene and resin casting techniques learned in the pages of various magazines and the internet and over the last decade my skills have developed sufficiently that I am generally satisfied with my creations. Levels of fidelity to the prototype vary but with a good paint job and weathering my freight cars look good enough and add variety to my fleet.
I'm a firm advocate of the 10-foot rule; if something looks good from 10 feet away, especially with my old eyes, then I'm happy! About a third of my front-line freight car fleet is scratchbuilt or heavily modified from commercial models covering 60-foot gondolas and bulkhead flatcars through to steel coil cars and shorty 2-bay hoppers.
The green stuff
Planting is not my strong point and I rely on my wife to point me in the right direction. Even with my wife's support, survival of the fittest is the unfortunate reality on the railroad. Given the fences around my railroad, planting is essential to soften backdrops and add realism. Ground cover is comprised of various mosses, grasses, and sedums while bushes and shrubs are represented by thyme, ivy, and hebes. Buxus and bigger hebes stand in for bushy trees with dwarf spruces used to represent larger trees. All are pruned for shape and size and placed to minimize 1:1 scale intrusion into my 1:29 scale railfanning.
Routine operations on the Sub-Division
Operations replicate a busy secondary line and an operating day tends to consist of three pulses of activity. The morning turn, consisting of freight being delivered to the main yard for switching and the collection of cars loaded overnight at the various industries, followed by mainline run-throughs. The second pulse comprises of locals moving between the interchange siding at Callahan, the ADM Plant and the main yards as well as switching to build trains due out in the evening. The final pulse of activity delivers freight to the yard and industries for attention overnight and collects trains built for onward transmission. I never tire of this operating cycle as the variations in car placement and switching moves appears infinite.
The future
Rolling stock continues to be built, including locomotives with a Canadian National GMD1 and Conrail SD9 in the works, and more structures are required, including warehouse flats in Bishopstown, and further development of the metal recycling works in the East yard. I recently realigned part of the mainline to provide more space for increased planting and liked the results enough that am now looking at other bits of the garden to do the same. I have been collecting signals for installation and this will be a major effort at some point. It will be a few more years before I am satisfied with the railroad, and it might even take retirement before I can find the time to do everything I wish to improve the Bishopstown Sub. Isn't that the wonder of garden railroading; it's the journey and not the destination.
Meet the author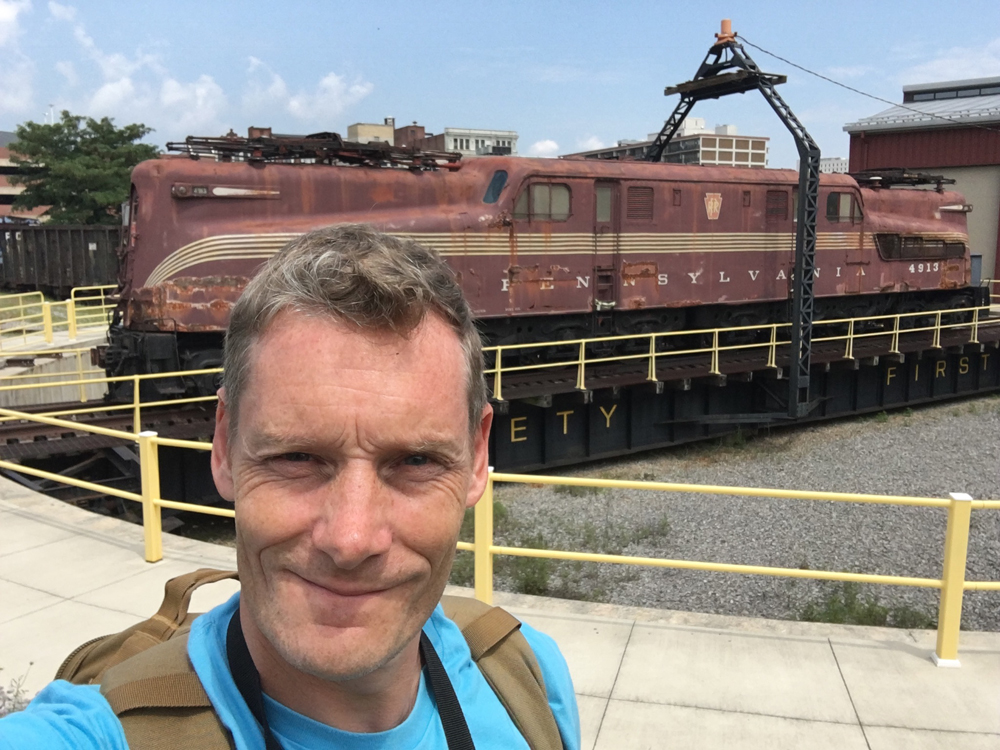 Mark Bottrill is a lifelong rail enthusiast who discovered American-outline garden railroading by chance while serving in the Middle East alongside US Forces in the run-up to 2003 operations in Iraq. After 37 years in the UK Royal Air Force, Mark is considering retirement to spend more time working on the railroad, traveling around Europe and the U.S. by bicycle, and enjoying taking photographs of railroads wherever his travels take him.

Conrail patched Erie Lackawanna SD45 and partner heads south with a manifest freight through the verdant Pennsylvania countryside. Photo by Mark Bottrill


GP30 No. 2236 awaits orders to switch hoppers into the loading shed at Bishopstown's ADM Plant. This industry requires a steady stream of hoppers and tankers. The loading shed is made from styrene while the rest of the buildings are made out of Foamex, a type of plastic sheet used by sign makers. Photo by Mark Bottrill


A busy day in Bishopstown as a pair of SD40-2s power past the duty yard switchers and a tied-down manifest freight that includes a number of scratchbuilt bulkhead flatcars. The yards at Bishopstown act as a focal point, with trains being switched across the various industries and peddler freights hustling to and from the local area. Photo by Mark Bottrill


Steel is a routine commodity transported across the Subdivision and the small recycling plant in the East Yard is both a recipient of scrap steel, and consigner of beams and pipes. Trains being readied for departure with steel products are routinely tied down on Track 1, which is next to the cement transload facility. Photo by Mark Bottrill

Once dispatched from Bishopstown, steel trains travel deeper into the U.S. or head north toward the Canadian border. Those heading north are switched into the exchange siding at Callahan in preparation for onward movement, usually in the hands of Canadian National power. Photo by Mark Bottrill


Bishopstown Yard routinely hosts a pair of switchers to deal with local duties. Today the power is provided by a GP15 and an SW1500. The SW1500 is a scratchbuilt engine while the GP15 is a creation made from a mix of GP38, SD40, GP9, and scratch-built components. This build was among the most complex to date, but the outcome was a good representation of a classic Conrail road switcher. Photo by Mark Bottrill


Coal drags occasionally run through Bishopstown from Appalachian mines and these heavy trains require suitable power to defeat the mountainous terrain, in this case provided by SD45s. Photo by Mark Bottrill


The heaviest coal trains require the biggest power and that is provided in this case by a C30-7A and SD70 lash-up. The C30-7A was the first locomotive I scratchbuilt for the subdivision and was a natural progression having practiced my skills building simple freight cars such as flatcars and gondolas. Twelve years on, the engine continues to provide good service. Photo by Mark Bottrill


The railroad, just like its prototype, has to deal with Mother Nature. Shifting ground, leaf fall, rain, sun, and snow must all be negotiated. Here we see a scratchbuilt Russell snowplow and flanger combo ply their trade after the first snows of winter. "Keep it moving with Conrail!" Photo by Mark Bottrill


Switching the bulk liquids facility is a GP9 and SW1200 (NW2 conversion). This GP9 was the first locomotive I purchased in March 2003, remains a favorite, and set the scene for everything that has come after it. Photo by Mark Bottrill


The signature building on the railroad is the Bishopstown switch tower. Made mostly from styrene and with a full interior, this is my favorite structure on the railroad and helps to provide a sense of history to the location. Low nose RS3M No. 9951 is a conversion of an Aristo-Craft RS3 and replicates the sole Conrail prototype of this locomotive. Photo by Mark Bottrill

Railway at a glance:
Name: The Conrail Bishopstown Sub-Division
Size: 175 ft. x 60 ft.
Scale: 1:29
Gauge: standard
Era: 1980s
Theme: Conrail link line between two Northeast mainlines that runs through the fictional town of Bishopstown and its environs, notionally in Pennsylvania
Age: 7 years
Motive power: DC track powered diesels
Length of mainline: 450 ft. of mostly double track mainline with additional loop and stub sidings serving local industries
Minimum radius: 16 ft.
Structures: Scratchbuilt industrial and railroad related
Control system: Crest Train Engineer
Website: Facebook.com/@GScaleConrailBishopstownSub
Plants on the Bishopstown Sub
Approximate USDA Hardiness Zone: 7 to 8
Dwarf conifers
Wilma Goldcrest cypress (Cupressus macrocarpa 'Wilma Goldcrest')
Dwarf Alberta spruce (Picea glauca 'Conica')
American arborvitae (Thuja occidentalis 'Teddy')
Small trees and shrubs
Dwarf cypress (Chamaecyparis lawsoniana Ellwoodii)
Emerald Green Hebe (Hebe 'Emerald Green')
Green Globe Hebe (Hebe 'Green Globe')
Sutherland Hebe (Hebe pinguifolia 'Sutherlandii')
Ground cover
Corsican sandwort (Arenaria balearica)
Silver ivy (Hedera helix 'Glacier')
Irish moss (Sagina subulata)
Irish moss Lime Moss (Sagina subulata 'Lime Moss')
Irish moss 'Supreme' (Sagina subulata 'Supreme')
Gold moss sedum (Sedum acre 'Aurea')
Goldfinger sedum (Sedum album 'Goldfinger')
Grisebach's sedum (Sedum grisebachii)
Hen-and-chicks (Sempervivuum sp.)
Lemon Thyme (Thyme citriodorus aureus 'Lemon Thyme')
White creeping thyme (Thymus praecox 'Albiflorus')
Woolly thyme (Thymus pseudolanuginosus)
Elfin tyhme (Thymus vulgaris 'Elfin')
Thyme (Thymus vulgaris 'Faustini')