Sometime ago I decided to build a combination small rural station with a freight house. I often use pieces of several kits (or sometimes broken items) to make my projects. For this one, I started with a Korber station and used part of an Aristo-Craft platform to add waiting platform with roof.
I wanted the roof between the station and platform to be continuous (it rains a lot in Florida). I ripped one side of the roof long way, then cut it into two equal lengths, trying to align the shingles as best as possible.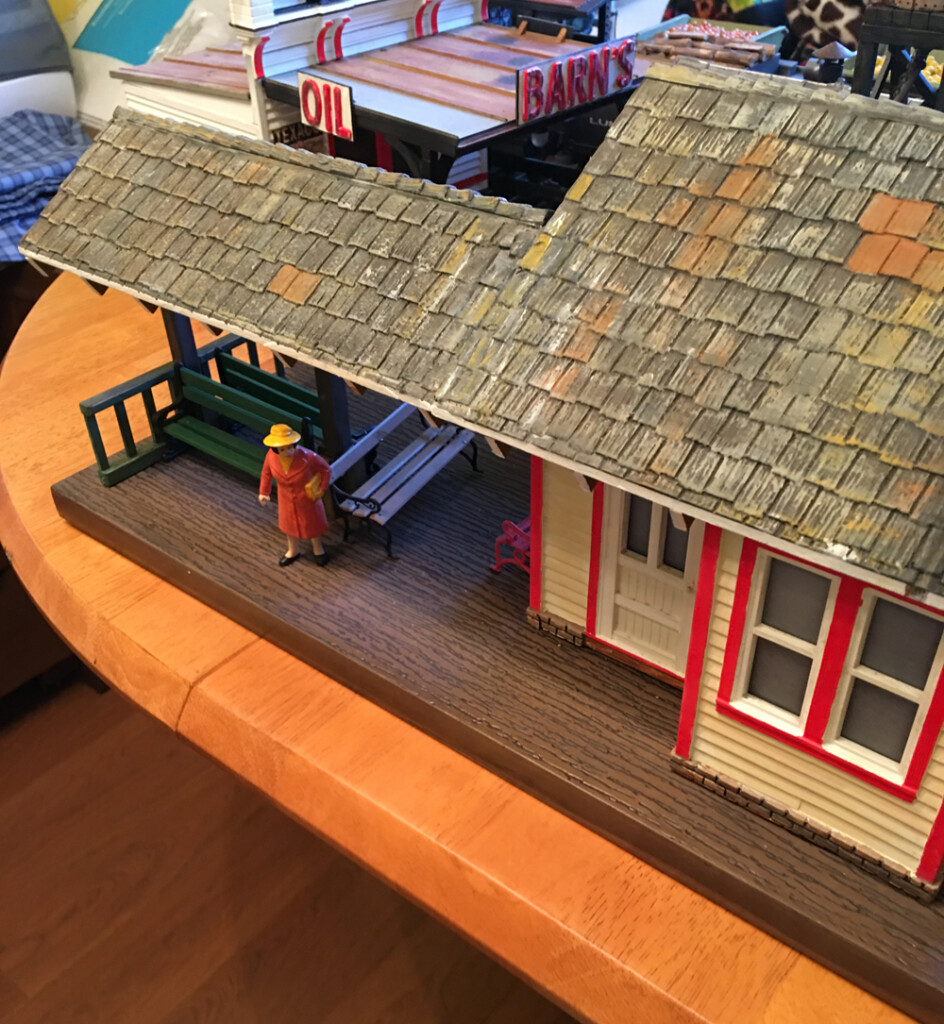 I found the original rafters from the Aristo-Craft waiting platform matched the same angle as the roof on the Korber station. I added the rafters and posts made from Evergreen Scale Models styrene and finished the bottom of the roof support post using Playmobil railing and corner pieces.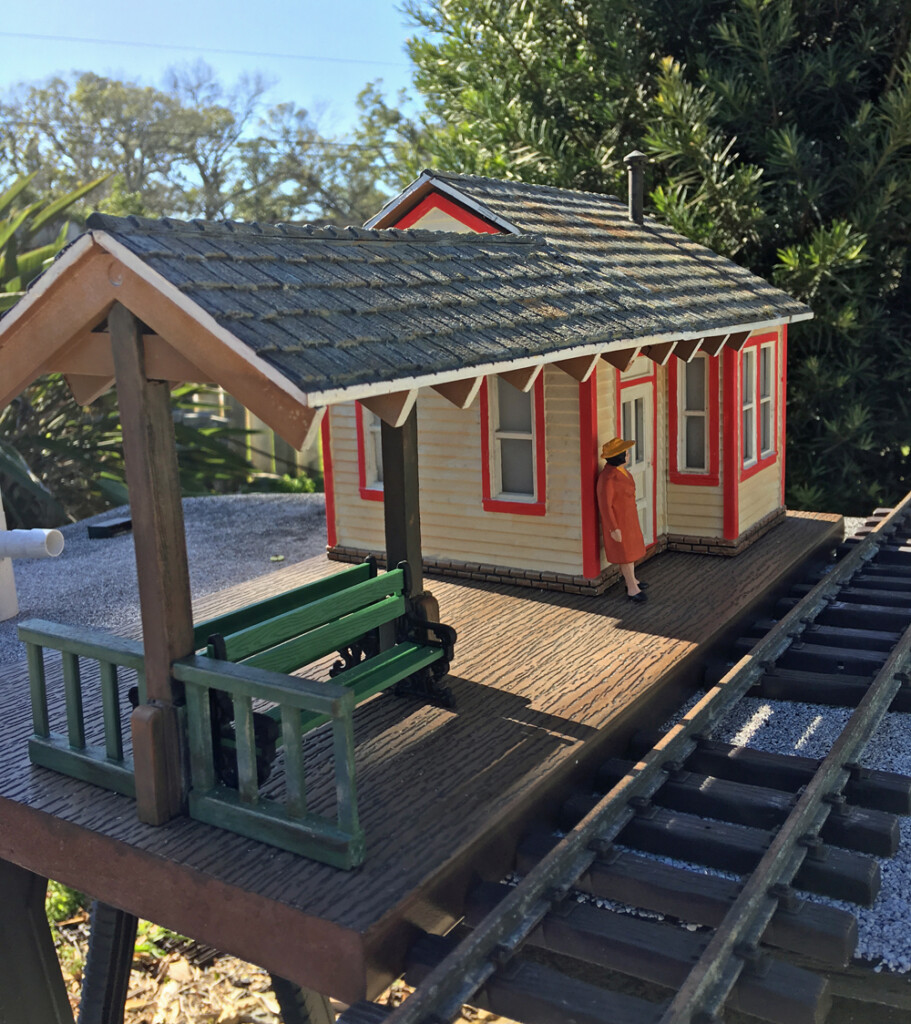 I found a piece of PVC lumber that was textured on one side and used that as a foundation. I attached the structure and support posts to the PVC.
The roof of the station is removable to access the LED light batteries, and there is a small slide switch under an eave to control the lights (1 in the station and 2 in the platform area). The original station was a bright yellow so I painted it ivory with red trim to tone it down a bit. The color scheme is reminiscent of the old station in National Gardens, Fla.
Building the freight house
Next, on to the freight house. I had a Playmobil safari add-on kit, which included supports, railings, posts with floors, ramps, and steps. I came up with a design that looked reasonable, then added part of a broken Bachmann boxcar for the building.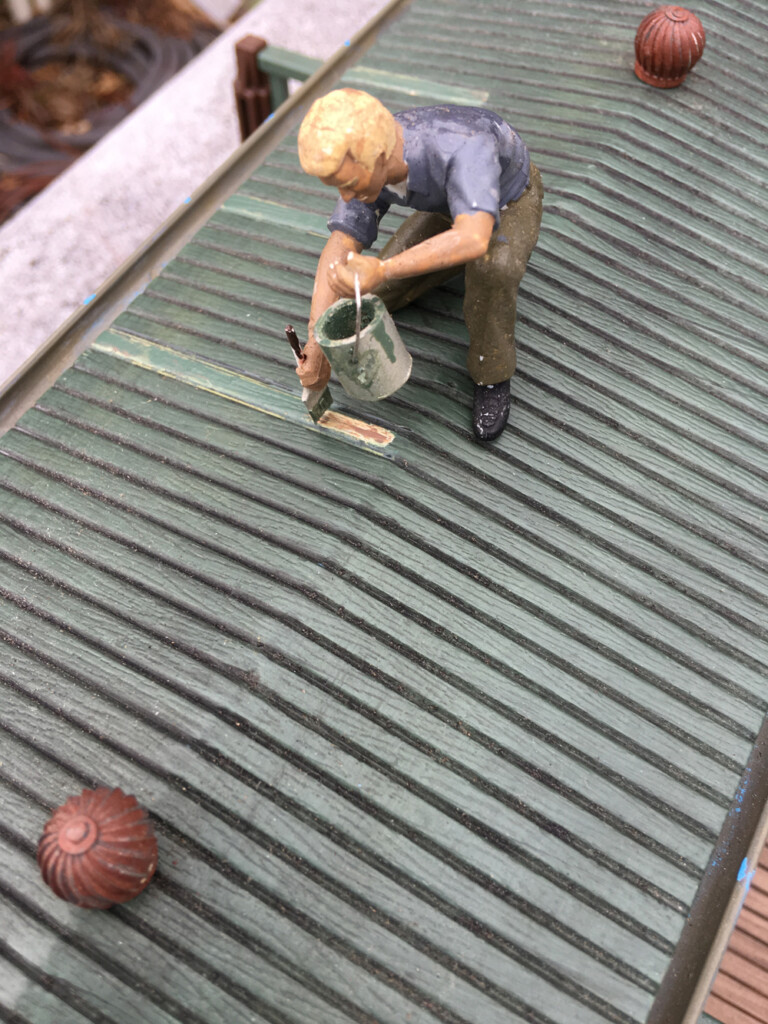 I covered up the Playmobil flooring with Evergreen grooved sheet styrene to simulate wood planking and gave it a wood look using acrylic paints. Found one of my Monogram figures (an airplane mechanic that came with a model kit) and modified him to paint repaired sections of the roof. I then added bolt castings to large timbers going around the structure.
In addition to raining a lot in Florida, it's also hot, so I added some cyclone turbine roof vents. They were marked as O scale, but they looked big enough to me. Back in the 1940s and 50s you saw them on many roofs, and during the winter they would be covered up with plastic sheeting or hoods.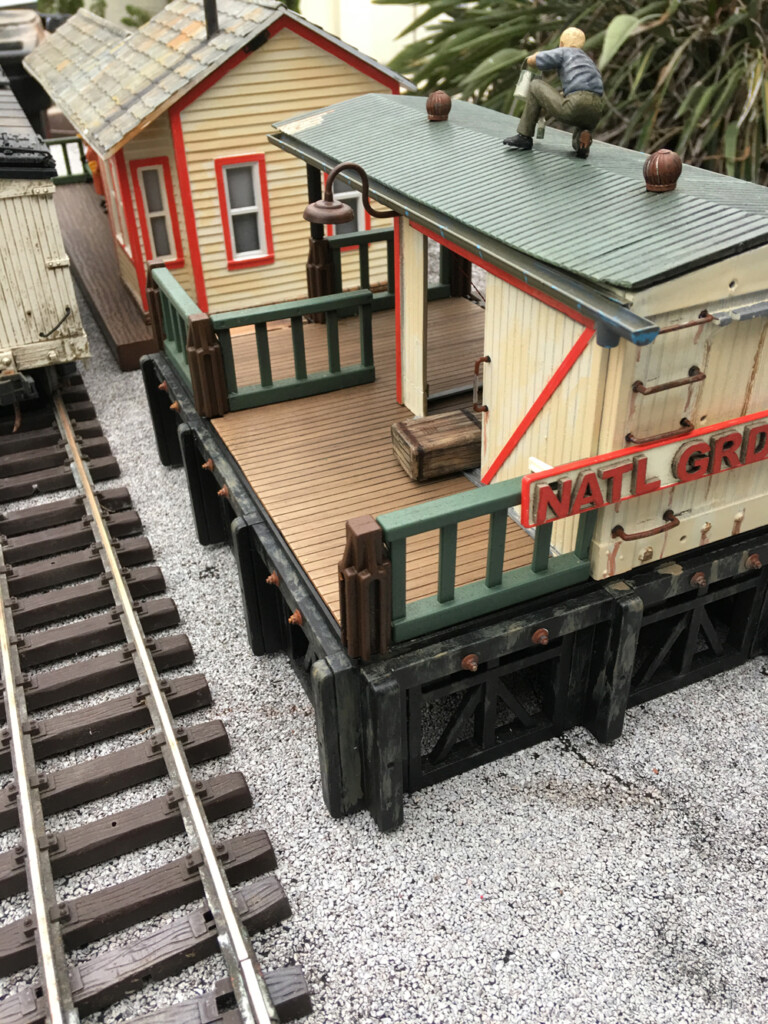 I lighted the freight house with an outside goose neck lamp (replaced the bulb with an LED). It's powered by 2 AAA batteries housed in a battery box with switch. The wiring is housed inside of a steamer trunk.
I still have some more detailing to add, but I'm pretty much done. I hope you enjoyed my project, and that it inspires you to try one of your own.
Editor's note: Do you like projects using Playmobil? We will feature more Playmobil from contributors Bill Barnwell and Eric Mueller later this fall!