Department 56 on toy train layouts: Toy train enthusiasts enjoy using Department 56 buildings and accessories on their O and S gauge layouts. In the spirit of the holidays, we're sharing this photo gallery of displays. We hope you enjoy it.
More holiday fun is in this holiday toy train photo gallery.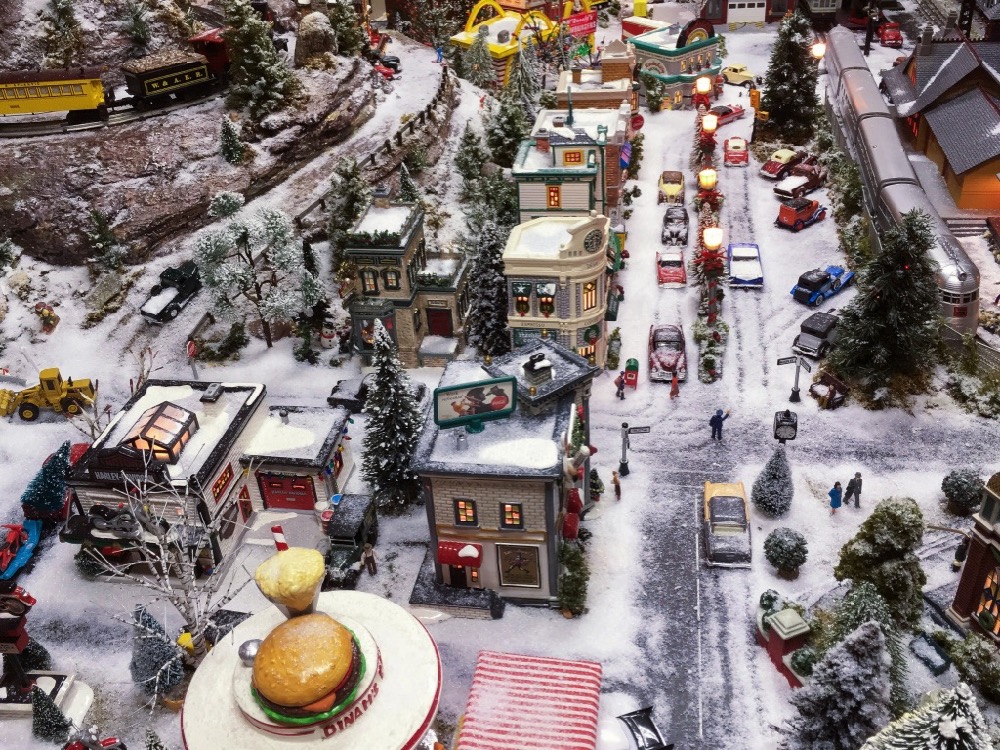 Donald and Miriam Pruter combined their enthusiasm for toy trains and their different talents to create a cool 12 x 20-foot O gauge layout reflecting every aspect of winter. They use primarily Department 56 buildings on their layout, but also feature some made by Lionel and MTH.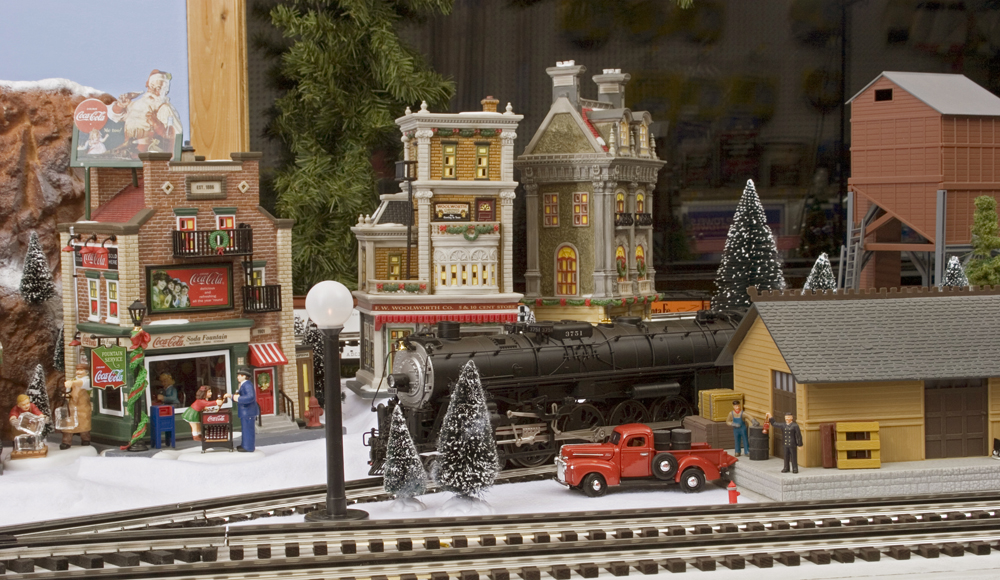 Mike Blakesley and Ray Deering have built a popular O gauge layout in an auto parts store in Forsyth, located in the southeastern corner of Montana. Residents and folks who live in nearby communities make it a point to stop by Valley Auto Supply between the middle of November and the first part of January to observe impressive winter scenes like this one, on what Mike and Ray named the BBB&D Railroad, an L-shaped layout that was featured in the December 2008 CTT. Ali Dinstel captured that Lionel Santa Fe 4-8-4 steam locomotive as it guided a train past Department 56 structures on a frigid December morning.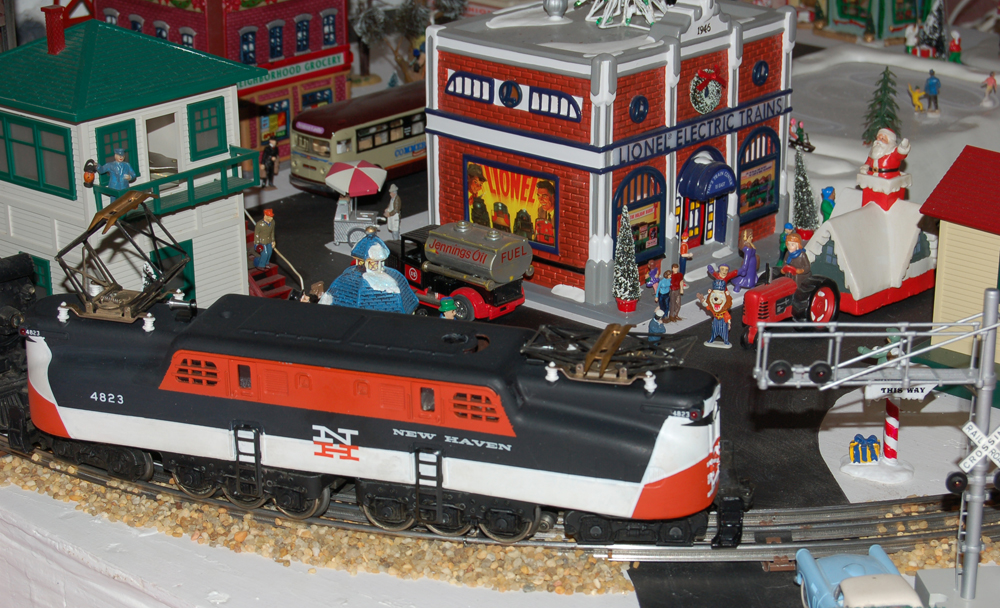 The two fellows assigned to the Lionel no. 445 automatic switch tower scurry into the chilly air in December to get a good look at the vintage Lionel GG1 that Larry Eyman decorated in New Haven colors. It's creeping through the O gauge layout that Charlie and Nancy Cuniff put down on the floor of their living room every Christmas. They live in Danbury, Conn., which was New Haven country, so it's no wonder that they rank this electric-profile locomotive as their favorite. Buildings from Department 56 and Lemax, plus a wide assortment of figures, fill their temporary model railroad.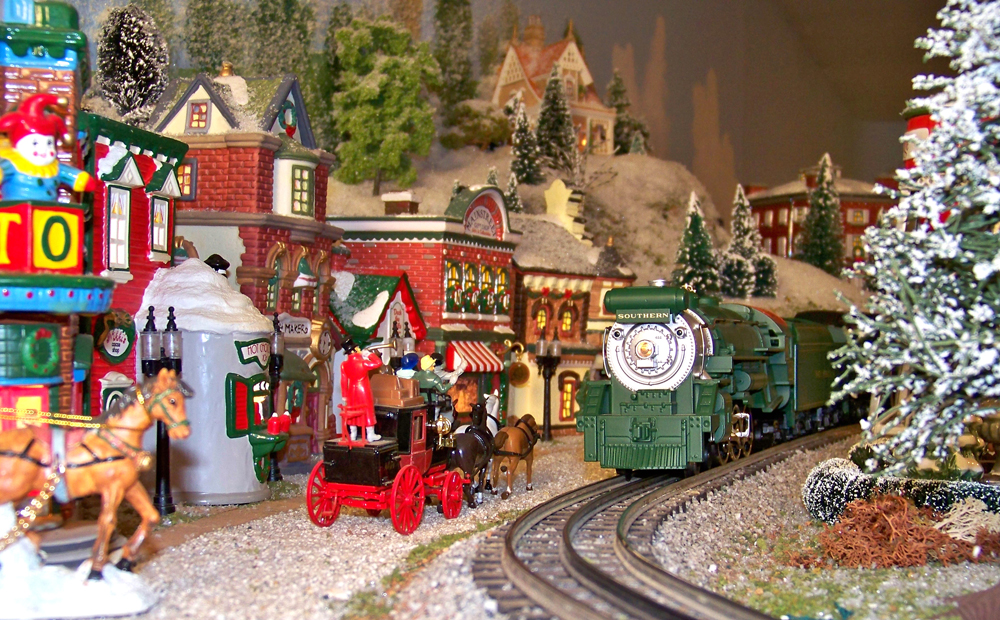 Towns like Blairsville, situated high in the Appalachian Mountains in northern Georgia, do indeed get snow in the winter. Or at least they do on the Misty Mountain Railroad, the nationally acclaimed O gauge layout that has been drawing tourists into the beautiful area that Charles Griffin calls home. He enjoys running models representing railroads from across the country, but especially loves the Southern Railway. Mark Mote was on hand to shoot the famed Southern Crescent passenger train as it led heavyweight cars by a stand of evergreens on a frigid day.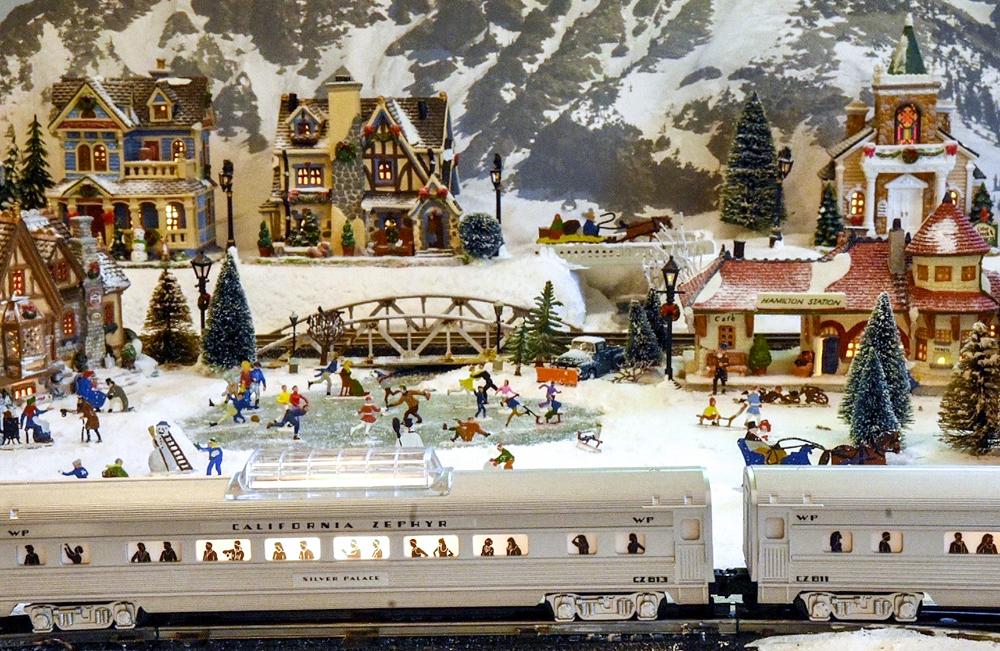 Steve Terni's S gauge layout
Seems as though every child in the Rocky Mountain village on Steve Terni's S gauge layout is outdoors on this frigid day. Most are skating or sledding. A few kids are building snowmen. Still others are doing what Steve admits he would be doing: greeting the California Zephyr as it makes its way from Colorado to the West Coast.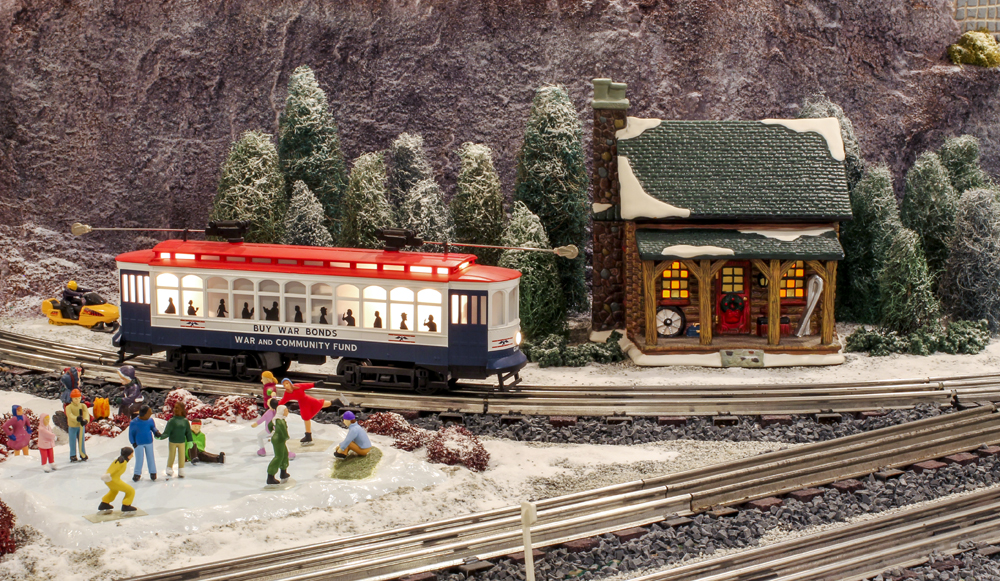 George Donald's O gauge layout
How clever of George Donald to bring us a Back to the Future moment on his O gauge model railroad. From the look of the MTH RailKing "Buy War Bonds" trolley (product no. 30-2569-1) and the cabin nearby, you might assume the calendar reads December of 1943 or 1944. Who knows what George had in mind when he modeled this frosty scene in Easton, Pa.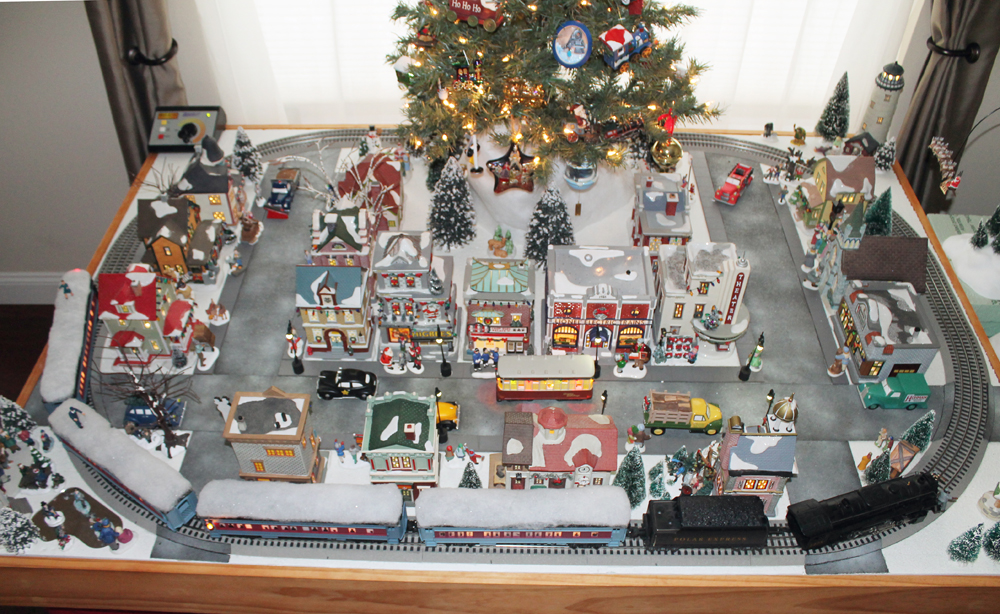 Todd Ryan's O gauge layout
Todd Ryan assembled this holiday layout for his family in Cincinnati, Ohio, using Lionel FasTrack. Note the extensive use of Department 56 newsletter.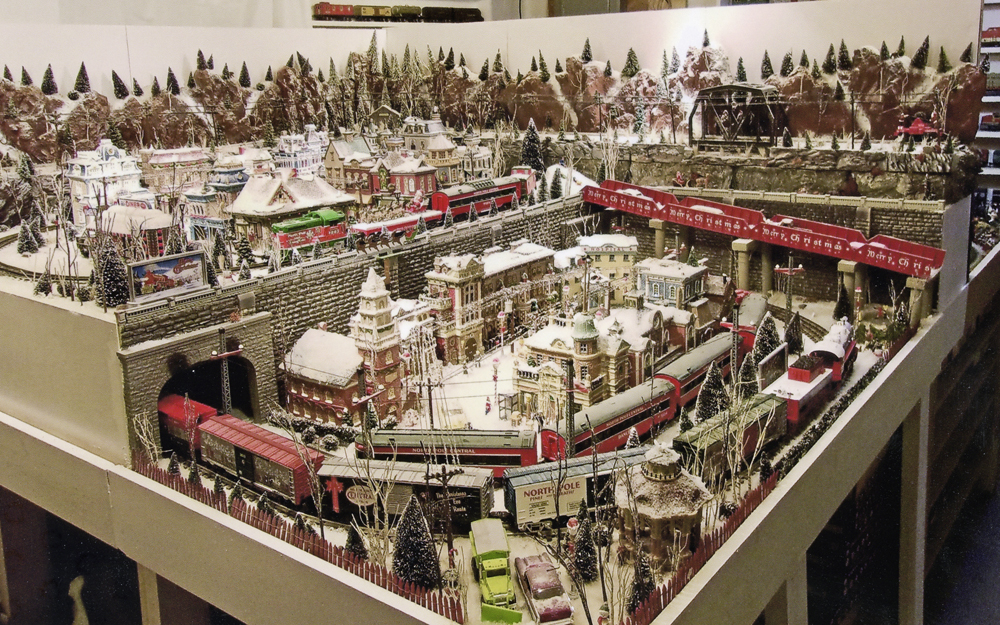 Thomas Byrne's O gauge layout
Three levels of track make it possible for O gauge enthusiast Thomas Byrne to operate his version of the North Pole Central without ever getting bored. He notes with pride how he has added more than 300 trees and 100 figures on the holiday display shared with family and friends each year in Poughkeepsie, N.Y. No need to inquire how much artificial snow Thomas sifted onto the many detailed vignettes.