Locomotives from the Union Pacific Heritage Fleet highlight the latest release of the Lionel Legacy SD70ACe. The product was announced in the 2022 Volume 2 catalog. The model train maker offered 10 versions, and I was convinced I needed at least half of them.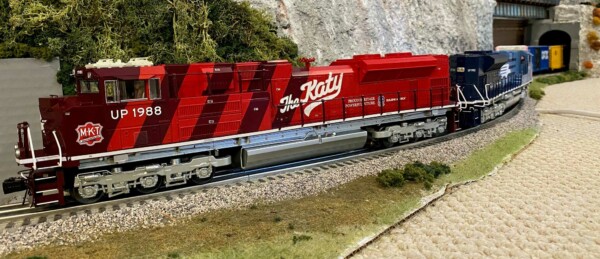 Lionel has not produced the UP heritage units in 15 years, and who knows when we will ever see them offered again (which is part of the excuse I used to get my wife's approval on buying as many as I can).
Learn more about the railroads reflected in the heritage fleet that make up today's Union Pacific.
Union Pacific Heritage Fleet
Lionel has made some minor changes to the appearance of these engines since their initial release, such as the metallic paint used on the fuel tanks and trucks.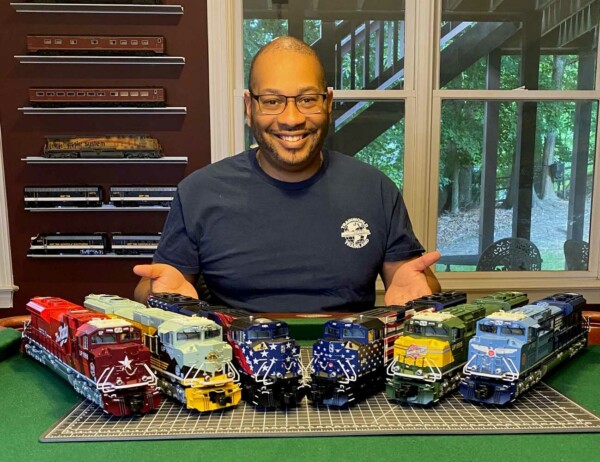 The most notable updates can't be seen, but most certainly can be heard!  The prime-mover sounds add a level or realism that simply wasn't present in O scale model railroading years ago.  The deep bass and hum from these new SD70s is enough to make you feel like you're running a real railroad and need to stick to a schedule.
Checking the details
These engines measure 19 inches long and all the Legacy features including ElectroCouplers at both ends, fan-driven smoke, a metal frame, CrewTalk, Variable horn and bell effects, and engineer and conductor figures in the cab. They also have roadname-specific detailing.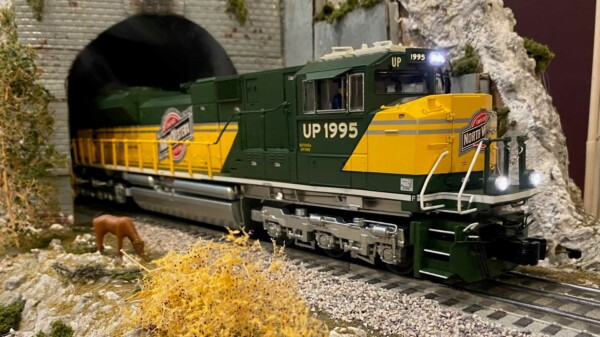 In addition to the heritage units, Lionel offered two Montana Rail Link SD70ACes (a Thank You Essential Workers and a Thank You Veterans unit), along with one marked for Progress Rail (PRLX) in Chesapeake & Ohio paint.
Montana Rail link is a road name that is seldom offered by Lionel, so the second I saw it in the catalog, I knew those were coming to my house.
Passion in the paint
For me, what makes models like these important are the striking colors. Coming across a standard UP unit is quite common and won't draw too much attention on a layout;. However, a heritage unit is attention-grabbing right out of the box!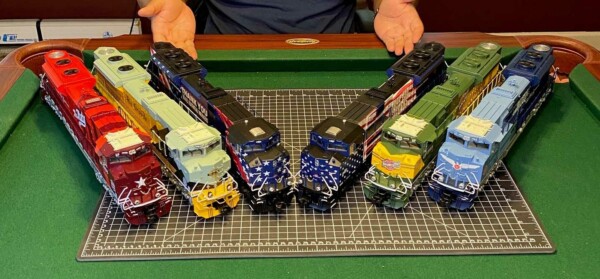 Before I review a model, I like to test it out for a few weeks and run it in every configuration possible. I have confirmed that these engines look good not only leading a train, but also on the end of a train serving as a DPU (Distributed Power Unit).
Nothing looks as good as having modern heritage SD70Ace power pulling a long intermodal consist with a loud, hard-working heritage unit to punctuate the train.
How can you pick?
When it comes to colorful engines like this, I often run into the problem of deciding which one is my favorite. At first, I was certain the Rio Grande had my heart, that is until I unboxed the UP No. 1988 in the Missouri-Kansas-Texas (also known as "The Katy") heritage scheme. The Katy features a captivating red and burgundy striped color scheme and is unlike any other modern engine I have on my layout. The numbers on these engines reflect when the railroad was merged into the UP.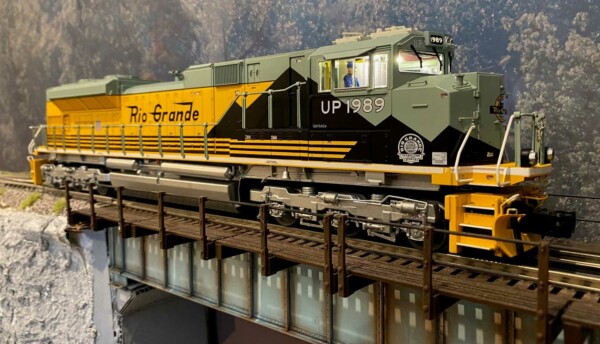 Picking the best from this assortment favorite is hard! However, my opinion might have changed by the time you've read this.
Everyone should have at least one of these colorful SD70ACEs on their roster. They operate with minimum O-36 curves, so there are no excuses. Miss out now, and I guarantee you will pay well above MSRP on eBay by the end of the year!
Ben Laremont operates the Ben's Trains channel on YouTube and Instagram.
Legacy SD70ACe by Lionel
MSRP: $649.99
Roadnames: Union Pacific Rio Grande Heritage No. 1989 (No. 2333200); UP M-K-T Heritage No. 1988 (2333210); UP Missouri Pacific Heritage No. 1982 (2333220); UP Chicago Northwestern Heritage No. 1995 (2333190); UP Southern Pacific Heritage No. 1996 (2333230); UP Western Pacific Heritage No. 1983 (2333240); Montana Rail Link Essential Workers No. 4404 (2333160); MRL Veterans No. 4407; PRLX No. 4834 (2333180)