The Lionel Legacy ES44AC has returned quickly the train-maker's catalog with new road names. It seems that when tooling sells well, we'll certainly see it again sooner rather than later. Judging by the model's re-issue for 2022 after being last offered 2019, it can be assumed that they are popular with collectors of modern motive power.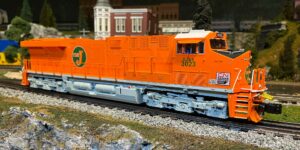 Could the ES44AC become one of those perennially cataloged diesels? Like the SD70ACe has been for what feels like the last decade? Only time will tell. One thing is certain, though: these beefy motive units provide some great looks and sounds to your layout.
The prototype locomotive
This General Electric Evolution series successor to the AC4400CW locomotive was developed in 2002, introduced in 2004, and produced through 2019. The six-axle diesel has a 12-cylinder prime mover pumping out 4,400 h.p. It's one of the top motive power choices for Class I railroads, rivaled by the previously mentioned EMD SD70ACe.
Weighing in at over 415,000 lbs. the ES44AC is more than 73 feet long. It has a continuous tractive effort of over 165,000 lbs. at around 14 mph, which edges out the SD70ACe which comes in at 157,000 lbs. at 12 mph.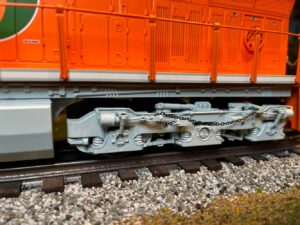 Since deliveries began for the ES44AC in 2005, the Union Pacific Railroad has acquired more than 1,000 units. Competitor BNSF, hesitant to switch from D.C. to A.C. traction, held off until GE developed the ES44C4. It's outwardly similar to the ES44AC but has two traction motors per truck ("C" truck with 4 traction motors) rather than the three of its predecessor.
Learn more about modern diesel locomotives.
The Lionel Legacy ES44AC
The original die-cast ES44AC was in the 2011 signature catalog (MSRP $849.99). It was the successor to the Vison Line Evolution Hybrid version from 2009 ($874.99). Lionel has brought this model back a few other times, including a few for the Norfolk Southern Heritage Unit release.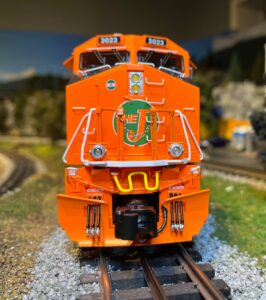 The 2022 catalog offerings provided consumers a colorful array of options. Seven railroad choices were available. Two of them, the BNSF Heritage Unit (Nos. 2233441, 2233442, 22333449) and Canadian National Veterans Unit (2233491, 2233492, 2233499) were cataloged with two powered unit numbers ($699.99) and a non-powered SuperBass unit ($399.99).
The other versions were cataloged with one powered and an unpowered SuperBass unit only. These included CN heritage units, and BC Rail (2233451, 2233459) in a striking red, white, and blue scheme with red and white zebra stripes on the nose.
Also offered:
Elgin, Joliet & Eastern (2233461, 2233469) unit in characteristic safety orange featuring its familiar green ball with orange "The J" along the side and the nose.
Illinois Central (223471, 223479) black version with the cab number along the side, "Illinois Central" under the cab window and "Death Star" logo on the nose.
CN heritage unit Wisconsin Central (2233481, 2233489) in red and yellow paint.
U.S. Armed Forces (2233501, 2233502), blacked out with dark gray graphics.
Custom runs:
U.S. Armed Forces (2233993, 2233993; $899.99) in green camouflage with two road numbers from Trainworld.
Eric's Trains/Appalachian & Western (2233991; $699.99) with red and white graphics from Legacy Station.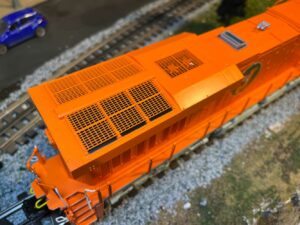 Other availabilities include The Rocket Booster Set (2222020) featuring a Union Pacific unit, and the Norfolk Southern 40th Anniversary Set (2222090).
Full of features
Just like previous releases. these models feature full Legacy controls and can be operated with Legacy, Bluetooth, TMCC, or conventionally. They have Kinematic pilots which limits these 19-inch diesels to O-54 curves.
A fan-driven smoke unit pumps out exhaust which is emphasized by the sound set featured in these new models. Operating Electro-Couplers on the front and back allow users to move freight around easily on their layouts.
There's a note of caution for layout owners using Z-Stuff DZ1000 switch machines. With the snowplows installed on the locomotive pilots, make sure the mounting screws for the switch units are recessed into the plastic so the plow doesn't catch on them!
Get more O gauge action on the Chris's Trains & Things channel on YouTube.