Patriot Lighting Supply Background Building
Price: $59.99 Stock no.: 2795925 Features: 2 3/4″ profile, lit with 20 LED lights. Uses 4.5V power sources no. 279-4061, 4062, or 4050 Website: Menards.com/Trains
Melrose Park Station
Price: $49.99 Stock no.: 2795551 Features: fully assembled, lit with 10 LED lights. Uses 4.5V power sources no. 279-4061, 4062, or 4050 Website: Menards.com/Trains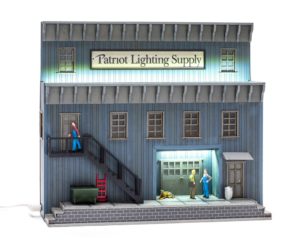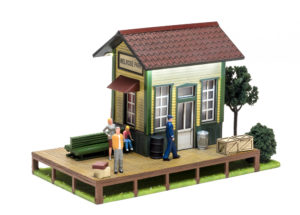 If there's anything O gauge builders want on their layouts, it's more space and more visual interest. Menards has released a couple of buildings that can help pack a lot of details into a small area.
Lighting up
The Patriot Lighting Supply Background Building is made to represent a factory but fits against a wall or backdrop. As with many Menards buildings, it's constructed of wood. Three figures and Jack the German shepherd are hanging around the loading dock, waiting for the next truck to arrive.
The building is about 3 inches deep and does a nice job of giving the illusion of a full-depth structure. Details include a trash can, dumpster, and a hand truck, giving the impression it's a busy place.
Next stop
The Melrose Park Train Station represents a commuter or small-town halt, and is perfect when you don't have space for a full-sized depot.
The station comes with four figures plus Jack. It has two crates and a barrel on the platform that might go on the next train, or maybe they came off the last.
The station, like the lighting supply, has a socket for a Menards 4.5V power supply. Even at night, the tiny stop is a safe and inviting place