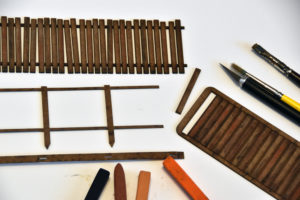 O scale wood fence kit by TW Trainworx
Price: $50 Stock no. TWX-2180 Features: Four 12" -long sections. Website: twtrainworxstore.com
Like many other O gauge enthusiasts, I'm always looking for ways to add effective details to my layout without taking up a lot of space. At a pre-pandemic train show, I ran across a realistic-looking privacy fence product offered by TW TrainWorx. It seemed like a great way to add even more realism to my layout without requiring much space (which is becoming harder to find). And it gave me a nice little project to build, weather, and install.
The fence pieces are laser-cut from a thin sheet of hardboard and come in four 12″ preassembled sections. I added color and weathering to both sides with chalks. I'm sure the same effect could be created with paint for those who prefer it to chalk.
The back of the fence has a slightly smoother finish that "takes" chalk, or paint, differently. The different textures give each side a slightly different finish and an even more realistic look, as one side of a fence inevitably gets more weathered than the other.
Once I was happy with the weathered look, I sealed the chalk weathering with two thin coats of clear sealant spray.
Installation was easy, thanks to the template guide for spacing the vertical postholes (slots) into the layout surface.
After marking the posthole locations, I used a no. 11 hobby knife blade to cut the slots, added a drop of glue (optional), and inserted the posts. Next, I glued the post to the horizontal stringers and held them in place with small clamps overnight until the glue had dried. The finished fence stands about 2″ tall and has varying-length pickets.
Adventurous modelers can weather sections differently to make them look older, or even newer. The sample I saw at the train show had added some interesting "painted-on" signage to the fence for use in commercial areas.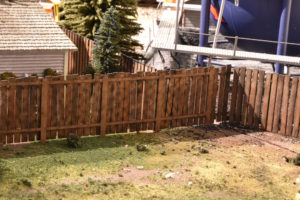 Sections can be easily separated for short runs and making gates by cutting the stringers. The kit includes a section of 24 extra precut pickets to fill in spaces between sections.
This product gave me a chance to dust off my modeling skills in a short time. The fencing added realistic details and served as a great background for some of my accessories. The entire kit is shown on the TW TrainWorx website for a retail price of $50, but I have seen special discounts on it there from time to time.