Classic Toy Trains' O and S gauge building flats round-up showcases manufacturers producing low-profile structures. These building flats mimic a full-size building but are generally only an inch or two deep. They may fit against a backdrop, or, if large enough, may actually be the backdrop.
Modelers can use these at the edge of a layout, or even in the middle of one to form a view block. Enterprising modelers might even put two back-to-back to create different scenes depending on which side of a layout you're viewing. In either case, they don't take up the real estate full-width buildings do.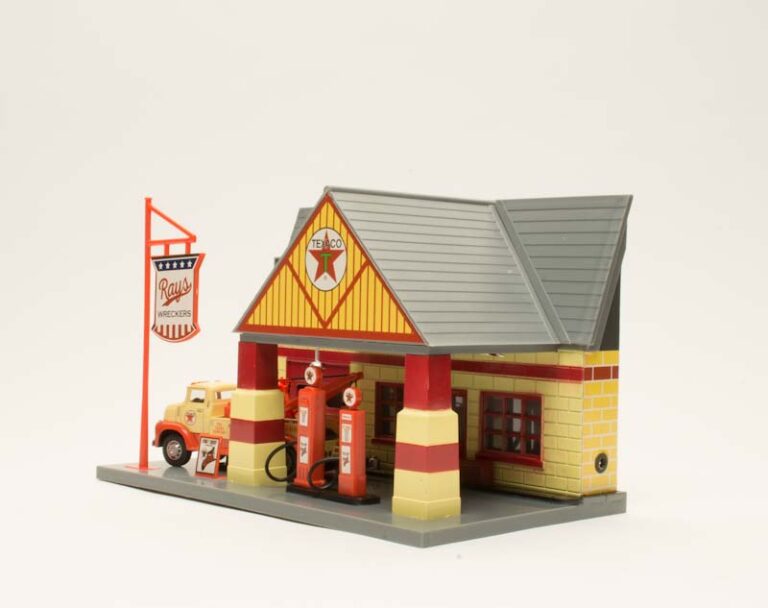 Warehouse and factory versions with loading docks and doors can be active areas on your layout. Put one on a siding for an instant industry.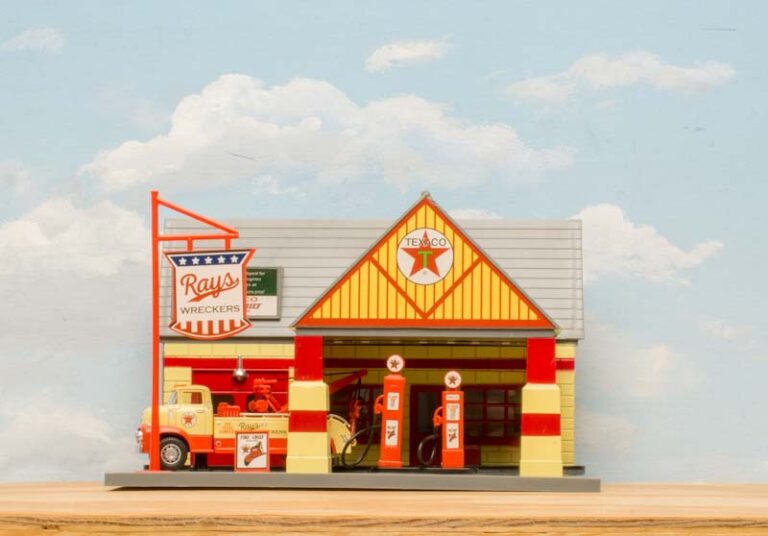 You can build your own low-relief buildings, or buy them from a number of manufacturers. There's also a hybrid approach with companies selling pieces or even building fronts to be printed out on heavy paper or cardstock. These can be laminated onto wood or plastic to create a three-dimensional building.
A number of these manufacturers and sites offer buildings in smaller scales, too, so it might be worth considering using them for forced perspective to add more perceived size to your layout.
Makers
Menards
Scale: O
Menards has made some "background buildings" that are flats. Some examples are Patriot Lighting and the O Gauge Warehouse. There are also gas station structures including Sinclair Garage and Ray's Wreckers that have flat backs and low profiles.
Todd Architectural Models & Layouts
Scale: O, S
Todd Architectural Models & Layouts offers primarily urban structures it calls "shadowboxes." Among its offerings are city buildings and streetscapes, as well as warehouses and manufacturing facilities.
Model Tech Studios
Scale: O, S
Model Tech Studios offers building flats and even skinnier skyline profiles. It also has detail parts including fences and signs to make either of them look more three-dimensional. The company also has weathering solutions.
ITLA Scale Models Inc.
Scale: O, S
ITLA offers urban and industrial buildings as well as walls and parts. Some of its buildings can be constructed normally or as flats owing to their modular designs. There are also rooftop and other details.
TW Trainworx
Scale: O
Known for its custom layout building, the company also produces laser-cut low-relief structures it calls "false-front" kits. They are intended to be part of the operation on a layout as they have loading docks and doors. Some have options to be built in various sizes. The company also has rooftop ventilation details.
Model Structures for Model Railroads
Scale: O
This maker specializes in vertical city structures. There are a variety of models, and they even have lighting options. They come fully assembled, painted, and detailed.
Ameri-Towne
Scale: O
Manufacturer of city and town structures has building fronts and walls that can be used as low-relief scenery. Additionally, the company has detail parts such as cornices, steps, and loading docks to give each flat a different personality.
PTF Designs
Scale: O, S
Maker of flats built with ½-inch matte vinyl. Designs are colorful and encompass a wide range of subjects from rural to industrial. Many of them have lighting effects.
Woodland Scenics
Scale: O
One of the enduring lines in model railroading has been the DPM modular buildings series. Woodland Scenics continues to offer modular walls and other parts that can be turned into low-relief buildings.
Clever Models
Scale: O, S
Arguably the premier model railroad paper building model company in the U.S., Clever has been in business for almost 20 years. Its designs are downloaded to modelers' computers and printed, allowing a lot of creativity in low-relief structures. They have everything from hero structures to the mundane.
Evan Designs
Scale: O, S
Besides being a supplier of model lighting items, Evan also has its Model Builder building design software. It allows creative modelers to plan their own low-relief buildings in a variety of materials.
Big Indoor Trains
Scale: O, S
Offers pictures of buildings that can be printed and affixed to the board of your choice. Also a lot of great information about creating low-relief structures.
B.T.S.
Scale: O, S
For more than a quarter-century, B.T.S. has been offering laser-cut kits primarily focused on the mining and lumber industries. It's Behind The Scenes offerings are low-profile industrial structures.
Bar Mills Scale Model Works
Scale: O, S
Long a fixture in the laser-cut building business, Bar Mills offers Northeastern-style wood structure kits with reduced depth. Their kits can be modified to fit your space, too.
Banta Modelworks
Scale: O, S
Banta is another company that's been around a long time. Their laser-cut building kits are primarily geared toward the old West and Colorado mining country. They have a number of building flats.
Korber Models
Scale: O
O scale modelers who have enjoyed the hobby for any time know the Korber name. The line is now owned and produced by Mr. Muffin's Trains. In addition to standard buildings, there are also a number of low-profile "background" structures.
Is there a company missing? Send us a note: editor@classictoytrains.com