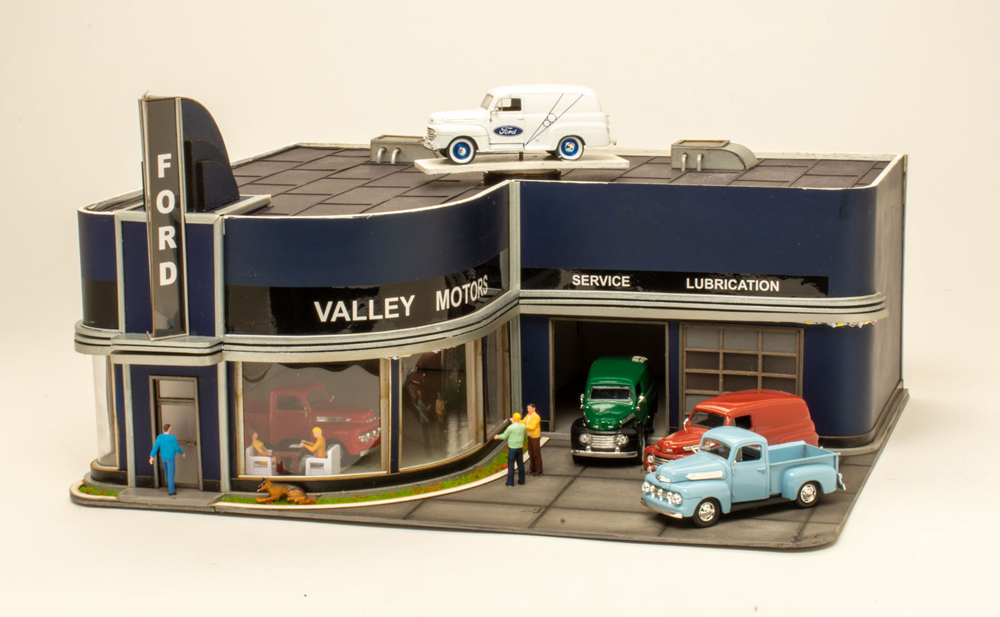 Menards has released a new O gauge auto dealership building called Valley Motors. It features lighting, die-cast vehicles, figures, and lots of detail. It would be at home on a layout set in the 1940s to today.
The structure harkens back to an era where American cars and trucks were heavy – probably made of melted Sherman tank barrels – and when a four-door sedan probably weighed more than six Toyotas!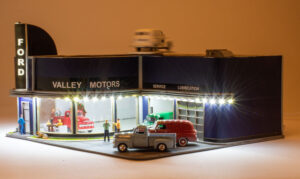 Vintage vibe from Menards
The building's design tosses the rulebook out that suggests corners must be sharp "L" shapes! Valley Motors has a 1940s-50s vibe with a tall sign rising from an entrance overhang, that also possess rounded corners.
The Valley Motors name is generic enough to accommodate any vehicle line. In fact, the dealership sign frame is clear plastic and features rear illumination. It comes with 11 signs allowing you to select the auto marquee of your choice. Not a Ford guy? Just pull out the red placeholder and slip in the sign for Pontiac!
The central focus is the showroom. A customer is walking in just beneath the sign. He probably told old Jack the German shepherd "sit-stay!" Product visibility is essential. With the showroom's five large windows, customers have a clear view of the latest rides.
Let's go inside
Interior decoration includes a salesman and customer seated at a table trying to work out the details of a sale. Two other figures are placed near a pickup truck, perhaps chatting about monthly sales totals. There's a potted plant nearby.
On the rear is a removable panel that allows access to the showroom. Vehicles can be swapped, and figures and accessories can be added. Personalization is just a few turns of a screwdriver away!
There's access to an open "Service" bay, and a closed bay marked "Lubrication." A panel van is leaving the service area. A second panel truck and another pickup are parked on the lot, probably priced to move!
Sign on the line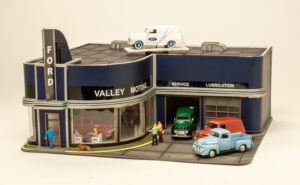 The crowning glory of the dealership is on the roof. No, not an inflatable King Kong, but a rotating platform hosting a white panel van. When powered, the platform rotates 360 degrees. The turntable is a separate piece from the motor mechanism, so you can unscrew the panel van and replace it with a more colorful vehicle if desired.
This is a wonderfully designed retro building. The vintage trucks make at home on a 1940s-60s layout and adding modern ones would bring it up to date. Or think out of the box and customize it. I recall shopping at a train store in Puyallup, Wash. that was set up inside the original store for a car dealership.
Have fun with it!
The no. 279-6396 O Gauge Valley Motors from Menards (no. 279-6396) $129.99
Features: Five die-cast metal vehicles, customer figures, interior decoration, and a rotating rooftop turntable. Designed for use with the Menards 4.5-volt power supply (Menards no.279-4061, 279-4062, or 279-4050), sold separately.
Website: Menards.com/trains