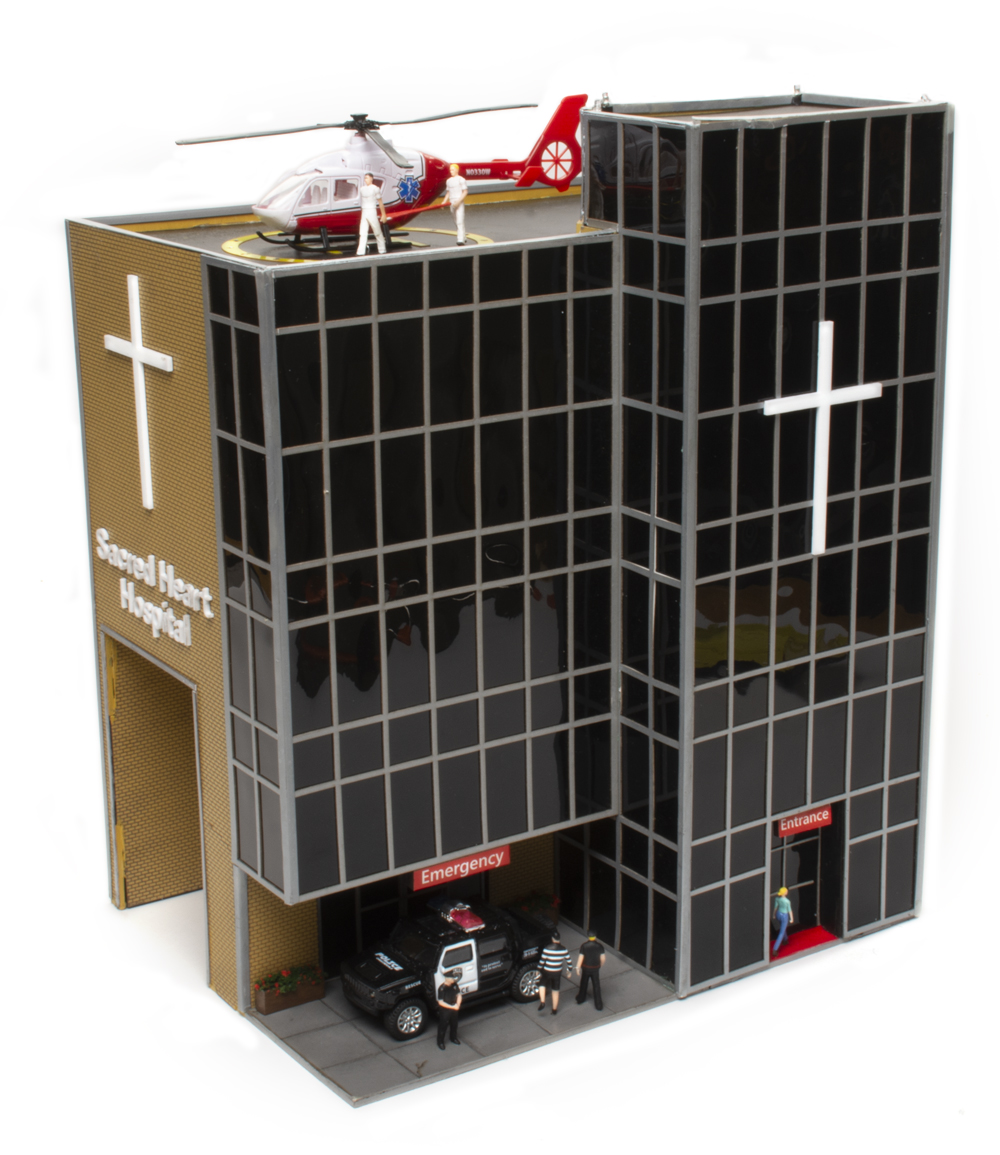 Menards O scale Sacred Heart Hospital: One thing I've noted about a lot of O gauge railroads is that while they may have plenty of police cars, fire trucks, and ambulances, they tend to be a bit short on the hospital or clinic side. The Sacred Heart Hospital helps solve that situation by offering good health care for all of your layout's 1:48 scale citizens.
Some Menards buildings work best on layouts set in the steam era. Others, including this one, look great on model railroads set in modern times.
Let's start with exterior. I like the dark-glass-style construction of the front and right side of the building. The rest has a brick façade. The modern appearance of the hospital will make it look right at home alongside either of the Menards fire stations or its World Headquarters office building or One Police Plaza police structure.
The Sacred Heart Hospital features a fairly tight 13″ x 101/8" base and stands a bit over 16" in height. There is a shorter 14"-high tower with a helicopter pad attached to the main building; it's about one story taller.
The taller portion of the Sacred Heart Hospital has the main entrance on the ground floor. The shorter structure has the helipad up top and an emergency room entrance on the ground floor.
The building has large crosses on two sides and the name Sacred Heart Hospital on one wall. The rear of the building has a removable section that enables you to save some space and place it over a straight section of track. This feature permits a train to run through it.
You'll find on the ground floor a visitor entering the main lobby and a police car parked in front of the emergency room. One police officer stands by the car. The other leads a bad guy (note the black-and-white striped shirt) in for medical care.
But where's the action?
Power the building up and things happen!
Entry lights come on, and the police car's red and blue lights flash. On the rooftop, safety lights flash on and off. Over on the helipad, white and yellow safety lights alternate in the ringed landing target.
Press the button attached to the dangling 24"-long wire and police sirens roar and the blades on the helicopter begin to turn. This is one nifty little light show!
This is another creative O scale building from Menards. Sacred Heart Hospital has a pleasing design and lots of built-in action. It will add light and sound to your railroad's contemporary cityscape! – Bob