Menards Cripple Creek Beam Pump is now available on the Menards website. The oil industry has been a part of this country for more than 100 years. A familiar sight in many parts of the country is an oil beam pump.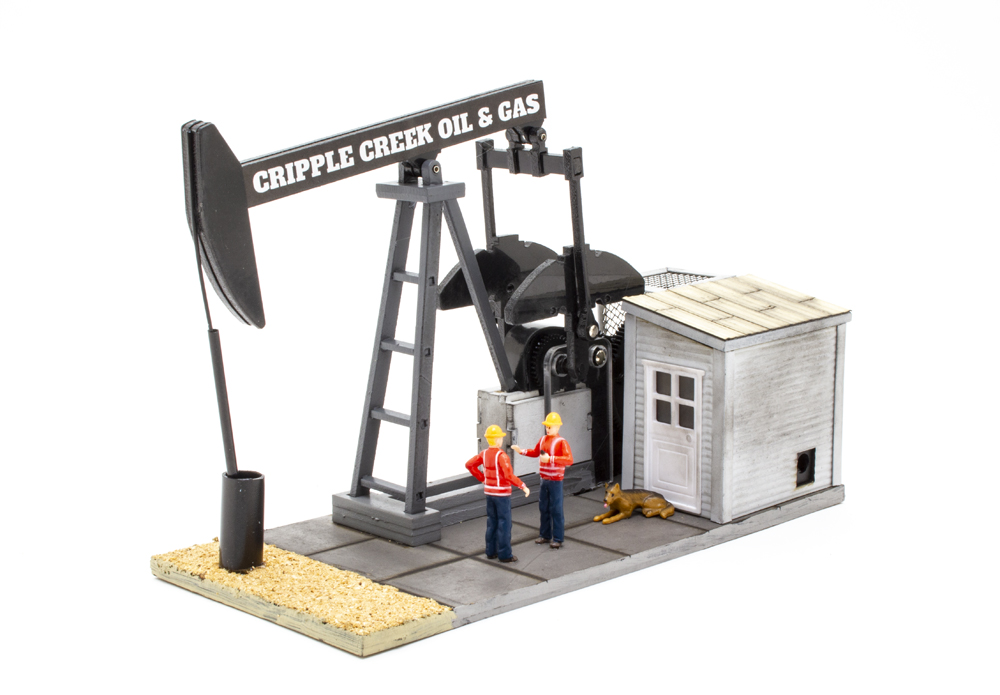 The beam pump, also known as a pumpjack, horse-head, or several other colorful names, has been in use since the 1800s. How does it work? An engine (either electric or gasoline) rotates a counterweight, which is attached to an arm that moves a pivoting beam up and down. At the opposite end of the beam, a cable pulls a rod assembly up and then drops it down. A hollow chamber containing a valve opens and fills every time the cable descends. As the arm lifts up, the chamber closes and brings the crude oil to the surface. The oil is separated from other elements (like water) and then pumped into holding tanks until it's taken to a refinery.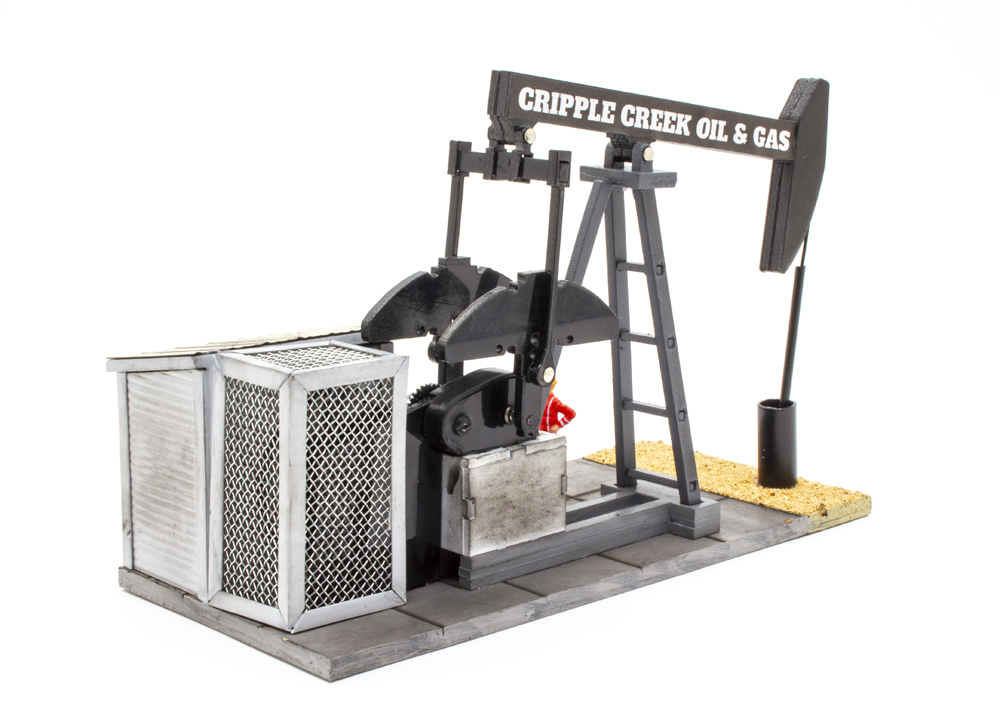 Menards' accessory has a lot packed into a small footprint, measuring just 8" x 5 3/8" wide. At its tallest point, it's a little under 5" tall (excluding the extra height from the beam/counterweight as it's moving). In addition to the beam pump, there's a safety cage covering the mechanism and a small shack with a door. Jack the German shepherd sits right in front of the door. Two workers in hardhats converse nearby. Most of the base is made from Medium Density Fiberboard (MDF), cut and weathered to simulate concrete. The left side of the base, near the pivoting beam, is a light-colored dirt (Menards' website calls it gravel).
The base and shack are weathered. A Cripple Creek Oil & Gas sticker is on both sides of the beam pump's arm. Both sides of our sticker had sections where it wasn't fully adhering to the arm. I'd suggest using a toothpick and some adhesive (like Aleene's Tacky Glue) to remedy that.
You'll need the typical Menards 4.5-volt power source to power this accessory (No. 2794061, 2794062, or 2794050, sold separately), either through the socket on the side of the shack or from underneath. The beam pump's arm moves up and down. Note that this is one of the few Menards items that does not light up. The only location where a light would make sense is in the shack. Unfortunately, due to the arm mechanism, there isn't any space to add lighting.
This structure could find a home in a number of places on your layout. If your layout is set in oil country, it could add a new level of realism. If you're looking to add a part of the oil industry to your pike, check out this accessory.
Menards Cripple Creek Beam Pump
SKU: 2759138
MSRP: $39.99
Website: Menards.com