The 9000 class steam locomotive was developed by Alco and built between 1926 and 1930. As if the twelve connected drive wheels weren't unique enough, the 9000 class featured a third cylinder under the boiler which operated a second drive axle. This inner cylinder used Gresley gearing since the cylinder did not feature valve gear. The goal of these locomotives was to improve locomotive speed over flat terrain. With over 95,0000 lb. of tractive effort and a top speed of 50 mph, they were deemed successful. A total of 88 units were developed and they were retired by 1956. Only one unit, 9000, is preserved at the RailGiants Train Museum in Pomona, California.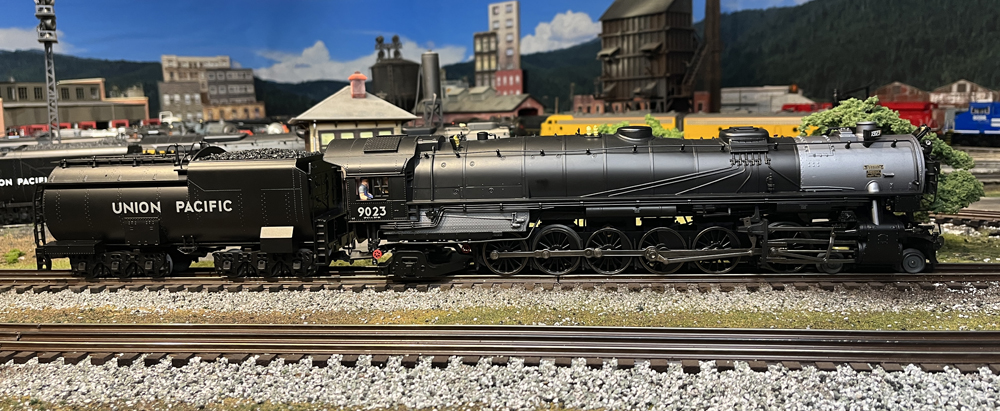 Lionel cataloged the 4-12-2 in the 2021 Volume II catalog. These models are equipped with Lionel's Legacy control system as well as Bluetooth control. Features include fan driven stack steam, whistle steam with a separate fill location under a steam dome, operating Gresley valve gear, six audible chuffs per revolution, a selection of whistle and bell options, and bi-color light-emitting diode (LED) lighting. At 26½ inches in length, this locomotive requires O-72 curves.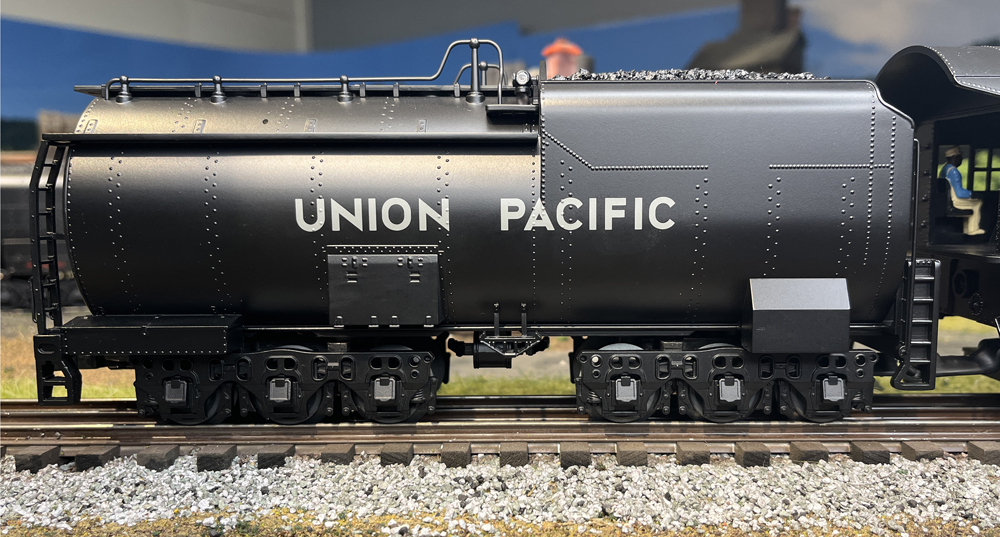 The boiler shell of this model features some molded detailing including the sand piping and rivet detailing. Add-on details include pop-off valves, a whistle, dynamo, steam piping, illuminated number boxes, and various valve knobs. The front of the smokebox features flying air pump details, a headlight, center mounted bell, and bi-color marker lights. The cab has two painted crew figures and a detailed backhead.
The firebox features an LED glowing "fire" which also illuminates the ashpan. Moving back towards the tender, the drop plate between the cab and tender is not included in the model. The Vanderbilt tender features a real coal load, walkways and handrails, as well as marker lights behind the coal load, and two rear lights on the back of the tender. The tender also features an ElectroCoupler on the rear.
The tender features two speakers which do a great job of creating a wide range of sound around this giant locomotive. It also features two electrical pickup rollers and the LCS infrared sensor. The locomotive has three pickup rollers which provide a large electrical pickup range. The programming controls are conveniently placed under the sand dome. The original whistle on the 9000 class was directly in front of the cab. Due to the distance from the stack, Lionel has opted for a second smoke unit for the whistle steam feature. This can be filled under the steam dome. This locomotive weighs in at 8 lbs 14.6 ounces and the tender at 3 lbs 13.6 ounces.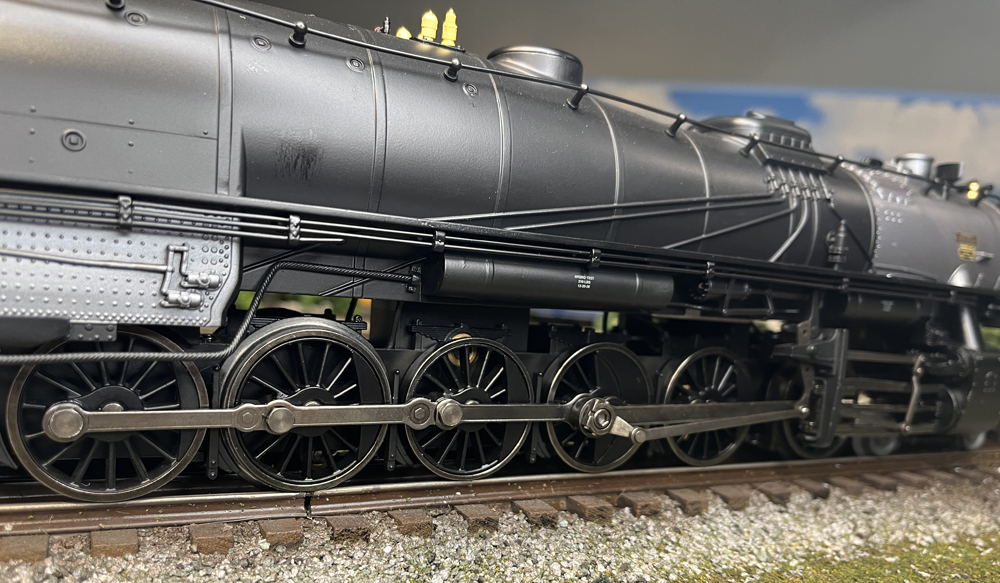 Offered in 10 variations Union Pacific 9000 with polished drive rods (SKU: 2231241), Union Pacific 9023 with darkened drive rods (SKU: 2231242), Union Pacific/OSL 9514 with darked drive rods (SKU: 2231250), Union Pacific 9002 with darked drive rods and "Union Pacific" on the cab (SKU: 2231260), Union Pacific Greyhound 9014 (SKU: 2231270), Chesapeake & Ohio (SKU: 2231280), Milwaukee Road (SKU: 2231300), Dever and Rio Grande with a green boiler (SKU: 2231290), Spokane Portland & Seattle (SKU: 2231320), Southern Pacific Lines with a green boiler (SKU: 2231310). These locomotives MSRP for $1699.99.
Get more O gauge action on the Chris's Trains & Things channel on YouTube.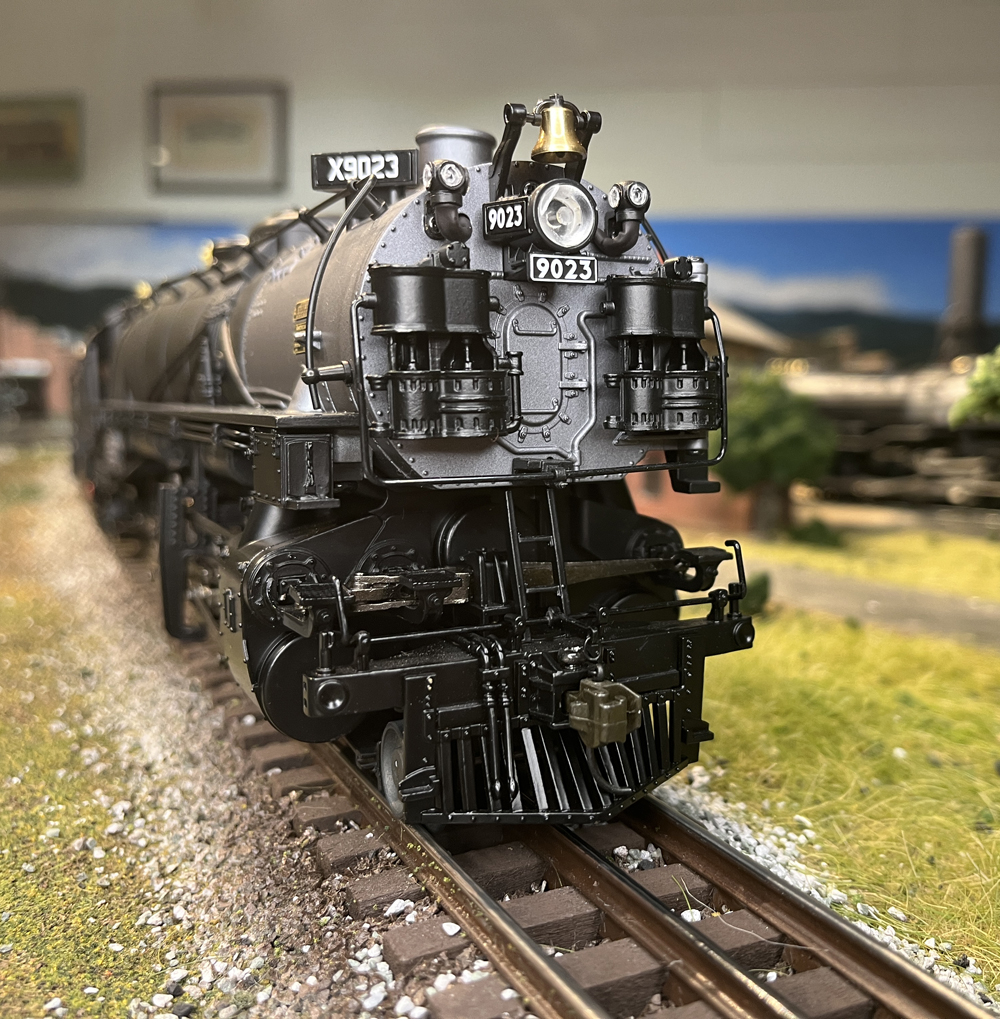 Read Bob Keller's review from 2012.
Read about the MTH version of this engine.