The Lionel John Bull display set is a historical piece from the 2021 Volume I catalog. The company cataloged this in three versions: the "Display Set" which features the engine and one coach on two flatcars; a Camden & Amboy set with three coaches; and a "What-if?" Uncle Sam (John Bull's cartoon U.S. counterpart) set with three coaches.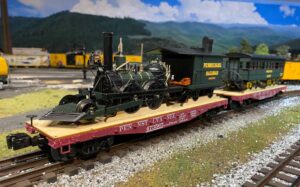 This outfit was created to celebrate 190 years since the U.S. construction of this locomotive (It was shipped as parts in crates from Great Britain) in 1831. The set that we will focus on here is the display set, which represents the replica John Bull that the Pennsylvania Railroad built for the 1939 World's Fair.
Find out how steam locomotives work.
The original is on display at the Smithsonian Institution. The PRR replica is at the Railroad Museum of Pennsylvania in Strasburg.
Lionel John Bull display set
This set, No. 2122040, includes the John Bull engine, a matching coach, and steam-era flatcars to haul each of them.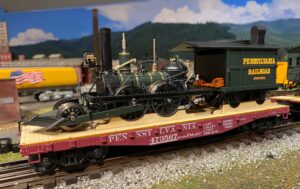 The consist comes in at 22½ inches long and features die-cast trucks with hidden uncoupling tabs, a wooden deck, separately applied detail parts, and a die-cast body. Due to the diminutive size of the historic locomotive, it features conventional control only.
The level of fidelity on the locomotive is simply phenomenal. There are many intricate details and separately applied levers. It features an operating headlight with "John Bull" on the side.
The coach and locomotive feature drawbar couplers. The wood fuel in the tender is plastic and it is probably the only "miss" on this model. Lionel also opted not to include sounds or smoke in due to the size.
Lots of detail
The lettering on the tender reads "Pennsylvania Railroad" in a crisp yellow font with red shadowing, and "John Bull" just below. The coach, also with what appears to be die-cast construction, has black trim, red window frames, yellow truck side-frames, and the same "Pennsylvania Railroad" script on the side.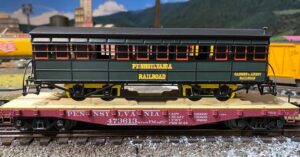 The flatcars feature laser-cut wood supports for the wheels of the 2-4-0 locomotive and coach to keep them in place when being pulled around the layout. The locomotive and coach can easily be removed from the flatcar and placed on the track.
Due to their die-cast construction this small locomotive does have a good weight to it, as does the coach. The mass helps this set track well and easily move through switches and crossovers.
Interestingly, the Display Set's flatcar boxes were mislabeled as Nickel Plate Road 40-footers; the cars themselves are correctly lettered for the PRR. For those collectors who look for these types of box errors, this might be a good set for you!
The Display Set has an MSRP of $999.99 while the Uncle Sam and the Camden & Amboy sets are $1,049.99.
Get more O gauge action on the Chris's Trains and Things channel on YouTube.