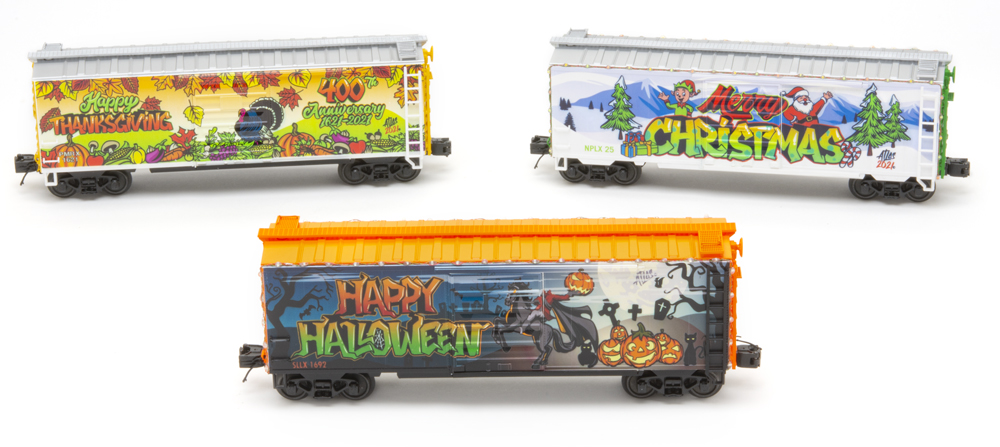 Atlas O has introduced the first three of four new holiday boxcars that salute traditional American celebrations. I'm very impressed with them. Most holiday boxcars that I've owned were simply a basic boxcar with some cheery graphics. Not so with these; Atlas O applies the fun graphics to a top-of-the-line car that the most dyed-in-the-wool rivet counter will be pleased with.
The cars are Atlas' Premier PS-1 boxcar, with all the amenities you've come to expect like die-cast metal trucks, couplers, grab irons, ladders, and see-through roofwalks. Car doors slide open and you'll find rivet detail around them.
Before seeing them I'd heard them described as "graffiti" cars. I would beg to differ with that moniker. These designs evoked a feeling that I was looking at colorful graphics from a vintage Disney or even a Looney Tunes cartoon. The artwork could easily be from the Saturday Evening Post or a theater lobby card.
The Halloween Special (no. 3001847) $99.95 Halloween's big feature is illumination!
The cars have a string of LEDs along the ends and roof of each side. The steadily burning lights are a pleasing shade of orange and look good in the dark. Want them off when running in normal lighting? There's a switch on the underside.
Sharp-eyed observers will note the reporting mark SLLX 1692 on the end, a nod to the Salem witch trials of that year.
The Halloween special car conveys a fun and spooky element with the look of a cartoon from a bygone era. I certify this car "Cool!"
The Thanksgiving Special 400 (no. 3001849) $89.95
I laughed when I saw the Thanksgiving car. Someone at Atlas must have majored in American history because the theme is the the 400th anniversary of the pilgrims giving thanks at Plymouth. Who would have thought that their celebration with Native Americans would have ever been immortalized on a railcar?
The reporting mark PMRX 1621 appears on each end of the car to commemorate the year of the event. The colorful design is certainly in the spirit of an autumn celebration!
The Christmas Special (no. 3001848) $99.95
Bring on the candy canes, eggnog, and all the holly jolly you can muster! Santa Claus is riding the rails tonight!
As with the Halloween model, this car has lines of lights wrapping around the sides, but for Christmas the colors are red, blue, yellow, and white.
The road number NPLX 25 and Atlas 2016 are on the lower corners of the car, and NPLX 25 can be found on the ends.
Destined for your railroad?
The three Holiday PS-1 boxcars are highly detailed products with creative graphics and neat lighting effects on the sides. They'll make you smile and feel the cheer when you see them. I ho-ho-hope you'll add them to your fleet!
Facts & features
Price: $89.95-$99.95 each
Features: Die-cast metal trucks and couplers, see-through walkways, add-on ladders and grab irons, Halloween and Christmas cars have LED lighting
Website: Shop.atlasrr.com