CTT author Peter Riddle has been a fixture in the magazine over the years, and now on Trains.com. He has also authored a number of books and is proof a love of toy trains can truly last a lifetime. We've asked him a few questions.
My first train set (or locomotive) was…?
It's likely that few fans of Lionel trains received their first set before they were born. However, this was my good fortune. I was due to make my appearance on or about Christmas Day in 1939, and in the family's folklore, my father, Kenneth, was positive that I'd be born male. In those days, trains were usually considered most appropriate for boys.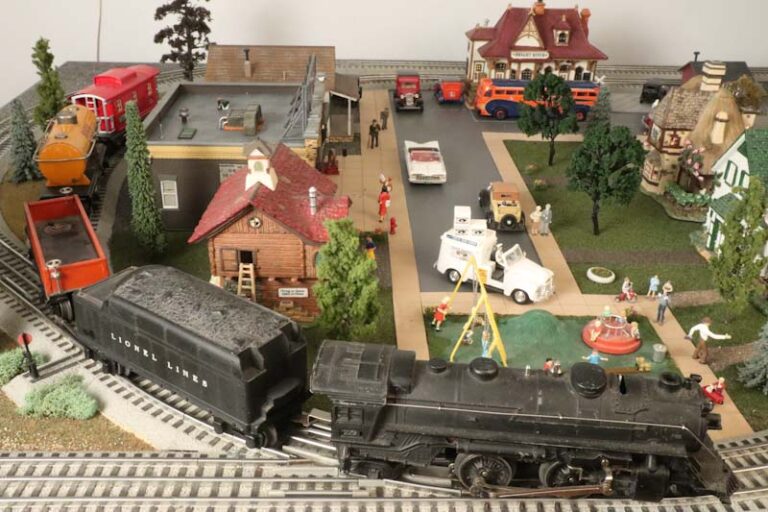 When I was born on December 29th, a new black Lionel No. 229 locomotive and tender, hauling three freight cars, was already circling the Christmas tree. Within just a few years I was adept at assembling the O gauge track and connecting wires to operate the crossing gate and water tower. My fascination with model railroading has never waned.
Perhaps it's genetic. My maternal grandfather, John B. Hulse, was proud to have been a member of the crew that installed the bell on the original Central Railroad of New Jersey Blue Comet locomotive.
My trains are primarily from this era (i.e. prewar, postwar, modern, digital)…?
In the middle 1950s, inspired by the photos in Model Railroader magazine, my interest shifted to HO scale. For nearly three decades I built a succession of layouts in that smaller size, until in 1981, I received a special gift. My father-in-law, Harold M. Bull, presented me with his own boyhood train. This Ives set, consisting of a No. 25 clockwork locomotive, tender, coach and observation car, dates from 1917. Still in excellent operating condition, it remains the core of my collection.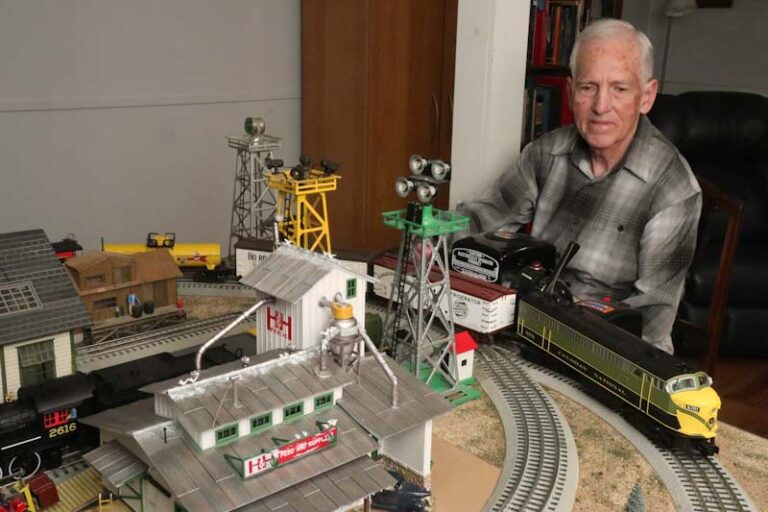 With a rekindled love for vintage trains and with the enthusiastic help of my wife, Gay, I sought out Standard and O gauge trains. At one time my collection contained toys from 14 different manufacturers, representing every decade from 1914 forward. I've restored some of them to Train Collectors Association standards.
The oldest item is a Lionel Standard gauge passenger set consisting of a No. 33 New York Central style locomotive pulling a No. 35 coach and No. 36 observation car. The newest addition arrived in January of 2023, a Christmas gift from Gay: A Lionel Fairbanks-Morse C-Liner in Canadian National livery.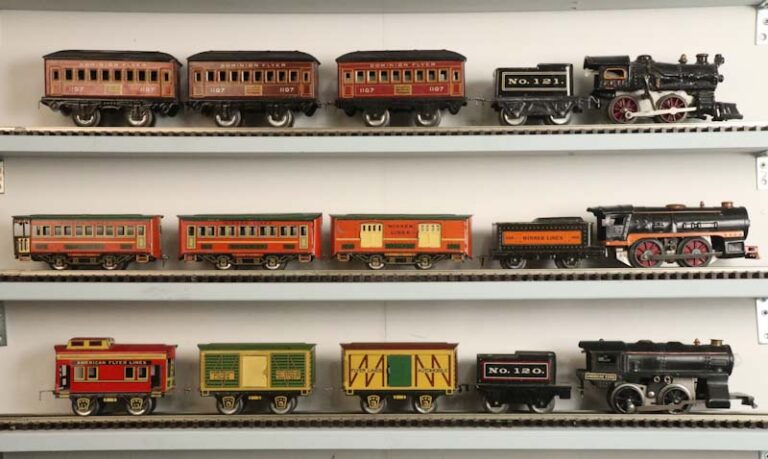 Among Gay's enthusiastic contributions to the collection are some of the smallest products of Lionel's subsidiary, the Winner Toy Corporation. All are kept in good operating condition. We also enjoy displaying tiny American Flyer and other toys that fortunate children cared for carefully and preserved during the Great Depression.
The middle shelf in the above photo contains an example of these fragile playthings, a Winner steam-outline passenger set that includes the seldom seen No. 1020 baggage car in near-perfect condition. Gay obtained this set from an online auction. On the bottom shelf is a lithographed electric American Flyer set from the cash-strapped 1930s that had never before been put on the track.
My biggest modeling success has been…?
In the late 1980s I was fortunate to meet and begin to work under the mentorship of Bruce Greenberg, that tireless researcher who has done so much to preserve the history of toy trains. My first book about the hobby, Trains From Grandfather's Attic, was released by Greenberg Publishing in 1991. Since then he has written an additional 14 books about the hobby, most of them for the Greenberg Division of Kalmbach Media.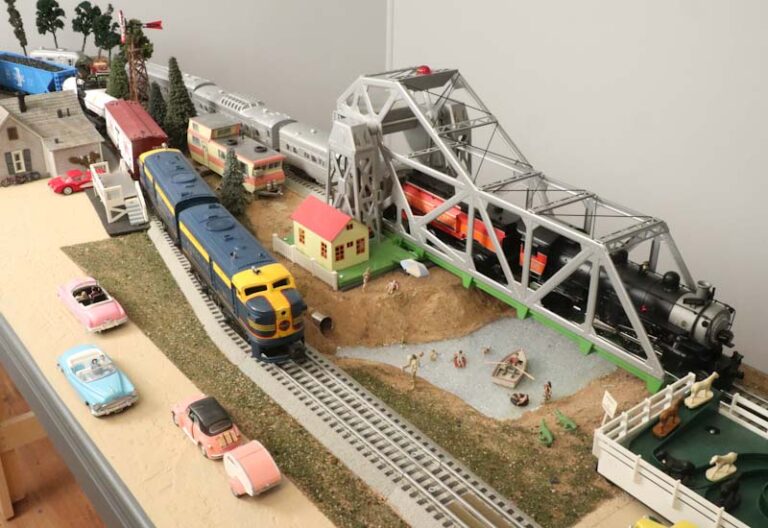 Equally satisfying to me has been my long-term association with Classic Toy Trains. My byline has appeared dozens of times, beginning with an article describing his restoration of an Ives boxcab locomotive in the second issue, Summer 1988. As an avid amateur photographer, images of my many layouts have been part of my work for the magazine and website.
My biggest modeling mistake was…?
There was an incident when I failed to close the train room door after an operating session. No one was aware that Gay's beloved tuxedo cat, Socrates, had crawled into one of the tunnels on the prewar layout and gone to sleep, until I arrived later in the day and sent a huge prewar American Flyer Hudson hurtling beneath the mountain. Alarmed by the noise, Socs chose the fastest means of escape, bursting out through the scenery and scattering trees, chalets, and boulders far and wide. The incident has since been known as "The Eruption of Mount Socrates," as related in my first book, Trains From Grandfather's Attic.
When I'm not enjoying my trains I'm usually (other hobbies or activities)…?
After beginning his career in a Northern New Jersey high school in 1961, me, Gay, and our year-old son, Ken, moved to Canada in 1967. I taught public school for two years before moving on to a professorship and administrative post at Acadia University in Nova Scotia. Gay served the university as Head of Housing Services and later in charge of Conference Services. In addition to photography and trains, my interests include bicycling, oil painting, and writing (textbooks, fiction and children's poetry).