Lionel Trains of the 1940s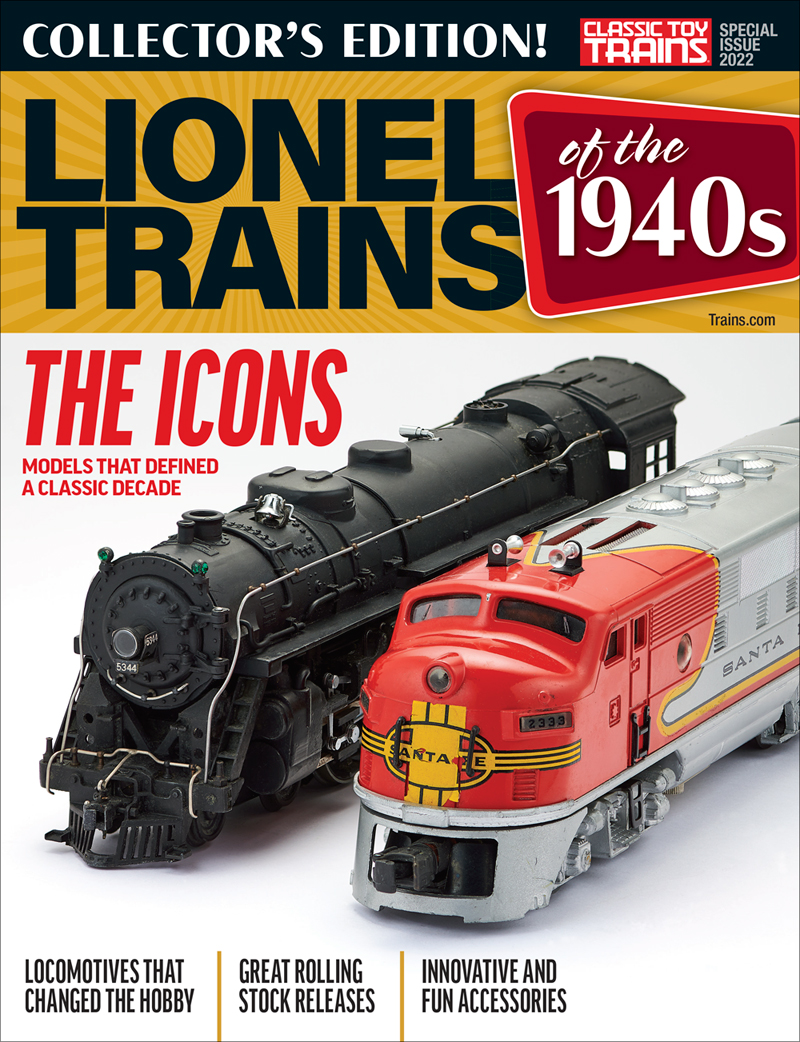 Featured
In this Issue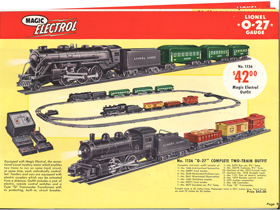 Lionel's Magic Electrol set
Running two trains on one track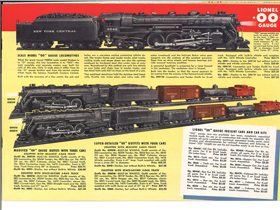 Jewels of OO gauge
Last call for Lionel's smallest sets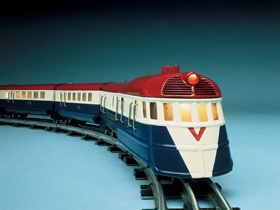 Big salute to the "Victory" Streamliner
The train Lionel might have made for an otherwise lost year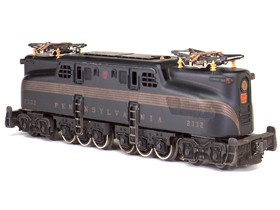 The first steps for an O gauge legend – the No. 2332 GG1
Lionel introduced its Pennsylvania RR GG1 96 electric in this notable year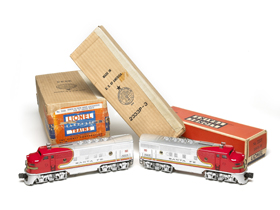 Stylish Santa Fe F3 diesels open a new era
Story behind the artwork and production of the classic No. 2333 warbonnet cab units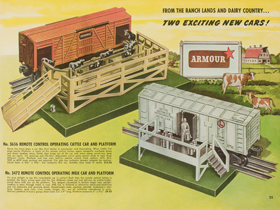 1949 On the ranch with an operating cattle car
More delightful innovation with the brand-new No. 3656
Also in this issue:
Introducing Lionel Trains of the 1940s
Our comprehensive look at a significant and not-so-segmented decade.
Momentous and meaningful decade for Lionel
Modernizing in many wonderful ways.
Breakthrough year in realism for locomotives and cars
Looking forward with many glances at the recent past.
Colorful and fanciful cars still rode the Lionel rails
Toys coexisted with realistic models.
A new world of great operating accessories
Three creative models from one brilliant mind in the Engineering Department.
Diversifying beyond trains in a critical year
Different markets beckoned on the eve of World War II.
Going beyond the catalog
Lionel offered unique "promotional outfits" to retail accounts.
A time of diminishing returns
Hoping to survive the demands of war.
Model Builder preserved the hobby
Lionel's magazine kept stoking enthusiasm.
Maintaining public interest in a critical year
Paper products kept Lionel in the game.
One exciting set for the first postwar season
A quiet yet noteworthy start to the post- World War II era.
Meet the first workhorse of the postwar period
The No. 224 Prairie led the way in 1945.
Variations at the end of the new freight train
Two colors for the No. 2457 Pennsylvania RR N5 caboose.
Full speed ahead
The postwar era opened with tremendous promise and innovation.
Innovative accessory hits the toy train market
Too bad the No. 38 operating water tower never caught fire.
Reviving the promotional outfit
Lionel creates a special item for a favored retailer in New York City.
Excitement and realism in sets
Lionel picks up steam in a great year.
A little man changes the toy train world
Operating cars progress from merchandise crates to milk cans.
Greater variety and excellence in locomotives and more
Meeting the demands at every price level brings success.
Two accessories boast one-track action
Novel ways to handle logs and coal using the Nos. 364 and 397 operating loaders.
Last gasp for the train set of the future
Hopeful upgrades made for the revolutionary Electronic Control Set.
Closing out a significant and influential decade
Many new and reissued train sets shape a noteworthy line.
Hidden stories surrounding NW2 diesel switchers
Mystery shrouded the new Santa Fe diesels.
Let there be light
The debut of the postwar searchlight car.
Power forever
The type-ZW became the classic transformer.