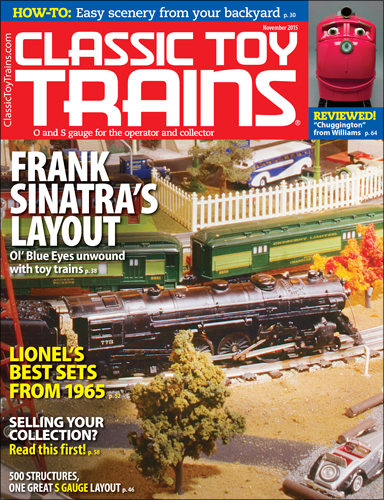 In the pages of CLASSIC TOY TRAINS magazine you'll find information about building, operating, and enhancing toy train layouts; track plans, repair and maintenance tips, profiles of collectible postwar and prewar trains, and more.
Features
Lionel display holds a secret
A 1953 retail store display built by Lionel reveals a hidden attraction.
Make your own trees using plants from your backyard
Harvest, enhance, and install grow-your-own scenery.
Layout salutes trains of New England
Ed Coye's 17 x 20-foot O gauge railroad take visitors on a tour on the Northeastern U.S. in the 1950s.
Frank Sinatra loved toy trains
A look back at a legendary entertainer, his fantastic O gauge layout, and his place in our hobby.
Poem: Frank Sinatra's trains
A nationally known poet draws inspiration from "Ol' Blue Eyes" and his interest in toy trains.
500 structures highlight one great S gauge model railroad
Vintage and modern S gauge trains have room to run on Larry Shughart's barn-filling railroad.
Great Lionel sets for 1965
In a critical year, a confident Lionel produced great outfits.
Sell your toy train collection
Time to thin the train herd? Don't make a move until you read this!
Departments
Collectible Classics
Lionel's no. 1656 steam engine and tender.
Views from the Underground
Tips, Tools, & Techniques