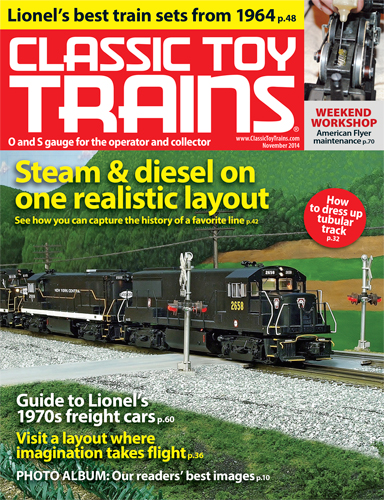 In the pages of CLASSIC TOY TRAINS magazine you'll find information about building, operating, and enhancing toy train layouts; track plans, repair and maintenance tips, profiles of collectible postwar and prewar trains, and more.
Features
Blending steam and diesel eras on a realistic O gauge railroad
Diesels arrive on Neal Schorr's Pennsylvania RR Middle Division layout.
Dress up your tubular track
How to use paint and ballast to add realism to Lionel's classic track.
Imagination soars on a nostalgic O gauge railroad
Joe Lechleider built a great 1930s setting for his vintage tinplate trains.
Collectible Lionel sets made 1964 a year to remember
We name the best of Lionel's 1964 cataloged and promotional outfits.
One hobbyist's long and winding path to a great layout
Norm Zinman traveled an unusual road to O gauge nirvana.
The fascination of Lionel's "transition" cars of the 1970s
Collectors should pay attention to the early models produced by General Mills after its takeover of Lionel.
Remembering American Flyers evocative box art of the 1950s
Handsome illustrations enhanced a pair of basic Gilbert accessories.
When a boy wrote to Ives, the company's president listened
Surviving letters tell of a youngster's advice to the company he idolized.
Departments
Collectible Classics
Lionel's no. 1519WS O-27 outfit from 1954.
Views from the Underground
Weekend Workshop
Basic American Flyer steam locomotive maintenance
Tips, Tools, & Techniques