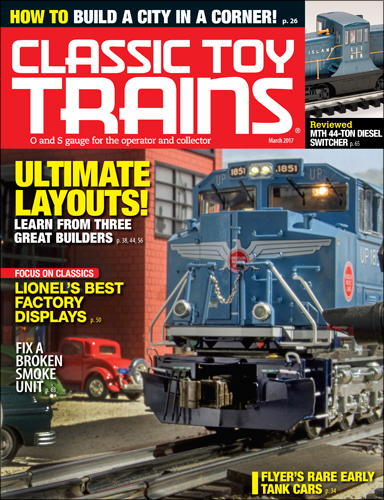 In the pages of CLASSIC TOY TRAINS magazine you'll find information about building, operating, and enhancing toy train layouts; track plans, repair and maintenance tips, profiles of collectible postwar and prewar trains, and more.
Features
Make something from nothing by turning an unused corner of your layout into a busy city scene.
Collectible varieties of Lionel's no. 9701-B boxcar
There are more versions of these MPC-era automotive boxcars than you may think.
Sorting out scarce and common A.C. Gilbert American Flyer Shell tank cars made in 1946 and 1947.
Saluting the world of work
Life experiences guided Jerry Murray in his O gauge dream railroad.
An O gauge salute to big steel and the Pennsy
Bill Loop builds on a tradition of greatness with a railroad skillfully blending O and S gauge
Collecting the best Lionel postwar factory layouts
Quality directs Daniel Brown's search for store display railroads built by Lionel.
Build the layout of a lifetime
Hal Maury's O gauge empire tells the story of its builder – what he has dreamed, experienced, and valued.
Simple steps for diagnosing broken smoke units
Follow this checklist if your fan-driven smoke unit stops working.
Departments
News
O gauge covered hoppers from Menards, Lionel offers a Heisler steam locomotive, MTH adds a General Electric U50C.
Collectible Classics
A Coors Beer boxcar from Kris Model Trains.
Views from the Underground
Reviews
O gauge 44-ton diesel from MTH Electric Trains and Lionel's new LionChief Plus GP20.
Tips, Tools, & Techniques