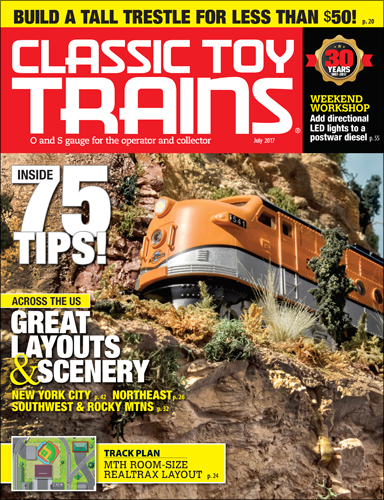 In the pages of CLASSIC TOY TRAINS magazine you'll find information about building, operating, and enhancing toy train layouts; track plans, repair and maintenance tips, profiles of collectible postwar and prewar trains, and more.
Features
Build a tall trestle for less than $50
Make an impressive and sturdy bridge from common wood shapes in just a few evenings.
An innovative plan using MTH RealTrax combines urban and rural scenery with interesting operation.
Bruce Feldman revives his youth on his 16 x 32-foot O gauge layout.
Growing up with Lionel trains – in Mexico!
Warm memories of building an O gauge layout in the mid-1940s – plus a look at the specially marked products Lionel exported to Mexico.
Big city railroading on two levels in barely 52 square feet on a layout that folds away for storage.
Kusans overlooked boxcars
Shedding light on a colorful and inexpensive series of O-27 models introduced in the late 1950s.
Shining stars of tinplate
O gauge models of the New Haven RR's Comet streamliner are both elusive and collectible.
Departments
News
MTH smartphone train control, Atlas O troop cars, and rolling stock from Menards
Collectible Classics
Lionel's no. 218 Standard gauge dump car
Views from the Underground
Reviews
SD60E diesel locomotive from MTH, Morton Salt facility from Menards, and Woodland Scenics' Deep Pour Water Solution
Tips, Tools, & Techniques