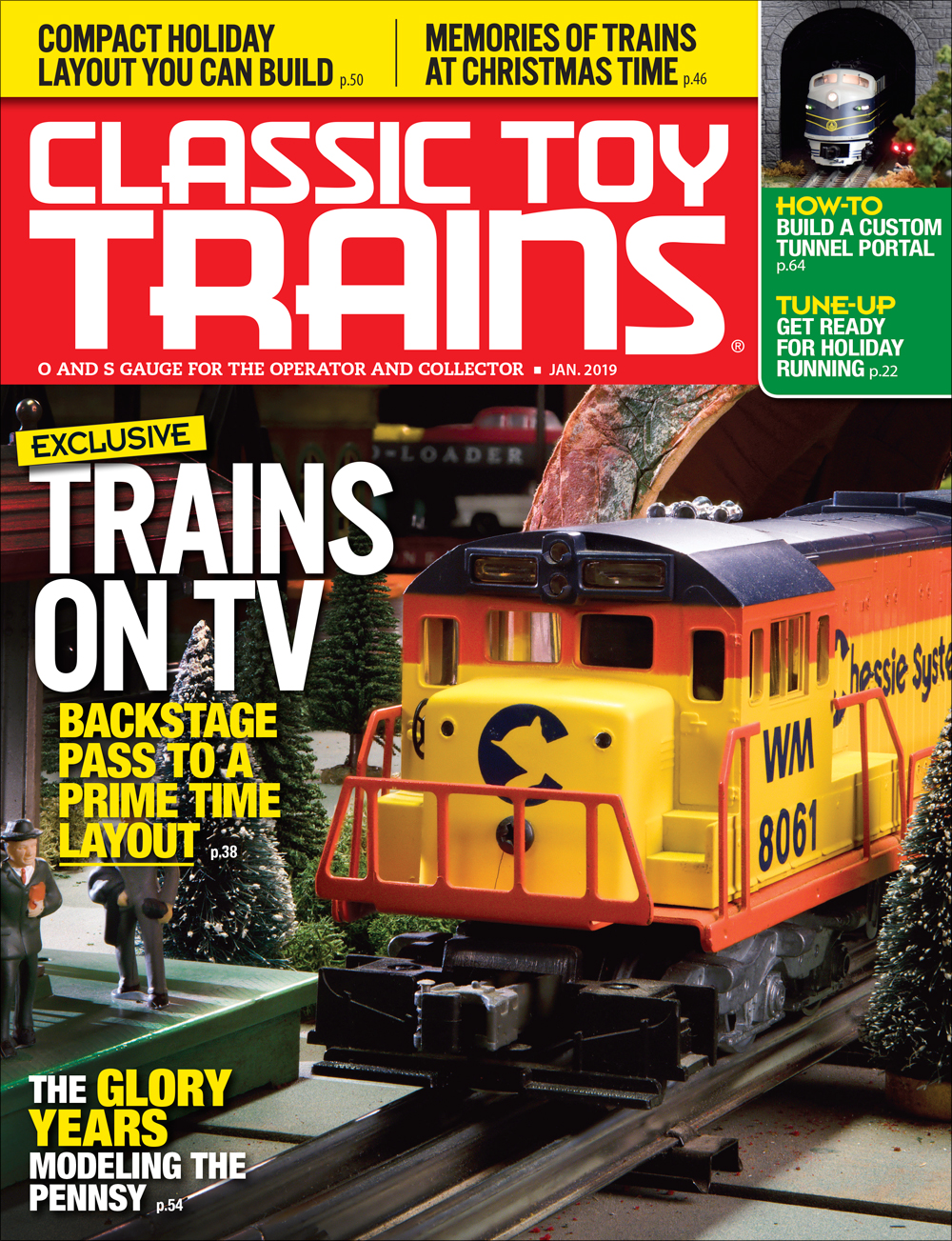 In the pages of CLASSIC TOY TRAINS magazine you'll find information about building, operating, and enhancing toy train layouts; track plans, repair and maintenance tips, profiles of collectible postwar and prewar trains, and more.
Features
Starting small to make a big splash
The humble beginnings of Bill Brandt's stunning O gauge layout.
American Model Toys O gauge stockcars
These superb models of a distinctive type of rolling stock were without a peer in the early 1950s
Spotlight on Young Sheldon
O gauge toy trains are back on television thanks to a popular new program
Warm memories of family and the trains of ChristmasIssue Item
Readers look back on their first train set and how they added magic to a special time of year
Best part of the holidays
Building a 8 x 10-foot railroad with an elevated level helps usher in a magical time of year.
All aboard for Operation Fun!
Going back in time on Thomas Browne's 25 x 30-foot O gauge Fillmore & Western.
Whistling while they worked
Uncovering the hidden connection between Marx and Lionel's train whistle designs
Departments
Editor's Desk
Roger Carp goes to Hollywood
News
O gauge rail-served business from Menards, new DVD from TM Books & Video, and MTH catalogs a 4-8-8-4 Big Boy.
Views from the Underground
Weekend Workshop
Make custom tunnel portals
Reviews
Lionel's O gauge Amtrak F40 and F40 "cabbage" unit and UFO Scene from Menards
Tips, Tools, & Techniques
A trio of trackside cranes