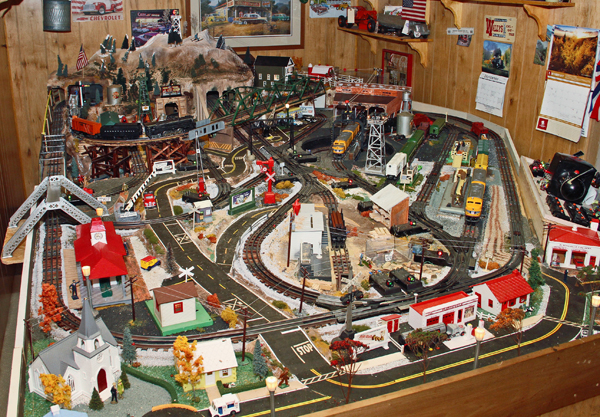 Wayne Garver
Note: This track plan does not include a component list. However, the author has comments about how he built it:
Wayne recommends his track plan to anyone interested in plenty of action whose space for a layout is fairly limited (he fit everything into 104 square feet). He has a ball running three trains at once, using his Lionel ZW transformer.
When asked to specify the quantities of tubular track that he used, Wayne lists 18 regular O gauge curves and 61 regular straights. He cut to fit another 17 pieces of straight track (plus the three he needed to fit in the roundhouse) and 12 curves.
Regarding the turnouts on the layout, Wayne installed 9 Lionel no. 022 right-hand switches and 7 no. 022 left-hand switches. He completed the network with 6 uncoupling sections for use with operating freight cars and accessories.
A pair of Lionel no. 260 illuminated bumpers act as the terminating points for the trolley line; a third one went at the end of the line where log dump cars service a Lionel saw mill.