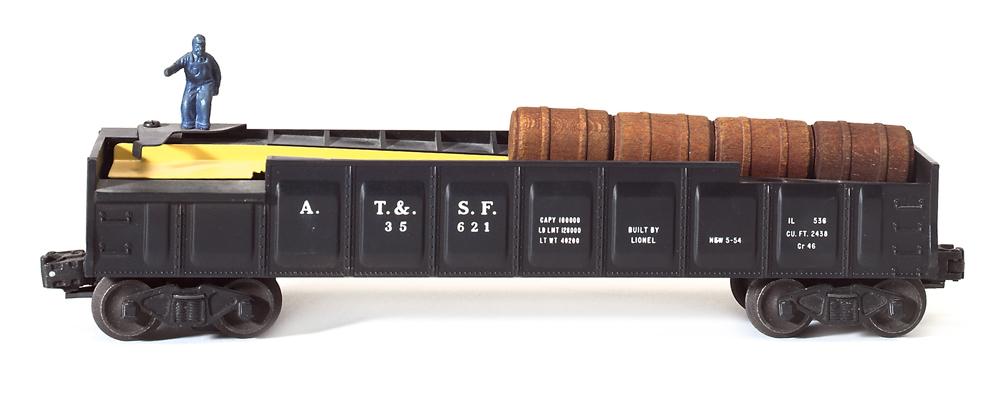 3562-1 Operating Barrel Car (cataloged 1954): $190 (excellent) $65 (good)
The no. 3562-1, the first of Lionel's four operating barrel cars, helped make 1954 one of the most significant years in the company's history. The trains offered then contributed to a line that stood out by promising innovation and complexity.
To understand where the 3562-1 fit in, turn your attention back to 1952. Lionel had introduced the no. 362 operating barrel loader, an accessory that let youngsters dump wood barrels into gondolas. Good as this item was, company executives thought it would be improved if they had an operating car that transported and also unloaded barrels.
Designing the operating barrel car
Frank Pettit, the firm's development engineer, adapted the vibrating mechanism he had fashioned so it would work on the newly designed shell of what was basically a long gondola. Barrels laid in a metal trough in the center would shimmy their way up toward the opposite end of the car. There, a vinylite figure on a bracket appeared to push the barrels into a plastic bin next to the track, another freight car, or the tray of a 362.
When first brought out, the 3562-1 featured a trough painted a shade of yellow that matched the color used on the barrel loader. The combination of a yellow interior and a black body (with white heat-stamped lettering) yielded a dramatic car. Later, Lionel opted to paint the trough black, which robbed the car of its color and its hint of cool.
The black barrel cars shared the spotlight in 1954 with their more plentiful gray siblings (no. 3562-25). To be sure, Lionel depicted the 3562-1 in its consumer catalog as part of one O-27 gauge outfit (no. 1521WS). However, the section devoted to separate-sale items showed only the gray model (still, black ones probably were available as well).
If you have recommendations about Lionel rolling stock or particular variations from the postwar period that upgrade a collection, please contact me at rcarp@classictoytrains.com