The history of the "Heritage Fleet" column is an interesting one. This regular feature in Model Railroader magazine between March of 1987 and March of 1990, helped toy train enthusiasts and scale modelers discover classic miniature locomotives, cars, and more designed and sold in the first 50 or so years of the 20th century.
In many respects, those one-page articles set the stage for what became the first issue of Classic Toy Trains magazine in the fall of 1987.
Download the Heritage Fleet Collection 1.
Background
Even before MR Editor Russ Larson and Managing Editor Dick Christianson held discussions with President Jim King and Art Director Lawrence Luser about launching CTT, they were talking about a short feature focused on toy trains for each issue of MR. They wanted something bright and colorful with minimal text.
Dick had already taken the lead at Kalmbach in becoming a trusted voice on the toy train side of the hobby. He had played with Lionel trains as a youngster in Wisconsin during the 1950s and had little trouble reigniting his passion for O gauge railroading after being hired at Kalmbach. Russ had advised his associate to join the Train Collectors Association while exploring train stores in Milwaukee and becoming acquainted with the most prominent dealers in town.
Download the Heritage Fleet Collection 2.
Meeting T & M
While immersing himself in toy train clubs and shows around Milwaukee, Dick learned about the excellent publications being written and marketed by Tom McComas and Jim Tuohy in Chicago. He managed to meet the two and talk about collaboration.
Dick realized that Tom and Jim, besides sharing his interest in Lionel, its trains and history, offered access to a host of train collectors living in the Chicago area. Those diverse individuals concentrated on brands, gauges, and eras of production beyond Lionel O gauge of the post-World War II period.
Little by little, Dick and Russ understood they had gained access to just what they had dreamed of showcasing in Model Railroader.
Getting started
Dick arranged with Jim and Tom to contact collectors living in and around Chicago about sharing pieces so Kalmbach might photograph them for a series of short articles in Model Railroader. Several notable hobbyists responded positively, including David Garrigues, Frank Petruzzo and Mel Nicholas.
In addition, a well-known and highly respected expert on postwar Lionel sets, engines, and cars stepped out and offered whatever assistance and expertise Dick might want. That was the first time Joe Algozzini became involved with Kalmbach Publishing.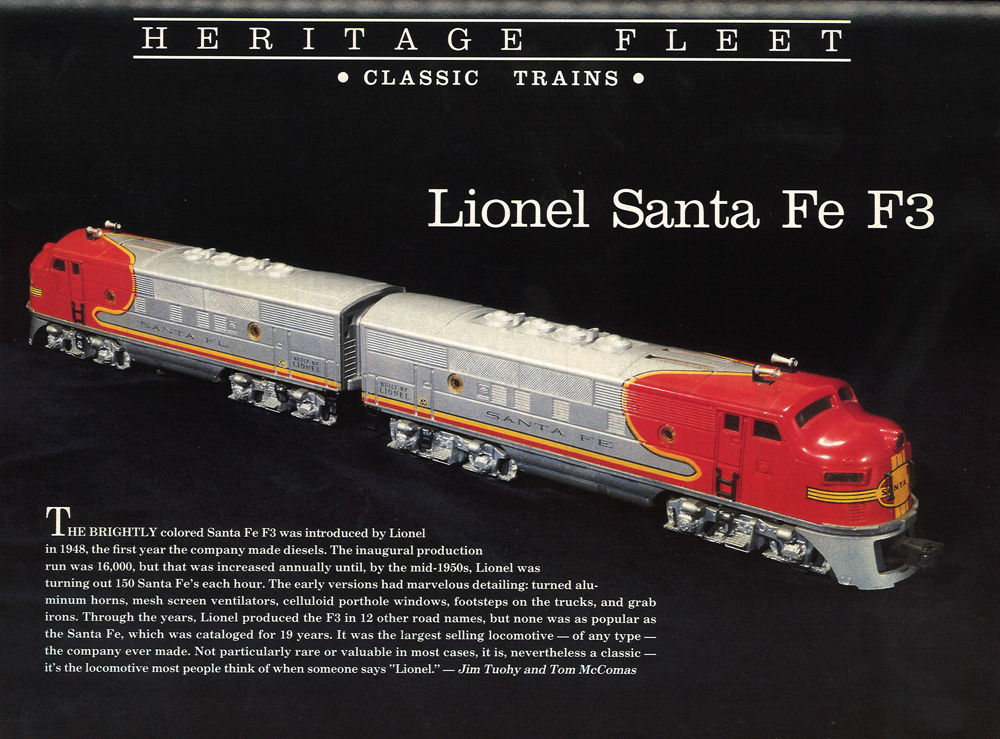 Once Dick and Russ concluded they had secured access to classic models from the first half of the 20th century, they were determined to photograph many of those locomotives, stations, operating models, and much more. Art Director Larry Luser envisioned posing those beauties in lush settings, complete with rich and soft lighting. Art Schmidt, the experienced staff photographer at Kalmbach, followed Larry's instructions and came up with wonderful pictures of toy trains.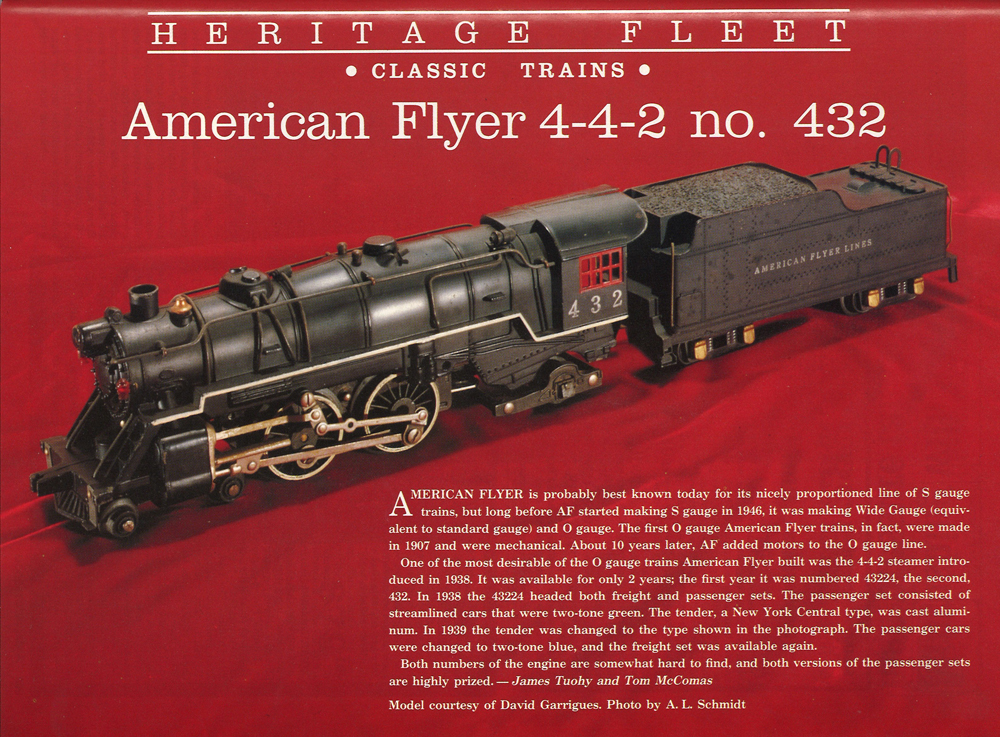 Text about when the different items had been manufactured and by whom accompanied the photos. The text included information about the significance of a particular engine or accessory and words about how its influence had been felt.
Time to publish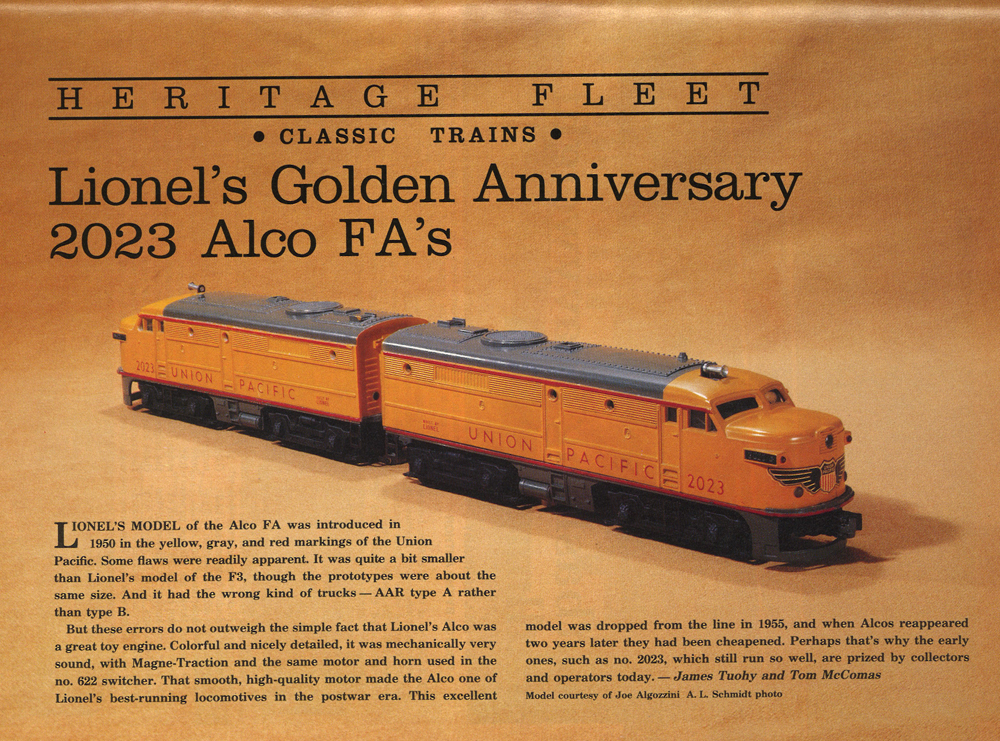 The editorial and art team overseeing Model Railroader chose to launch the one-page feature it had named "Heritage Fleet" in the March 1987 issue. For the next three years, even after Classic Toy Trains made its debut six months later, virtually every issue of MR contained the popular profile. Heritage Fleet was dropped only after Russ and Dick decided the new magazine was the right place to celebrate vintage toy trains.