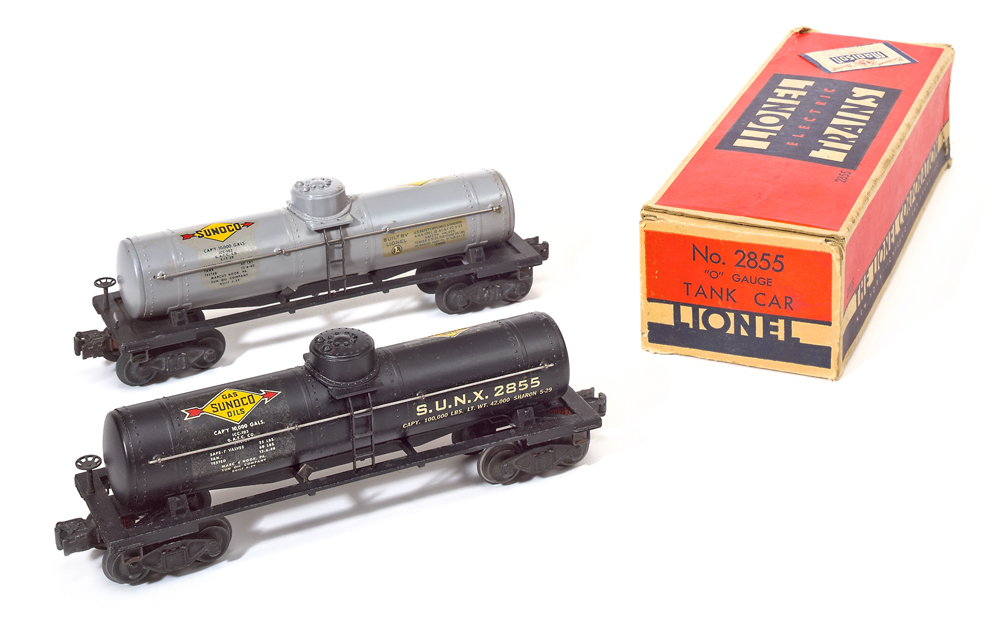 I recently introduced an article aimed at collectors intent on owning Lionel rolling stock from the post-World War II era (1945-69) that require more time and resources to find. For the first installment, I turned my attention to the initial member of the series of no. 3562 operating barrel cars Lionel cataloged between 1954 and '58.
Here, I plan to shift my gaze from operating models from the middle 1950s to near-scale single-dome tank cars cataloged in 1946 and '47. The no. 2855 Sunoco tankers offered no animation or action, except what kids might imagine. Then the great-looking and highly realistic models might be part of a fleet of oil cars hard at work in refineries located along the East Coast.
The variations of the 2855 exemplify what was finest in Lionel's line after World War II. These sleek, attractive models, painted different colors yet both decorated for Sunoco, reflected what was a waning commitment from the company to offering near-scale models.
Executives at the toy train manufacturer had shown greater interest in developing such models at the end of the prewar era, approximately between 1937 and '42. Then Lionel had brought out scale and near-scale locomotives and rolling stock. Among the new models was a single-dome tank car with a die-cast metal frame and sheet-metal body (nos. 715, 2755, and 2955). Versions differed according to the trucks and couplers used and the extent of scale details. Cars were painted black or silver with Shell or Sunoco markings.
Versions of the Lionel tank car
Lionel, increasingly aware that its postwar market preferred toy trains to scale models, didn't try to resuscitate its entire roster of near-scale models. But it did bring back its single-dome tank car, first painted in silver (nos. 2755 and 2555) and then in black and gray (no. 2855). All the impressive models came decorated with Sunoco decals; however, the details of those decals did differ.
The deluxe 2855, featuring metal handrails, ladders, brake stand, and steps at all four corners, stood out. Lionel placed this magnificent tank car in only one top-of-the-line outfit in 1946 and '47 while cataloging it as a separate-sale item in both years.
Evidence suggests that 2855 tank cars painted in either color were available in 1946 and '47. Early examples of the black version came with a more elaborate Sunoco decal than did later ones or the gray-painted cars. Lionel used the same box for both tankers.
The latest edition of Greenberg's Pocket Price Guide to Lionel Trains, 1901-2021 values the black 2855 with the more elaborate Sunoco decal at $69 in good condition and $217 in excellent. Versions of this black tanker whose decals lack "Gas" and "Oils" are valued a bit less, at $60 and $204, respectively. The gray-painted variations is valued at $49 in good condition and $160 in excellent.
Read more about Lionel products introduced in 1946 and Lionel products new in 1947.
If you have recommendations about Lionel rolling stock or particular variations from the postwar period that upgrade a collection, please contact me at rcarp@classictoytrains.com