Lionel postwar Santa Fe F3s: Lionel O gauge Santa Fe F3 diesels have been star performers on three-rail layouts for almost 75 years. And why not? Every different version of the beautiful models, with red- and silver-painted plastic body shells detailed with yellow stripes and Santa Fe decals, looks stunning. So it's little wonder that O gauge enthusiasts of all ages have dreamed of owning them to operate on their layouts.
Lionel brought out its first replica of the F3 cab units from the Electro-Motive Division of General Motors in 1948 as the no. 2333. That combination of a powered A unit and a matching unpowered A unit gave way two years later to the no. 2343, which came equipped with two powerful motors, a dependable reverse unit, and Magne-Traction, a feature enabling locomotives to pull more rolling stock and handle steeper grades without stalling or derailing. Next came the no. 2353, which lacked some of the exterior details of its predecessors, followed by the no. 2243. Additional internal and external modifications characterized the no. 2383, which Lionel cataloged from 1958 through 1966. Despite the various alterations, all of these models have been prized by hobbyist, thanks to the skillful manner by which Lionel replicated the Santa Fe's famed warbonnet paint scheme.
Over the 35 years that Classic Toy Trains has been published, it has been proud to showcase O gauge layouts with every example of postwar Santa Fe F3 diesels. The classic models have been shown pulling passenger and freight trains on railroads large and small.
Learn more about postwar items in our Timeless Classics section!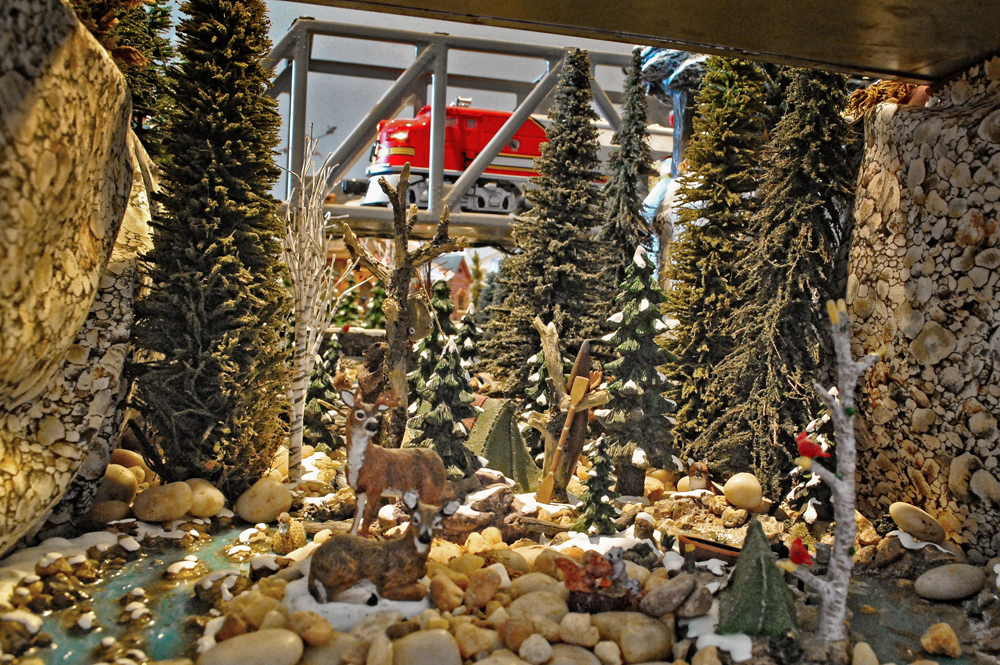 Deer rest on the rocks amid a stream on Thomas Brown's O gauge model railroad, not disturbed in the slightest by the Santa Fe passenger train rolling across the truss bridge over their heads.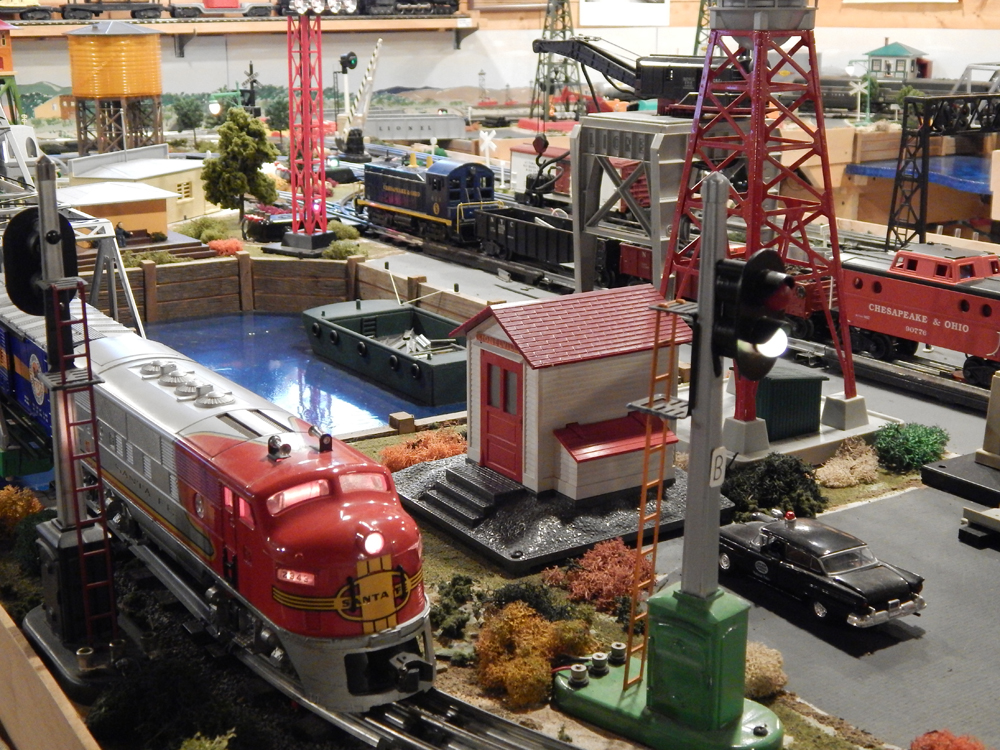 Steve Brown is like every fan of Lionel trains from postwar times – he had to acquire a Santa Fe F3 A unit for his O gauge layout. His classic of choice was a no. 2343, shown with a few freight cars behind. A no. 624 Chesapeake & Ohio switcher pulls other cars. Photo by Donald Klose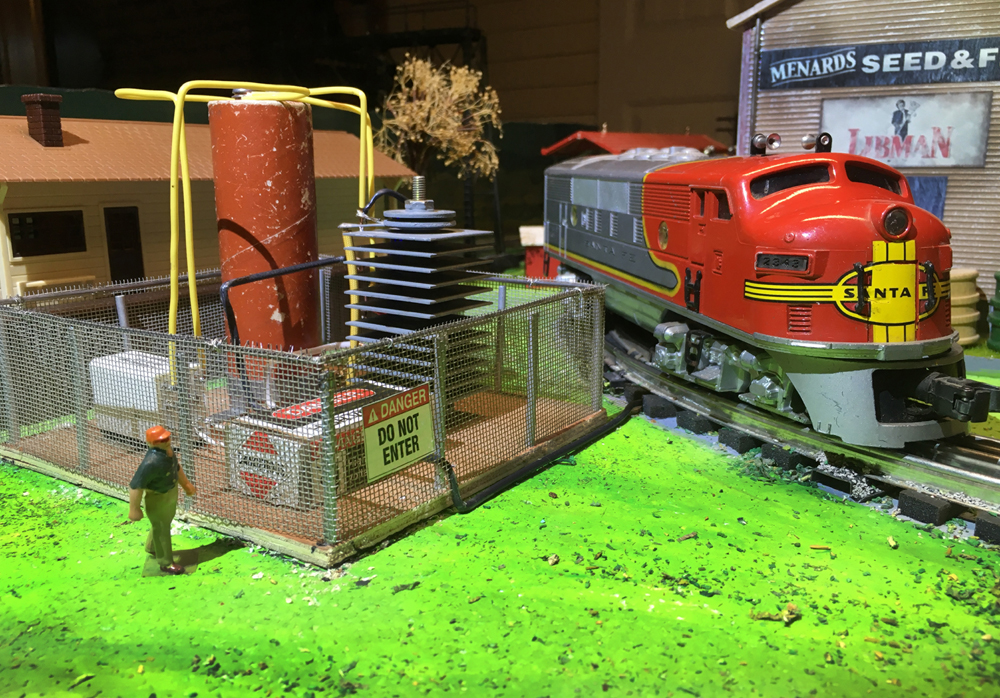 The power station rigged up next to the main line on Roger Jones' O gauge layout in Loveland, Colo., is more than a pretty face. Anyone operating the Lionel no. 2343 Santa Fe F3s pulling a train past the Menards Seed & Feed Building discovers how the rectifier, electrolytic capacitor, and relays work together to create a magical device capable of stopping it and automatically starting it up again. These pieces – gifted to his father – date back to the 1950s and work wonderfully.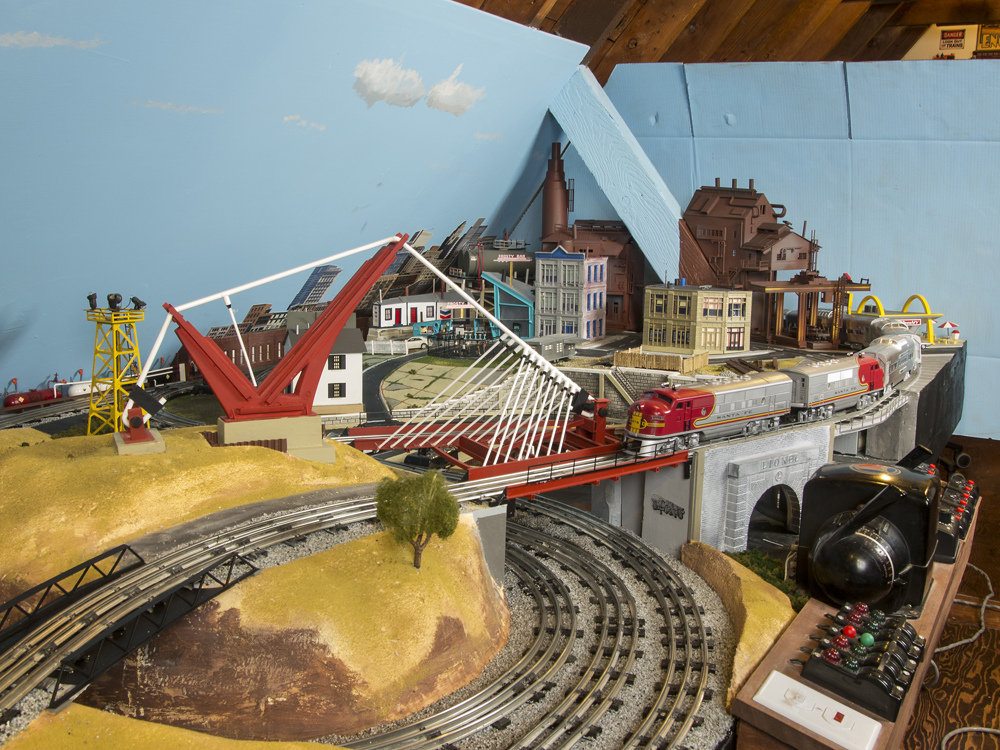 Forget the Santa Fe streamlined passenger train! This unique scratchbuilt model of a cable stayed/suspension combination bridge with two acute decks is what grabs our attention on the John Bliss' O gauge Oakland Pacific RR. As a professional civil engineer, Bliss designed this eye-catching structure for the 6 x 19-foot layout built in his home in Oakland, Calif. Photo by Kenneth Rice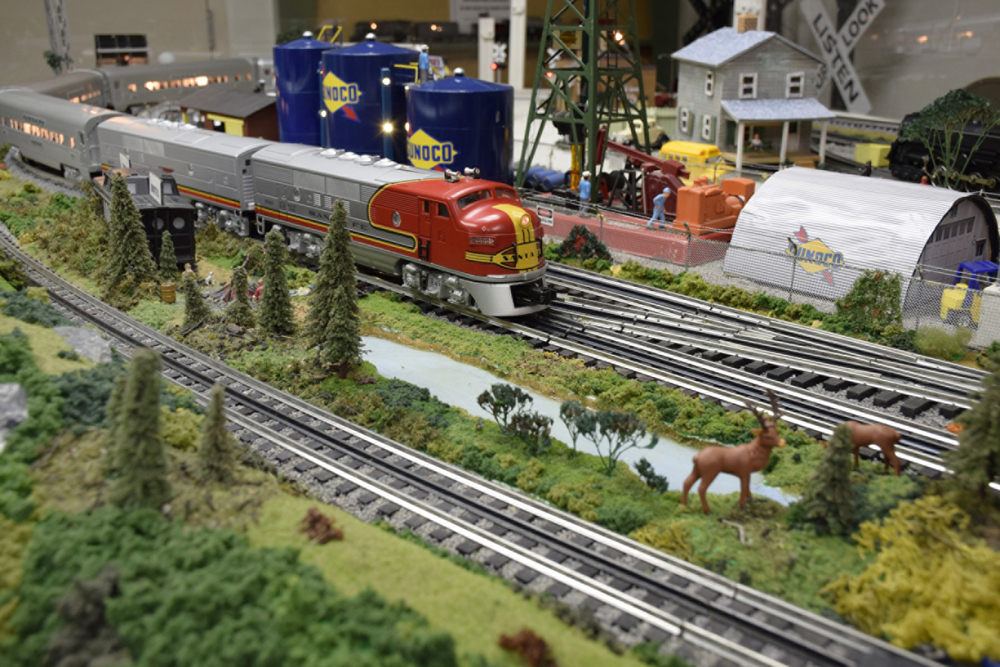 The seniors at Garden Spot Village in New Holland, Pa., are members of the Garden Spot Village Train Club. Their 17 x 26-foot O gauge layout reveals that they have the same affinity for Santa Fe warbonnet diesels as anyone else in the train world. Photo by Gavin Sauder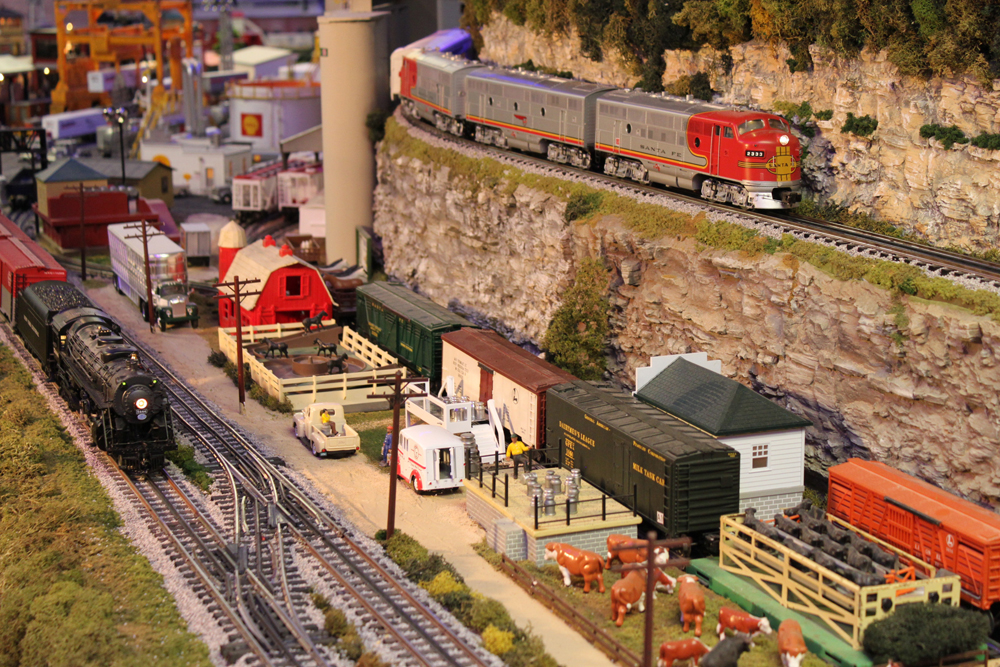 Where do you look when studying the photo Fred Laubie snapped of his O gauge layout in Delaware, Ohio? The double-track main line on the primary level has a New York Central 4-6-4 Hudson barreling ahead. On the elevated layer, reissues of Lionel's classic Santa Fe F3 diesels lead streamlined cars. Between are wired original and modern versions of animated freight loaders.


The red-painted nose with yellow striping that's spelled "warbonnet" for generations of toy train hobbyists roars past a billboard on Doug Hardesty's three-level O gauge railroad. The theme of his 56-square-foot three-rail display, according to Doug, is "town and industry." Building flats he designed and installed alongside the main lines reinforce the sensation that the Santa Fe passenger train is passing factories.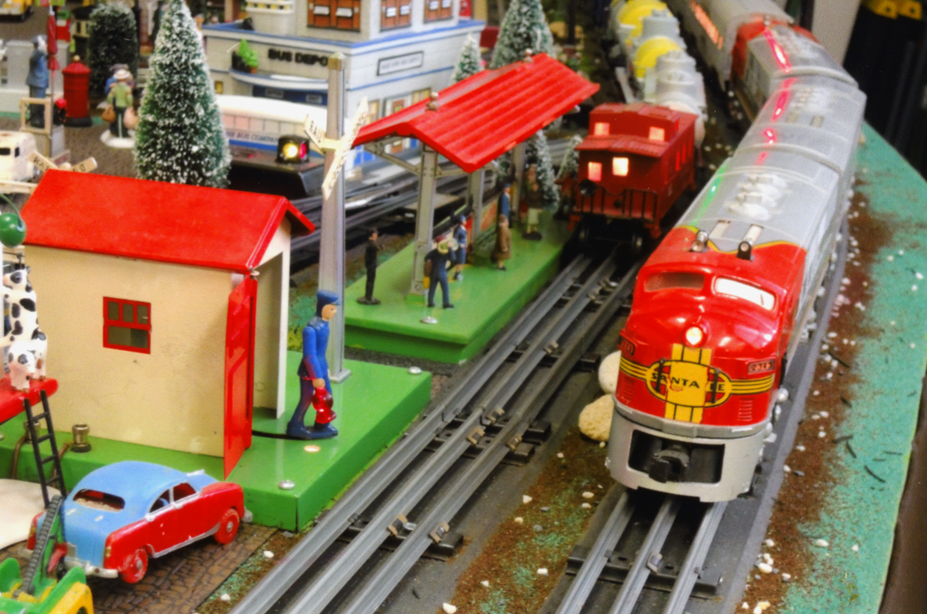 Cleveland, Ohio, where Donald Zawistowski came of age during the postwar era, is a far cry from Punta Gorda, Fla., where he now resides. Connecting those distant cities are the Lionel trains he continues to treasure. The no. 45N automatic gateman greeting the no. 2343 Santa Fe F3 diesels has been a fixture on Donald's three-rail empires since his introduction to model railroading. Amazing how those O gauge icons never quit working.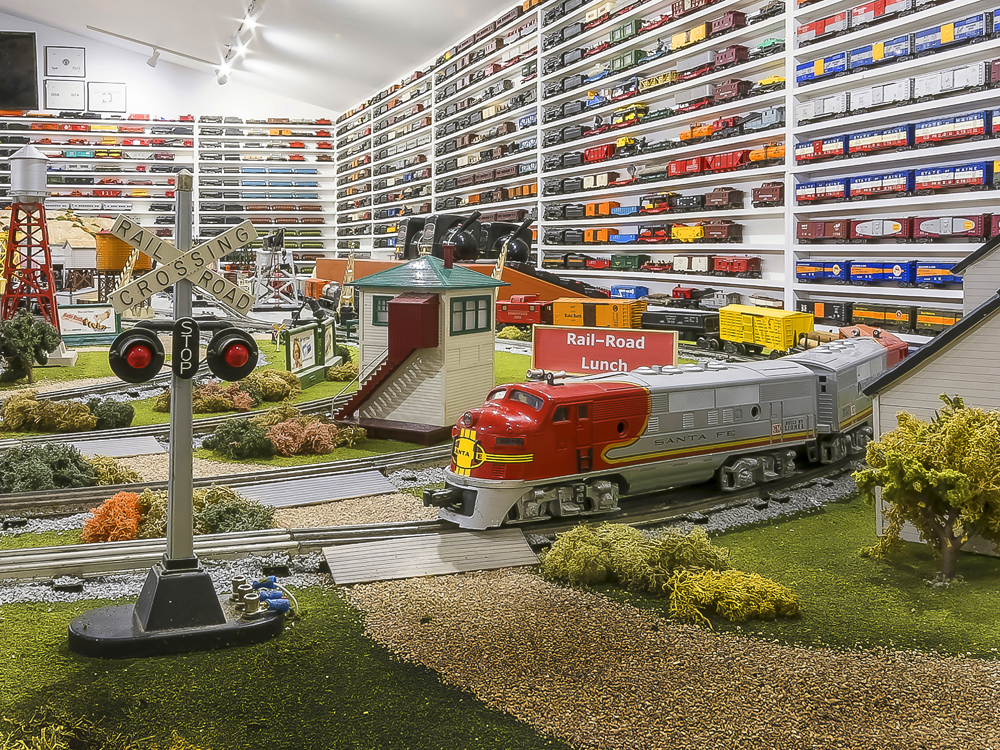 No. 2343 Santa Fe F3s star on Brian Miller's recreation of the big O gauge layout displayed at Lionel's corporate headquarters and public showroom in New York between 1949 and 1958. Photo by Kim Talbott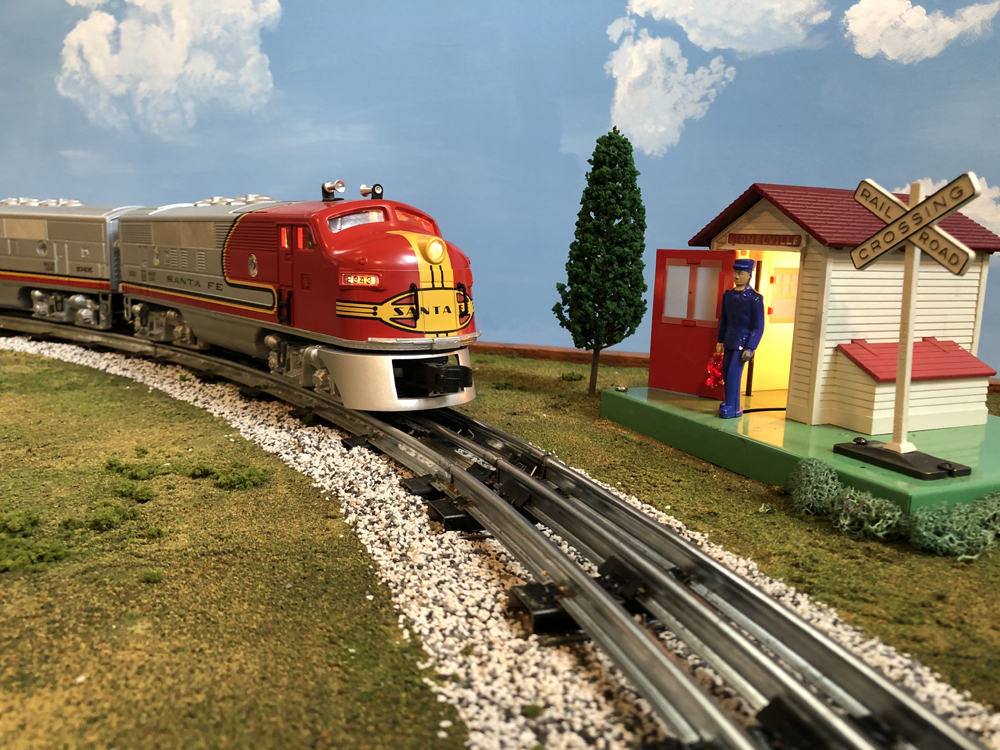 Fantastic, right? Lionel's advertising department could have used this iconic image of its Santa Fe F3s and automatic gateman for the cover of the catalog released in 1950 or '51. Bob Wessler shot it on his 17' x 28' O gauge layout. Photo by Bob Wessler